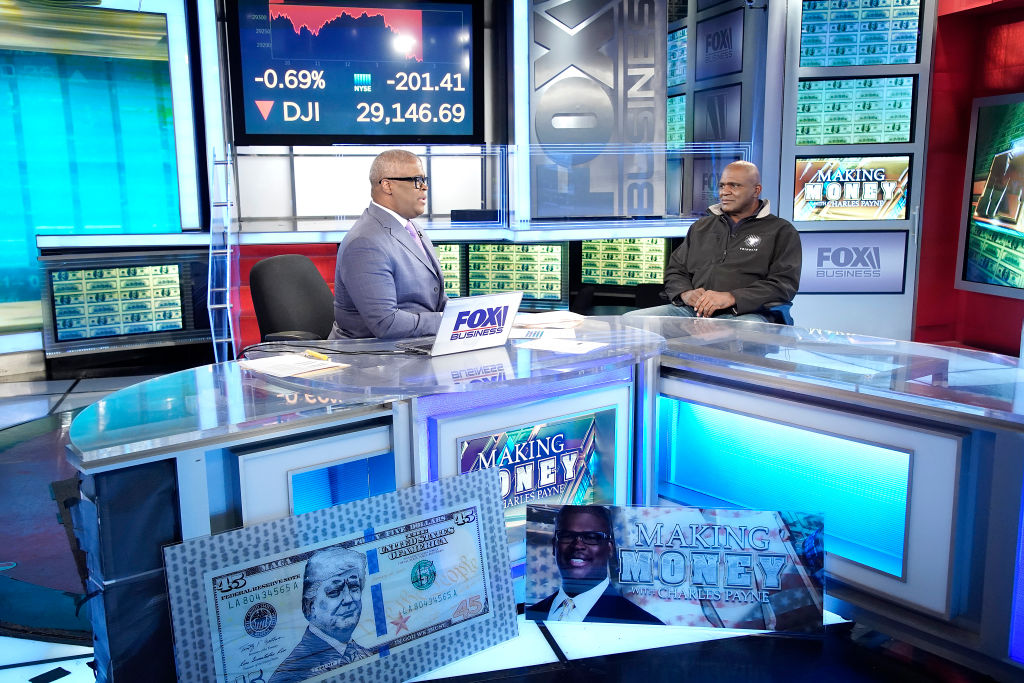 Lawrence Taylor Used Donald Trump To Make $6.2 Million From the Giants
Lawrence Taylor worked out a deal with Donald Trump to join the USFL. Here's how he used that deal to make $6.2 million from the Giants.
Lawrence Taylor and Donald Trump may seem like an odd fit, but at one time the two national icons did business together. At least, they tried to. Early in his New York Giants career, Taylor quickly emerged as one of the league's best defensive players and most marketable stars. That caught the attention of Trump, who famously forayed into the football world with the USFL.
Never one to shy away from a good deal, Trump tried to lure Taylor to the upstart league. In fact, the marriage nearly came to fruition before the Hall of Fame linebacker left Trump at the altar. Of course, the future president still managed to earn a nice payday for his troubles.
Lawrence Taylor's early Giants career
The Giants drafted Lawrence Taylor with the second pick of the 1981 NFL draft and he wasted no time making his presence known. The brash, arrogant and controversial linebacker may not have been a fan of the organization that drafted him, but he ended up becoming a franchise icon. As a rookie, the phenomenal pass-rusher recorded two sacks in his first NFL exhibition game. That simply served as a preview of what would unfold that season.
The 6-foot-2, 237-pound edge rusher dominated offensive tackles to the tune of 9.5 sacks while earning his first NFL Defensive Player of the Year award. He won the award again the following year in a strike-shortened season. Taylor's ferociously explosive first step allowed him to rack up 26 sacks in his first 41 games. And while he certainly caused some headaches for a young Bill Parcells, he undoubtedly cemented a reputation as the Giants' most valuable player.
Unfortunately, his individual success did not translate to the win column, as the Giants went 3-12-1 in 1983. At that point, the three-time, first-team All-Pro couldn't contain his frustration over his team's losing ways. That left a slight crack in the door that Donald Trump tried to blow open with his checkbook.
Donald Trump tried to bring star linebacker to USFL
As the new owner of the Washington Generals, Trump made an aggressive effort to bring NFL stars to the USFL. The notoriously shrewd businessman went after the league's biggest star: Lawrence Taylor. What unfolded next can only be described as cunning. Knowing full well that Taylor was highly displeased with his current situation, Trump made the Giants linebacker a compelling contract offer that Taylor initially agreed to.
Trump offered Taylor a $1 million, 25-year, interest-free loan. Of course, that came with a significant caveat. According to the terms of the deal, Taylor would have to play for the USFL beginning in 1988. Though he initially agreed to and signed the deal, the star linebacker had second thoughts.
Just a month later, he tried to back out of the agreement. This led to one of the most interesting negotiations in sports history involving Donald Trump and one of the NFL's most iconic franchises.
How Taylor turned Trump's offer into $6.2 million Giants contract
The Giants obviously did not want to lose their legendary linebacker to the USFL. And with Taylor making it clear that he had no interest in holding up his end of the deal, both his agent and the Giants had to get involved.
Fighting to keep their star player happy, New York worked out a new six-year contract worth north of $6 million. Most importantly, it included a $1 million interest-free loan so Taylor could repay Trump. The deal cost the Giants more than that, though. New York agreed to pay Trump $750,000 over a five-year period.
Ultimately, Donald Trump didn't get his man, but he definitely got paid. Taylor racked up eight first-team All-Pro selections, three NFL Defensive Player of the Year awards, one NFL MVP award and two Super Bowl titles with the Giants. He retired after the 1993 season after totaling 132.5 sacks and more than $50 million in NFL earnings. However, he blew through his massive wealth and ran into serious legal troubles off the field. Meanwhile, Trump became a famous reality TV star before getting elected president of the United States in 2016.