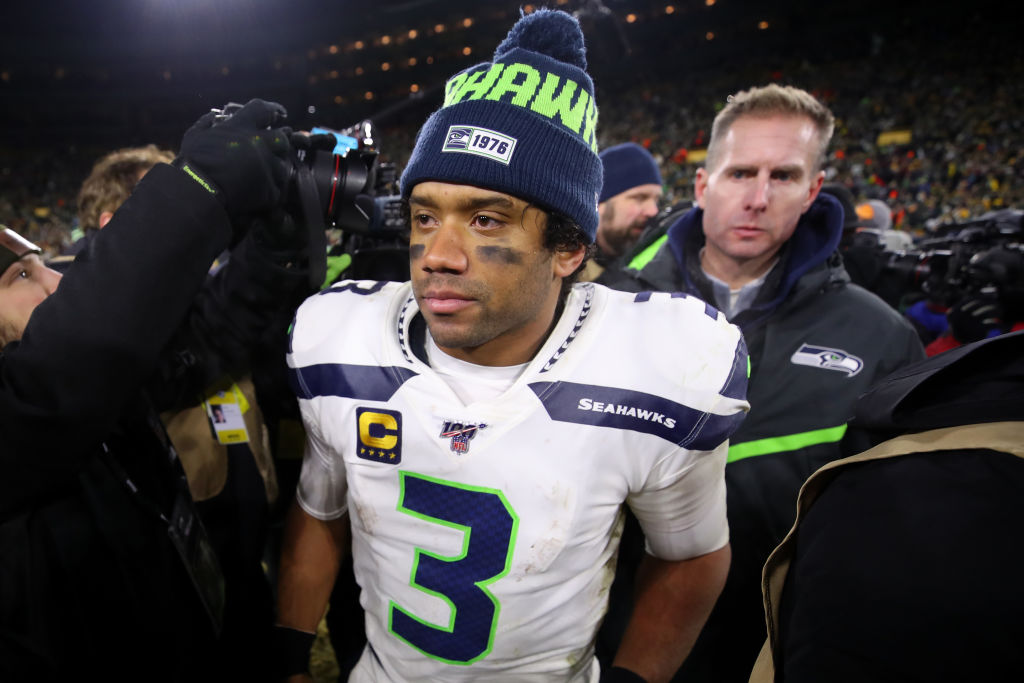 Russell Wilson's $140 Million Seahawks Contract Can't Buy Him a Single NFL MVP Vote
Russell Wilson has turned the Seahawks into perennial Super Bowl contenders, but he gets no love when it comes to the NFL MVP voting.
Russell Wilson may not fit the mold of a traditional quarterback, but he's managed to do just fine. As the NFL's highest-paid player and the leader of the Seattle Seahawks, he's accomplished a tremendous amount since entering the league as an undervalued third-round pick. Yet, the Super Bowl champion quarterback continues to get disrespected by NFL MVP voters every year. Despite his superstar status, Russell Wilson's lack of MVP love will truly blow you away.
Russell Wilson became the face of the Seattle Seahawks
It's safe to say that nobody expected Russell Wilson to become a franchise quarterback, let alone a Hall of Fame candidate. Tipping the scales at just 5-foot-11, 215 pounds, he certainly doesn't wow you from a physical standpoint. However, the strong-armed, cerebral signal-caller has carved out a Canton-worthy career since Day 1. Even as a third-round pick, Wilson took hold of the starting job in Seattle and has never looked back.
Capable of extending plays with his legs, the dual-threat star has never missed a game in his eight-year Seahawks career. Though he's largely operated a run-first offense, Wilson has proven to be no slouch. He has thrown 227 touchdowns and just 68 interceptions while leading the Seahawks to an 86-41-1 record.
More importantly, the former multi-sport star has made it count in the postseason. Seattle has never missed the playoffs since making Wilson the 75th player taken in the 2012 NFL draft. In just his second season, he led the Seahawks to their first Super Bowl title in franchise history. During that fantastic postseason run, he didn't throw a single interception and posted a quarterback rating of 101.6.
Super Bowl champion became the NFL's highest-paid player
Entering the league as a third-round pick means a pretty lowly salary. For years, Russell Wilson's cheap contract allowed the Seahawks to build an elite defense and make free-agent splashes. However, when it came time to negotiate a new deal, the Super Bowl champion made sure to get every dollar. In 2015, Wilson signed a four-year, $87.6 million extension that included $31.7 million guaranteed.
Even that contract looks like a bargain in comparison to the record-setting extension Wilson signed last offseason. With five Pro Bowls under his belt, he inked a stunning deal before the 2019 NFL draft. Incredibly, the quarterback who many doubted could become a successful starter inked a four-year, $140 million contract with 50 percent of it guaranteed. Currently, Wilson ranks first in the NFL with an average annual salary of $35 million. Of course, that number will likely be topped by 2018 NFL MVP Patrick Mahomes sooner than later.
Wilson hasn't received a single NFL MVP vote in his career
Individual awards may not matter to players like Wilson and Tom Brady. After all, winning Super Bowl rings takes precedence over personal recognition. However, the level of disrespect shown to the NFL's highest-paid player simply doesn't make sense. Despite leading one of the NFL's most successful franchises of the last decade, Russell Wilson has never received a single NFL MVP vote.
Read that again.
You have the same number of MVP votes from your couch as the highest-paid player in NFL history. In fact, even Wilson's teammate, Bobby Wagner, has received one MVP vote before. In no rational world should a middle linebacker top a quarterback in terms of value. Wagner may have a Hall of Fame resume, but there's no way he's a better player than Wilson or more valuable to the Seahawks.
Russell Wilson may be a $140 million man, but no money in the world can buy an NFL MVP vote. Unfortunately, it appears he still faces an uphill battle to get the recognition he's rightfully earned. Perhaps this will be the year that the NFL wakes up and acknowledges Russell Wilson's greatness. But if history continues to repeat itself, he has no shot at earning the league's most coveted individual award.
Contract numbers courtesy of Over the Cap