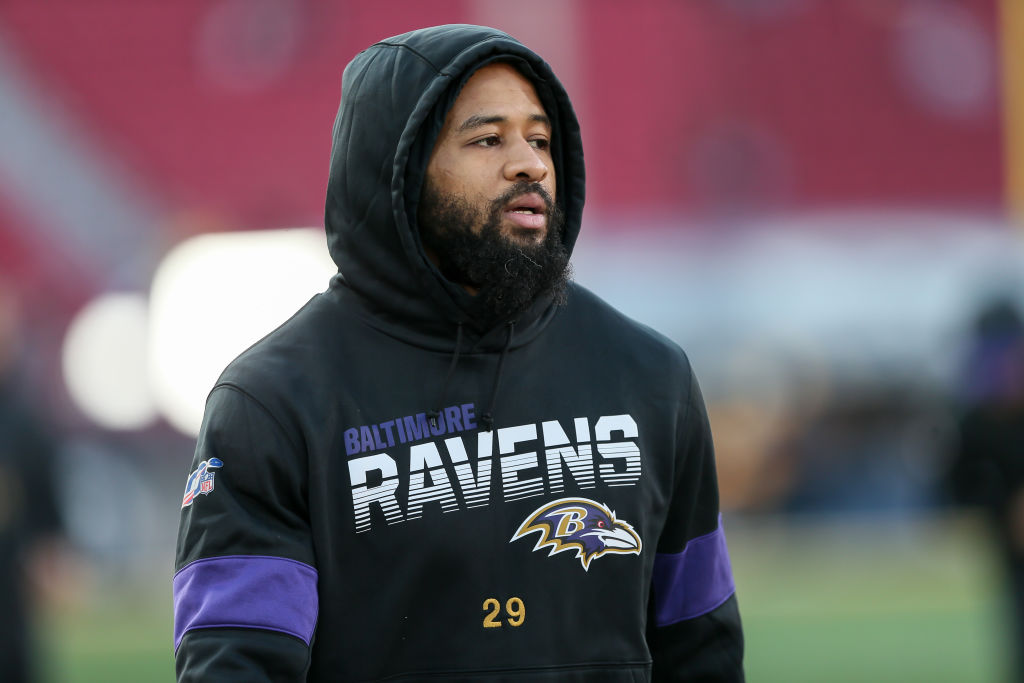 Earl Thomas Just Gave the Ravens 10 Million Reasons to Cut Him
Earl Thomas potentially violated terms of his contract with his domestic dispute, which could lead to a swift end to his Ravens career.
For Seattle Seahawks fans, watching Earl Thomas walk away after nine years had to hurt. But for Baltimore Ravens fans, the prospect of adding a Hall of Fame safety represented a major upgrade. Thomas proved to be a fine addition in his first year donning purple and black. But due to his well-publicized incident with his wife that involved her holding a loaded gun to his head, Earl Thomas could already be on his way out of Baltimore. And the Ravens could potentially save millions in the process.
Earl Thomas joined the Ravens after a legendary Seahawks career
Back when playing at the University of Texas actually meant something, Earl Thomas was a superstar. The hard-hitting, ball-hawking free safety became a coveted NFL draft prospect under legendary Longhorns coach Mack Brown. The Seahawks landed one of the original members of the Legion of Boom with the 14th overall pick in the 2010 NFL draft. Thomas developed into a perennial Pro Bowler as the alpha male of one of the best defenses in NFL history. He earned three first-team All-Pro honors with the Seahawks—a number surpassed by only Rob Gronkowski and Antonio Brown amongst the players selected in 2010.
Though his Seahawks career ended in unceremonious fashion after a rash of injuries and a famous flip of the bird, Thomas landed a four-year, $55 million deal with the Ravens. In his first season in Baltimore, he earned his seventh Pro Bowl selection. Out of all the players drafted in 2010, only Maurkice Pouncey and Geno Atkins have more Pro Bowl honors. Unfortunately, Thomas and the Ravens came up short in their Super Bowl quest by losing to Ryan Tannehill's Tennessee Titans in the AFC Divisional Round.
All-Pro safety was held at gunpoint by his wife
After Eric DeCosta assembled a terrific draft class, it seemed like the Ravens were at the top of the NFL world. But Baltimore's offseason came to a crashing halt on Thursday when ESPN's Jamison Hensley reported that Earl Thomas' wife, Nina Thomas, got arrested on April 13 and was charged with first-degree felony burglary of a residence with the intent to commit aggravated assault with a deadly weapon.
The news quickly spread via social media about the potentially fatal encounter that included Nina Thomas pointing a loaded gun at her husband's head after she discovered her husband and his brother in the company of two women at a rental home. And according to Hensley, the incident between Earl Thomas and his wife could have been much worse.
Nina Thomas told police she had called the other women to help confront her husband and took his handgun with an intent to "scare him," according to the document. She had taken the magazine out of the gun but was unaware of a round in the chamber.

The emotional pain and embarrassment of the details going public surely will put the Thomas family under stress. However, while the incident luckily didn't escalate to a deadly end, the implications for Earl Thomas' bank account and his Ravens career could be fatal.
Ravens may be able to save $10 million by cutting Thomas
Anytime an NFL player finds himself involved in a domestic dispute, the effects can be devastating. And while it doesn't appear Earl Thomas committed any crime, the nature of the incident could still have a devastating effect on his NFL career. At least, that's what Jonas Shaffer and Jessica Anderson of the Baltimore Sun reported on Friday.
According to a team official who spoke on the condition of anonymity, the Ravens are looking into the incident to determine whether Earl Thomas' conduct violated his contract, which runs through 2022. The official said there were times last season when Ravens coaches thought Thomas strayed from their team concept, and that his struggles grasping the defense's schemes in the secondary sometimes put him at odds with teammates.

According to Over the Cap, Thomas has a fully-guaranteed $10 million salary for 2020. However, if the Ravens determine that Thomas violated the terms of his contract, they could potentially cut him and get out of that expensive commitment.
Don't forget that this is a franchise that has already dealt with the Ray Rice fiasco. Perhaps the Ravens simply don't want to be associated with any domestic violence dispute, regardless if Thomas did anything wrong. The situation remains fluid, but this incident certainly gives the Ravens plenty of financial incentive to determine if Earl Thomas violated his contract.