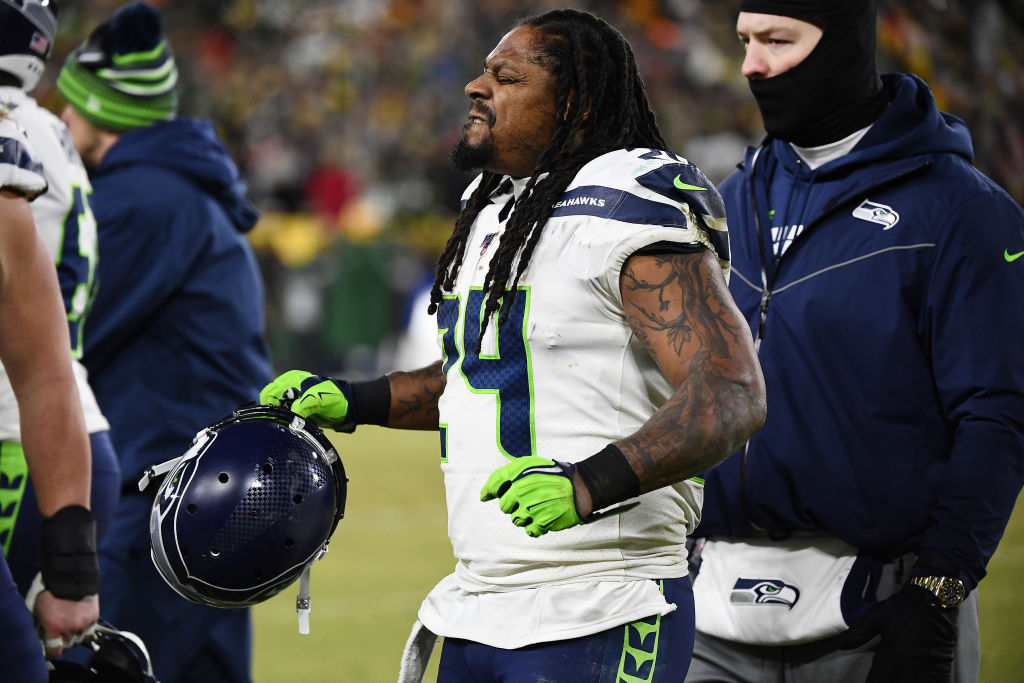 Marshawn Lynch Will Destroy His Hall of Fame Chances By Returning to the Seahawks
Marshawn Lynch may want to return to the Seahawks, but the Pro Bowl running back will destroy his chances at making the Hall of Fame.
In a league full of colorful characters, Marshawn Lynch still stands out above the rest. He established a reputation as one of the NFL's best running backs with the Seattle Seahawks while also became one of the league's most popular players. While he's still a recognizable name, his game is anything but that. It's been a long time since Beast Mode dominated defenses. And if he does return to the Seahawks for the 2020 season, Marshawn Lynch will destroy his Hall of Fame chances by attempting to extend a career that needs to end.
Marshawn Lynch became a Seahawks legend
Before he became a Seahawks legend, Marshawn Lynch started his NFL career in Buffalo. While Adrian Peterson proved to be the right call at pick No. 7 by the Minnesota Vikings, the Bills landed their own star running back by selecting Lynch with the 12th overall pick in the 2007 NFL draft. The Oakland native wasted no time making a name for himself. As a rookie, he ran for 1,115 yards and seven touchdowns in just 13 games. Lynch followed up with another 1,000-yard season before his Bills career faded fast.
Buffalo shipped the stocky tailback to Seattle in the middle of the 2010 season for a pair of mid-round draft picks. Let's just say the Seahawks more than got their money's worth. In his first full season as the team's starting running back, Lynch went off for 1,204 yards and 12 touchdowns while earning his second Pro Bowl selection. He eclipsed the 1,200-yard mark in each of the next three seasons, including a career-high 1,590 yards in 2012. From 2011-2014, Lynch racked up a ridiculous 48 rushing touchdowns.
Of course, he became famous for his signature Beast Mode moment when he tossed New Orleans Saints players left and right in what many believe is the best touchdown run in NFL history. And with Marshawn Lynch carrying the load on offense, the Seahawks' historic defense held Peyton Manning to just eight points in a dominant Super Bowl XLVIII victory.
Five-time Pro Bowler has watched his stardom fade since 2014
At the height of his powers, few defenders could stop Marshawn Lynch. Yet, like the Seahawks, Lynch's career never was the same after Malcolm Butler's miraculous interception prevented Seattle from becoming back-to-back Super Bowl champions. Of course, that play would have never happened if the Seahawks had just given Lynch an opportunity to win the game on the goal line.
After leading the NFL with 13 touchdowns during that 2014 season, Lynch's stardom rapidly faded. In fact, it essentially got expunged. He played just seven games the following year and finished with a career-low 417 rushing yards. Then, Beast Mode retired…temporarily. After sitting out the 2016 season, he pulled a Michael Jordan and returned to the NFL in 2017. Only this time, he suited up for his hometown Raiders.
Lynch did experience mild success in his first year in Oakland. He finished just shy of 900 rushing yards and scored seven TD. However, he lasted just six games under Jon Gruden before getting placed on injured reserve. Before the 2019 NFL draft, Lynch once again announced his retirement. But that wouldn't be the last we'd hear from Beast Mode.
Lynch and the Seahawks could be reunited in 2020
In true Brett Favre style, Marshawn Lynch came out of retirement yet again at the end of last season. The Seahawks signed their former star on Christmas Eve in preparation for a postseason run. Unfortunately, Beast Mode looked nothing like his usual self. While he did tally three touchdowns, Lynch totaled just 33 yards on 18 carries in two playoff games.
On Monday, the free-agent running back told ESPN's Scott Van Pelt that his agent has been in talks with the Seahawks about a possible reunion. But if Lynch has any shot at making the Pro Football Hall of Fame, he should hang 'em up now. Sure, he could try and coax out another season or two of production. But considering he hasn't broken the 1,000-yard barrier since 2014, it seems nearly impossible that he'd experience a career resurgence at age 34. And with just six 1,000-yard seasons in his career, Lynch is far from a Hall of Fame lock.
Marshawn Lynch's Hall of Fame case
Currently, Marshawn Lynch ranks 29th on the all-time rushing list with 10,413 yards. And with 85 touchdowns during the regular season and another 970 yards and 12 TD in the postseason, he boasts a highly impressive resume. But it shouldn't be surprising that a back with his physical running style hasn't aged well. In this case, Lynch should resist the urge to continue his NFL career with the Seahawks and let his past accomplishments speak for themselves. Otherwise, he runs the risk of losing some of his star power and falling into the category of guys who tried to hang around too long.
If he keeps trying to come back to only post disappointing numbers, it severely weakens his case as an all-time great. Marshawn Lynch will forever be a Seahawks legend, but if he's on the field in 2020, then he'll have destroyed any shot at getting enshrined in Canton.