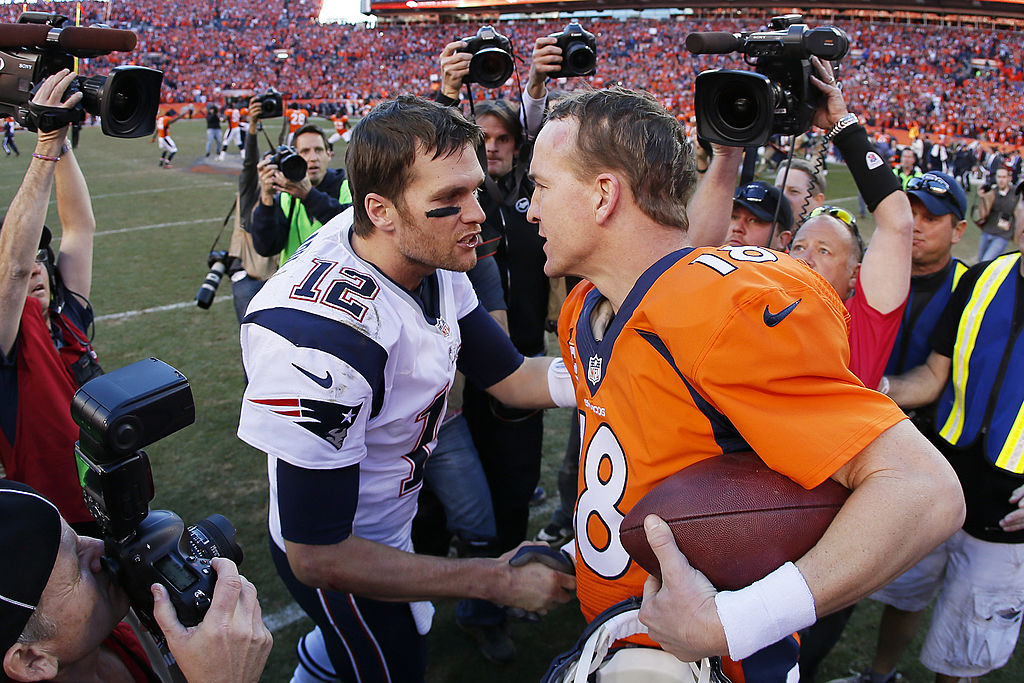 How Does Tom Brady's Worst Game Compare to Peyton Manning's Worst Game?
Tom Brady and Peyton Manning spent years battling each other in the AFC. For all of their great games, what were some of their worst ones in the NFL?
Tom Brady and Peyton Manning spent years battling for AFC supremacy. Both quarterbacks became NFL icons thanks to their incredible combination of intelligence, accuracy and leadership. While both Brady and Manning made countless clutch throws, they also had their fair share of difficult defeats. The future Hall of Famers didn't always perform to their usual standards, which speaks to just how high they set the bar.
Though Brady still has time to deliver a dud now that he'll be suiting up in Tampa, Manning's career ended five years ago after 266 regular-season games. Looking back at each quarterback's illustrious career, let's take a look at the worst regular-season and postseason performances for Tom Brady and Peyton Manning and see how they compare.
Tom Brady's worst regular-season game
Tom Brady went 219-64 in 20 years with the Patriots. While the majority of his appearances often ended with decisive victories, he also had some forgettable performances, especially earlier in his career. Ironically, Brady's worst regular-season game came against a franchise that he would lose to just twice more in his Patriots career.
Just days before the 2003 season opener, Bill Belichick shockingly released longtime safety Lawyer Milloy. Fittingly, the four-time Pro Bowler signed quickly with the Buffalo Bills, who just so happened to be New England's Week 1 opponent. With Milloy as the backbone of the defense and former franchise quarterback Drew Bledsoe running the offense, the Bills completely throttled Brady and the Pats at Ralph Wilson Stadium.
Tom Terrific looked nothing like a future Super Bowl MVP in the 31-0 route. He completed just 14-of-28 attempts for a paltry 123 yards. His 22.5 passer rating still ranks as the worst mark in his 20-year NFL career. Brady threw four interceptions and ended up getting benched for backup Rohan Davey. Of course, the Patriots overcame the stunning Week 1 loss and handed the Bills their own 31-0 beatdown later in the regular season en route to their second Super Bowl title.
Peyton Manning's worst regular-season game
While Peyton Manning certainly had some clunkers with the Indianapolis Colts, his worst NFL game happened to occur in his penultimate regular-season start. Just two years removed from breaking the NFL's single-season touchdown mark, Manning's physical skills had sharply declined. And by the end of the 2015 season, the Denver Broncos clearly didn't trust the 14-time Pro Bowler.
However, no one could have predicted Manning's horrific performance against the Kansas City Chiefs. Like Brady's worst performance, the two-time Super Bowl champion threw four interceptions on two attempts. In fact, he only left the contest with just one more completion than interceptions. As a testament to how far he had fallen, Manning became the 66th quarterback in NFL history to post a quarterback rating of zero. Clearly, the future Hall of Famer needed to hang 'em up and he did just that after winning the Super Bowl that season.
Ravens bottled Brady up in lopsided 2009 AFC Wild Card loss
Tom Brady started 41 postseason games with the Patriots. Early in his career, he simply couldn't be beaten. However, Eli Manning and a strong Giants defense exposed the Patriots in Super Bowl XLII. That defeat still doesn't rank as Brady's worst playoff performance, though. That (dis)honor belongs to his 2009 AFC Wild Card loss to the Baltimore Ravens.
Led by Ray Rice, the Ravens physically dominated the Patriots from the first snap. With Baltimore jumping out to a quick lead, Brady and the offense had no chance. He completed just 23 of 42 attempts for 154 yards. He did toss two touchdowns, but he took three sacks, threw three interceptions and lost a fumble. Brady's 49.1 quarterback rating that afternoon ranks as the worst mark of his otherwise stellar playoff career. New England lost 33-14 and wouldn't win another Super Bowl until 2014.
Patriots embarrassed Manning in 2003 AFC Championship
Peyton Manning's worst playoff performance fittingly came against his biggest rival. Playing in the cold, snowy confines of Gillette Stadium, Manning and the Colts had no chance against a stacked Patriots defense. Facing constant pressure from Willie McGinest and Jarvis Green, the NFL's top quarterback couldn't figure out Belichick's 3-4 defense.
Of course, that 2003 AFC Championship Game will forever be synonymous with Ty Law. The 2019 Hall of Fame inductee became a playoff legend by picking off Manning three times in the 24-14 defeat. Pro Bowl safety Rodney Harrison added another pick to his impressive playoff resume. Manning's 35.5 quarterback rating was the second-lowest mark in 27 playoff games. Three years later, though, he got revenge by defeating the Patriots in the AFC title game before winning his only championship with the Colts.