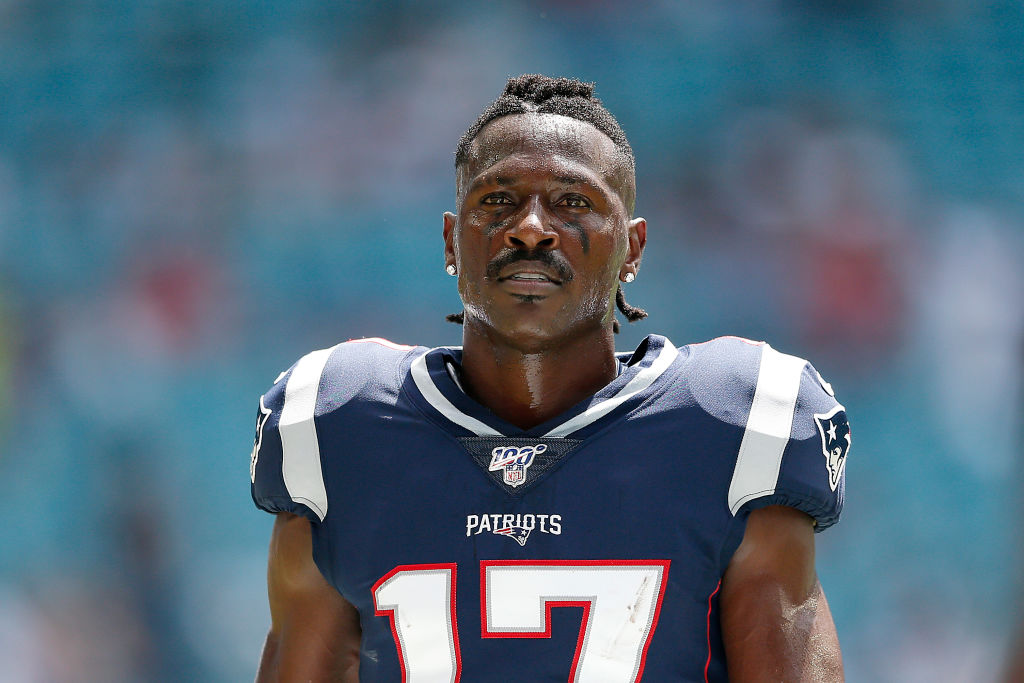 Antonio Brown's Fall From NFL Star to Possible Felon
Antonio Brown has gone from an NFL star to a possible felon after the state of Florida filed three charges against the former Patriots and Steelers wide receiver.
Antonio Brown just can't stay out of the headlines. The seven-time Pro Bowl wideout used to be regarded as the NFL's premier pass-catcher. But unfortunately, his off-field behavior and rash decisions have led to a major fall from grace for the former Steelers star. Not even Bill Belichick and the Patriots could figure out how to corral the explosive but enigmatic receiver.
Of course, Brown's well-documented legal troubles became the hot topic of the 2019 NFL season. And on Friday night, the 31-year-old may have officially hit rock bottom. Here's the story of Antonio Brown and his sad fall from stardom.
Antonio Brown became NFL's top receiver with the Steelers
It's crazy to think that 10 years ago, Antonio Brown was nothing more than a late-round draft pick trying to make an NFL roster. Pittsburgh selected the 5-foot-10, 185-pound wideout with the 195th overall pick in the 2010 NFL draft. Despite his sixth-round pedigree, the Miami native quickly rose up Pittsburgh's loaded receiver depth chart that also featured Mike Wallace and Emmanuel Sanders.
By his second season, Brown emerged as a force, totaling 69 catches, 1,108 yards and two touchdowns. He also became Pittsburgh's primary punt returner and took one back for a score. Eventually, he pushed Pittsburgh to let Wallace walk in free agency, and Brown became the clear-cut No. 1 target.
From 2013-2018, Brown put up historical numbers that may never be matched. During that six-year stretch, he averaged 114 catches, 1,524 yards and 11 TD. Brown's 2014 season included a ridiculous 129/1,698/13 line that resulted in his first of four consecutive first-team All-Pro selections. That season also marked the first of four straight playoff berths for the Steelers.
However, the team routinely came up short in the playoffs. Brown's battles with Ben Roethlisberger began to surface. He famously live-streamed head coach Mike Tomlin's post-game speech from the locker room that included a shot at the Patriots. And by the end of the 2018 season—in which Brown led the NFL with 15 TD receptions—the diva receiver skipped practices, got benched and promptly forced his way out of Pittsburgh.
Tumultuous 2019 season included brief stops with Patriots and Raiders
It's difficult to sum up Antonio Brown's 2019 season as anything but an abject disaster. Before the 2019 NFL draft, the Steelers finally managed to unhinge themself of the NFL's biggest headache by shipping Brown to the Oakland Raiders for a pair of mid-round picks. The Raiders immediately worked out a new contract with their newest star, handing Brown a three-year, $50 million deal that included a whopping $30 million guaranteed.
After securing a substantial raise, the situation soured swiftly. Brown missed almost all of training camp after a mysterious cryotherapy incident resulted in bad blisters on his feet. Then he refused to wear a new helmet and even tried to sneak an old one onto the practice field. Everything reached a tipping point when Brown made a highly inappropriate remark to general manager Mike Mayock. Eventually, the Raiders released Brown hours before his salary became guaranteed.
The Patriots desperately needed receiver help and signed Brown to a one-year deal that included a $9 million signing bonus. But after a standout performance against the Miami Dolphins, Brown once again found himself out of a job after New England cut him. Of course, Robert Kraft had good reason to protect his franchise's image: Brown faced allegations of sexual and personal misconduct and later sent intimidating text messages to one of his accusers.
Brown faces felony burglary charge in Florida
Antonio Brown hasn't played a down since Week 2 of the 2019 season. And after Friday night's news, he may not play in the NFL for a very long time, if ever again. According to ESPN's Jeremy Fowler, the record-setting receiver faces three formal charges from the state of Florida:
Brown faces felony burglary conveyance, misdemeanor battery and misdemeanor criminal mischief charges, according to a Broward County court document obtained by ESPN.

Brown may have the opportunity to negotiate a plea deal, but this latest legal battle only underscores his lack of reliability. NFL teams routinely employ guys who may not be the most upstanding citizens, but Brown's recent track record shows not only a player but also a person who needs professional help.
While his on-field skills made him one of the best receivers in NFL history, Antonio Brown's problems off the field have resulted in a dramatic fall from grace. At this point, no one knows what will happen next. Let's just hope this is the last legal problem we hear about from AB. But like his desire to play with Tom Brady, that's just an empty wish.