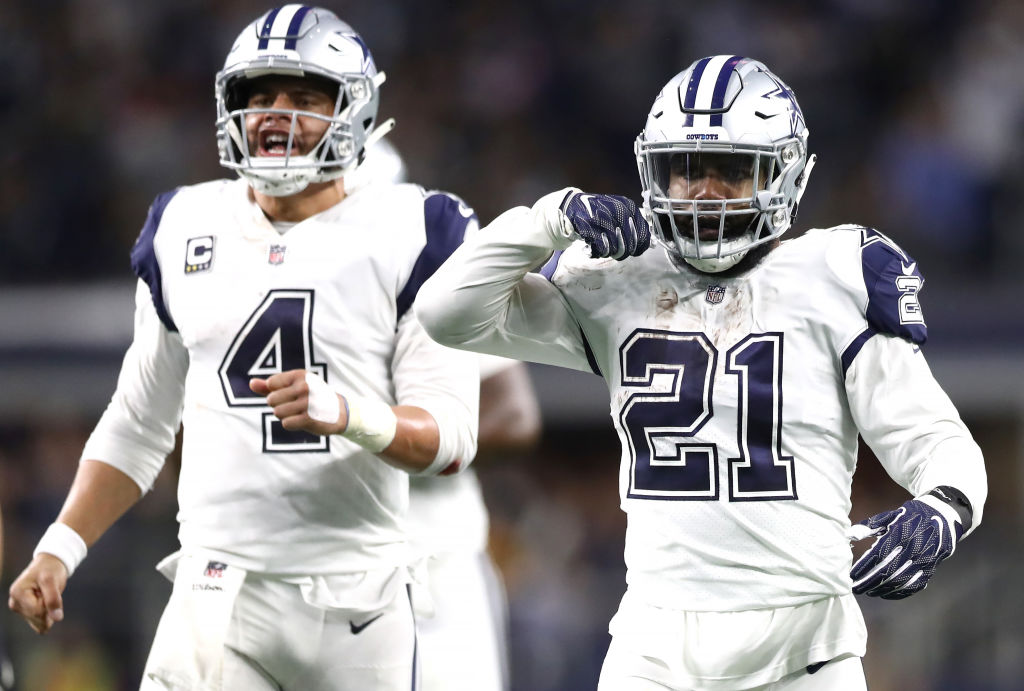 Dak Prescott Falls Behind Ezekiel Elliott in the Ultimate Form of Respect
Dak Prescott and Ezekiel Elliott may be the Cowboys' two most important players, but they get much different treatment from NFL MVP voters.
Even as rookie sensations, Dak Prescott rarely got as much press as Ezekiel Elliott. Of course, some of that had to do with Elliott entering the NFL as the highest-drafted running back since mega-bust Trent Richardson. While the former Ohio State star has already gotten paid, Prescott still hasn't reached a long-term deal with the Dallas Cowboys.
But that's not the only way in which the star quarterback has been passed over by his talented teammate in the respect column.
Dak Prescott's rise from fourth-round pick to franchise quarterback
Incredibly, Dak Prescott didn't get selected until the 135th overall pick. Somehow, seven quarterbacks went before the dual-threat star from Mississippi State. Luckily for the Cowboys, they landed a far better bargain than the Eagles did with Carson Wentz. Thrust into the starting role as a rookie, Prescott shined. He completed 67.8 percent of his passes for 3,667 yards with a stellar 23:4 touchdown-to-interception ratio.
More importantly, the former SEC standout led the Cowboys to a 13-3 record. Winning in the regular season hasn't been the issue for Prescott. In four years under center, he's accumulated an impressive 40-24 record. He's taken great care of the football. And he's also proven to be an adept runner with 1,221 yards and 21 touchdowns in 64 games.
However, Prescott hasn't been able to lead the Cowboys to a Super Bowl title. Dallas has gone 1-2 in the postseason in his tenure. Last year, the Cowboys missed the playoffs entirely. Ironically, the team went 8-8 despite Dak Prescott posting career-highs in passing yards and touchdowns.
Ezekiel Elliott got a massive contract after a sensational start
Interestingly, the careers of both Prescott and Ezekiel Elliott will be forever linked. After all, the talented running back headlined the Cowboys' 2016 draft class. Dallas selected three other players before finding a gem by stealing Prescott in the fourth round. Despite playing the most important position in football, he's never quite managed to steal the spotlight away from Elliott.
Like his quarterback, Elliott shined immediately as a rookie. However, that shouldn't have qualified as a surprise considering his prolific college career. The 6-foot, 228-pounder led the NFL with 1,631 rushing yards to go along with 15 touchdowns. He also chipped in 32 catches for 363 yards. While the former Buckeyes back played just 10 games in 2017, he led the league in rushing again in 2018.
Last year, the Cowboys handed Ezekiel Elliott a record-setting $90 million extension even though he was not a free agent. The bellcow back responded with 1,777 total yards and 14 touchdowns. However, he did average a career-low 84.8 rushing yards per game.
Cowboys QB gets no MVP love compared to his highly-paid teammate
Money usually reflects respect. But beyond that, NFL players get the ultimate form of recognition through MVP votes. In a league full of talented players, it says everything when you're voted as the most valuable player in a particular season. Not only does that reflect your skill but it also should demonstrate your importance to your team's success.
If we're going by that measure, then the NFL apparently thinks Ezekiel Elliott is more valuable than Dak Prescott. In four years in the league, the running back has received six NFL MVP votes. On the other hand, Dallas' franchise quarterback has received just one.
From a talent perspective, it's not difficult to see why Elliott gets more attention and love from MVP voters. He's a two-time rushing champion who managed to exceed expectations even as the No. 4 overall pick. Yet, it's impossible to imagine a world where a running back should be deemed more valuable than a quarterback. Prescott may not be Tom Brady, but he's certainly done enough to generate more than one lousy MVP vote. From a respect standpoint, both their contracts and MVP showings reveal Ezekiel Elliott reigns supreme over Dak Prescott.
All statistics courtesy of Pro Football Reference