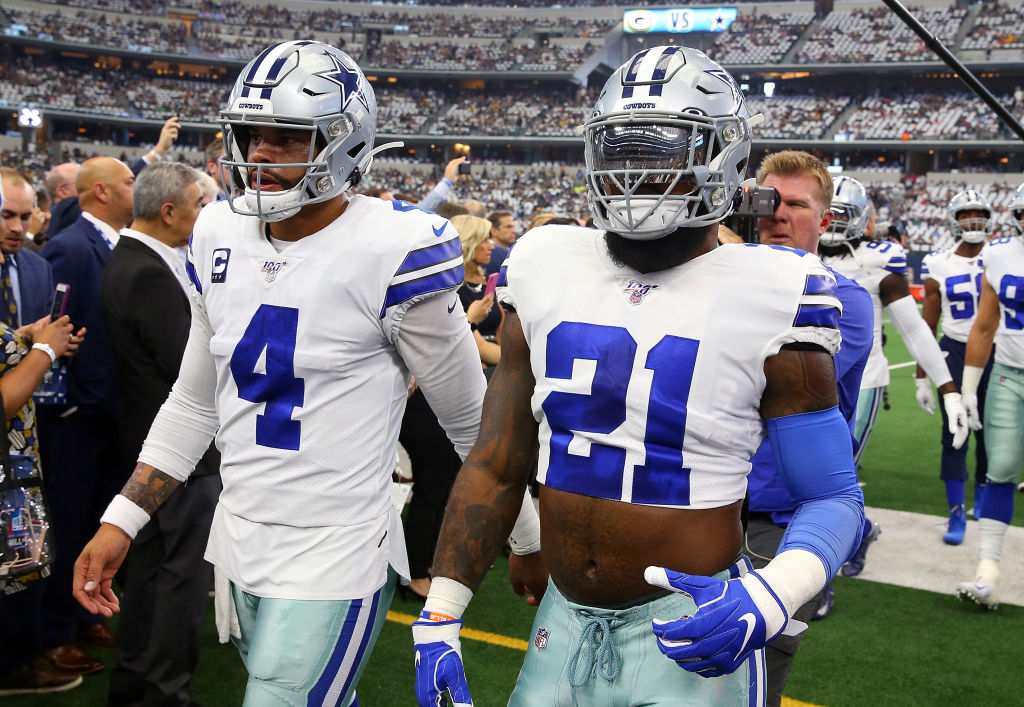 Dak Prescott and Ezekiel Elliott Defy Local Orders; Mike Florio Calls For NFL to Act
Dallas Cowboys stars Dak Prescott and Ezekiel Elliott are working out and defying Texas orders. Mike Florio believes the NFL or law enforcement should act.
With the sports world on indefinite hiatus, recent videos posted online show Dak Prescott, Ezekiel Elliott, and Dez Bryant working out together in violation of CDC recommendations and statewide orders. ProFootballTalk.com's Mike Florio thinks the NFL and possibly law enforcement should intervene.
Sports world shuts down a month ago
Since March 11, the night the NBA suspended its season indefinitely, the dominoes steadily tumbled one after another as the different sports leagues around the nation suspended or canceled their respective seasons.
All major sports—NHL, MLB, MLS—followed the NBA and suspended their seasons. The NCAA canceled the men's and women's college basketball tournaments for the first time in the tourney's 81-year history and then proceeded to cancel all spring sports. It was later announced spring athletes would retain a year of eligibility.
In recent days there have been discussions about how the ever-expanding pandemic might potentially affect the upcoming 2020 NCAA football and NFL seasons. College football programs have already had their schedules altered with limited spring practice and no spring games. 
Dak Prescott and Ezekiel Elliott working out in videos
With the sports world shut down, the NFL planning for a virtual draft, and athletes like Steph Curry encouraging others to stay home and do your part to "flatten the curve," videos appeared in recent days showing Cowboys Dak Prescott, Ezekiel Elliott, and former teammate Dez Bryant working out together at a Dallas facility. 
The video shows Bryant running a route while Prescott drops backs and completes a pass to the former Cowboys receiver. There's another of a Prescott-Elliott connection.
The gathering of the trio violates Texas Governor Greg Abbott's stay-at-home order effective April 1 that requires all Texans stay at home except to provide essential services or things like going to the grocery store.
Violations or failure to comply with Abbott's order could lead to a fine of up to $1,000 or jail time of up to 180 days, or both.
Mike Florio thinks Prescott, Elliott should be punished
In an interview on 105.3 The Fan's "Shan and RJ" on Wednesday, ProFootballTalk.com's Mike Florio said there should be repercussions for the three players for violating local orders and openly flaunting it on Twitter. 
"If you've got players who are violating the local laws that say 'Thou shall stay home during this pandemic,' and they are both creating a real risk of spreading the virus, and sending a horrible message to others who may be influenced to do the same thing. I would like to see the NFL do something," Florio said.
He added if NFL Commissioner Roger Goodell doesn't plan on suspending or fining any player under the personal conduct policy, he should send out a message indicating this type of conduct is unacceptable.
"I want the commissioner to post a video, to issue a statement, telling all players who are in the NFL or hope to be back like Dez Bryant, that they must comply with all applicable state and local requirements as what they should and shouldn't be doing during this pandemic."
While many Cowboys fans vehemently disagree with Florio and his recommendations, Florio's arguments aren't without merit. Prescott and company are clearly in violation of Texas orders. That type of gathering is not essential, and it's not permitted. Not only is it unsafe for the players, but anyone assisting in the workouts and keeping the facilities open. More than anything, posting the workouts online for all to see sends the wrong message to fans who look up to these stars and might mimic their behavior.