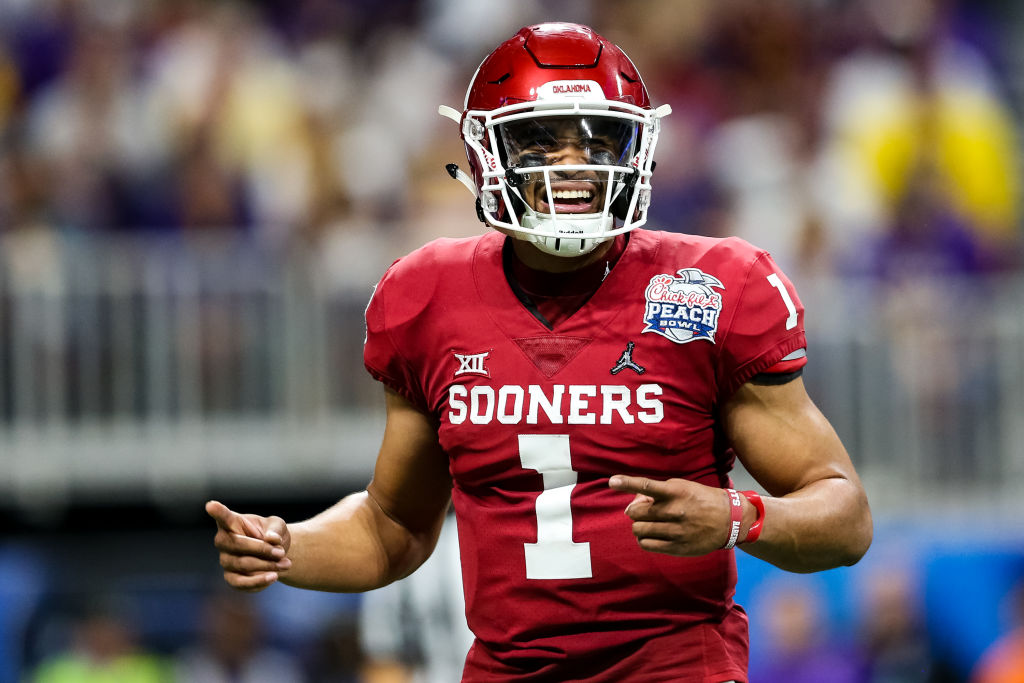 Jalen Hurts Will Make Carson Wentz a $128 Million Backup for the Eagles
Jalen Hurts has all the tools to develop into a star with the Eagles and turn Carson Wentz into a $128 million backup quarterback.
Jalen Hurts is no stranger to adversity. A standout at Alabama, he watched Tua Tagovaoila replace him and win a national championship. He then transferred to Oklahoma where he had to follow in the footsteps of the two most recent No. 1 overall picks. Yet, after dominating for the Sooners, he still entered the 2020 NFL draft with questions about his fit at the next level. A projected Day 2 pick, Hurts surprisingly landed on a team that seemingly didn't need a franchise quarterback. But just as he did at Alabama and Oklahoma, Jalen Hurts will prove his doubters wrong and turn Philadelphia Eagles starting quarterback Carson Wentz into the NFL's most expensive backup in the process.
Jalen Hurts was a star at two powerhouse programs
Like Joe Burrow, Jalen Hurts famously transferred from one powerhouse program to another. However, unlike the No. 1 pick in the 2020 NFL draft, Hurts was highly productive in his first stop. At Alabama, the 6-foot-2, 218-pound dual-threat provided a new dimension for the Crimson Tide. He spent two years as Nick Saban's starting quarterback and put up impressive numbers. However, once Tua replaced him in the College Football Championship, Hurts never regained his starting role.
Fortunately for Hurts and his NFL draft stock, he spent his senior season with the Sooners. Playing in Lincoln Riley's quarterback-friendly system, Hurts exploded for 3,851 passing yards and 32 touchdowns. His speed and quickness allowed him to rush for 1,298 yards and 20 touchdowns. A highly-entertaining player and consummate winner, Jalen Hurts finished second in the 2019 Heisman voting behind none other than Burrow.
Eagles surprisingly drafted Hurts in the second round of 2020 NFL draft
Generally viewed as the fourth or fifth-best quarterback prospect in the 2020 NFL draft, Hurts didn't get selected in the first round. However, he didn't have to wait too long on Friday to get that fateful phone call. In one of the most shocking moves of the NFL draft, the Eagles selected the skilled signal-caller with the 53rd overall pick.
Immediately, the decision set the football world ablaze. After all, why would the Eagles spend a premium draft pick on a quarterback who desperately needed weapons? Carson Wentz didn't seem to mind, though.
Wentz's public display of support may seem nice on the surface. Smart Eagles fans know that this regime places a high value on the NFL draft, so it's highly unlikely Philadelphia invested the 53rd overall pick on a gadget player.
Carson Wentz has a big contract and bigger injury history
If you're still wondering why the Eagles drafted a quarterback in the second round, look no further than Carson Wentz and his complicated contract and injury history. Remember that Philadelphia paid an expensive price to move up to draft the North Dakota State star. The 6-foot-5, 237-pounder overcame a lackluster rookie season and broke out as an MVP candidate in year two. Then it all went downhill.
In the midst of his only Pro Bowl campaign, Wentz tore his ACL. Nick Foles subsequently stepped in and shocked the world by outdueling Tom Brady in Super Bowl LII. The Eagles' franchise quarterback stepped right back into his starting spot in 2018 and posted excellent numbers. Once again, though, he suffered a season-ending injury before the playoffs began.
As a talented but injury-prone quarterback, Wentz smartly signed a four-year, $128 million extension last summer. He did manage to stay healthy and start all 16 games and lead the Eagles to the playoffs. Wentz then suffered a nasty concussion courtesy of a questionable hit by Jadeveon Clowney.
Jalen Hurts can take over as the Eagles' starting QB
On one hand, the Jalen Hurts selection could be another way for the Eagles to draw up some trick plays. Some might view the second-rounder as the next Taysom Hill. But given his talent and Wentz's troubling injury history, Jalen Hurts absolutely has an opportunity to push the Eagles' incumbent starter to the bench.
After staying healthy as a rookie, Wentz has watched each of his last three seasons end via injury. In the NFL, the best ability is availability, and he simply hasn't done anything to inspire confidence in his durability. Sure, the Eagles just signed him to a massive contract. But this is the same franchise that had no problem turning to Foles on multiple occasions to guide them in the playoffs. Wentz's talent has never been a question, but his troubling injury history and the Eagles drafting Hurts suggests they can't trust him to stay healthy.
Philadelphia could have easily selected a wide receiver or running back with the 53rd pick. Instead, they took a high-upside quarterback despite having one of the NFL's highest-paid signal-callers already on the roster. NFL teams simply don't spend second-round picks on quarterbacks in order for them to be gadget players. In the last decade alone, Drew Lock, DeShone Kizer, Derek Carr, Geno Smith, Brock Osweiler, Andy Dalton and Colin Kaepernick all entered the league as second-round picks with the promise of starting potential.
It may not happen right away, but given a year to develop, or perhaps when Wentz inevitably suffers another injury, Jalen Hurts has the physical tools, mental toughness and adaptability to take over as the Eagles' starting quarterback. And in doing so, he'll turn Carson Wentz into a $128 million backup.