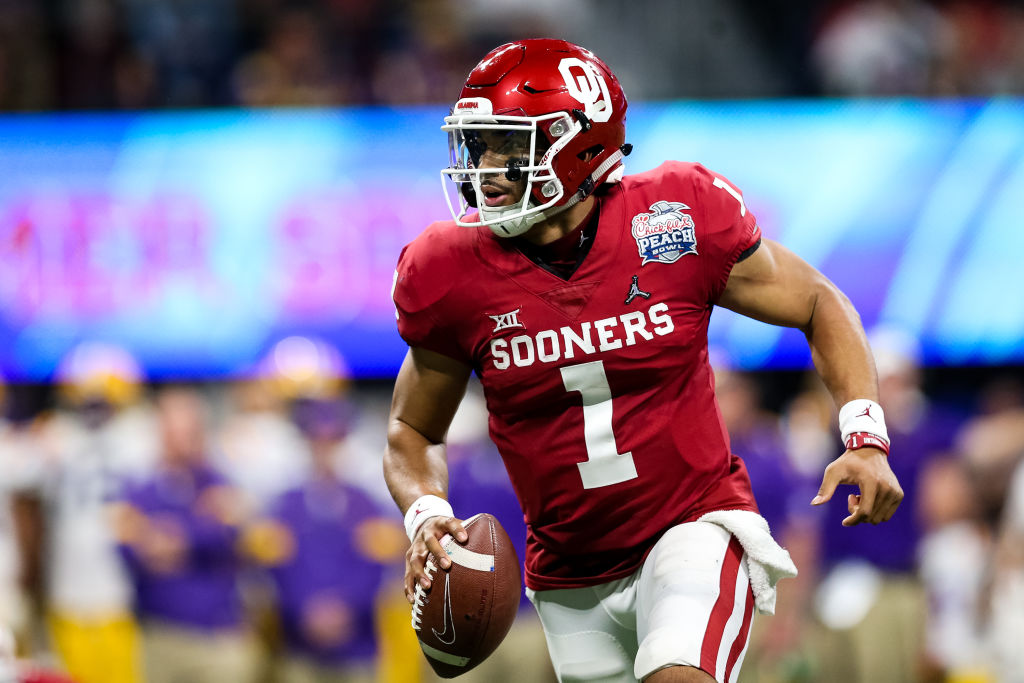 Oklahoma QB Jalen Hurts Could Be a Major Steal in the 2020 NFL Draft
Oklahoma quarterback Jalen Hurts was one of the most electrifying players in college football in 2019. He may not get drafted early, but he has a ton of potential to surprise.
Jalen Hurts won't become the third straight Oklahoma quarterback to go No. 1 overall in the NFL draft. In fact, he won't get selected in the first round. He may even fall out of the second.
But whoever snags the former national champion could very well emerge with a possible franchise quarterback. And while the odds may be stacked against him, Hurts is no stranger to overcoming adversity.
Oklahoma has become Quarterback U
First it was Baker Mayfield.
Then it was Kyler Murray.
And last year it was Hurts.
All three started their college careers at other programs. Mayfield famously walked-on at both Texas Tech and Oklahoma and managed to become a Heisman Trophy winner and the first overall pick in the 2018 NFL draft.
Oh, he also happened to become the first former walk-on to go No. 1 overall.
Murray also started his college playing career in Texas before transferring to play for Lincoln Riley. After sitting behind Mayfield in his Heisman-winning campaign, Murray took the RPO offense to another level in his lone season as a starter.
Flashing a dazzling deep ball, pinpoint ball placement and perhaps the fastest wheels of any quarterback outside of Lamar Jackson, Murray had a banner year: winning the Heisman Trophy, going No. 1 overall in the 2019 NFL draft and earning Offensive Rookie of the Year honors.
Hurts' arrival in Norman, Okla., garnered plenty of attention. After all, he was a two-year starter and national champion at Alabama who had displayed game-breaking dual-threat capabilities.
And just like his predecessors, he did not disappoint in Riley's offense. Hurts threw for 3,851 yards and 32 touchdowns while adding nearly 1,300 more yards rushing and 22 more scores. If not for a record-setting season by LSU quarterback Joe Burrow, Hurts would have made it three consecutive Heisman Trophy winners from Oklahoma.
Hurts has great numbers but is he a great quarterback?
Stats don't tell the whole truth.
Because based on pure production, Hurts' body of work would make him the top quarterback prospect in the 2020 NFL draft. In 56 games (42 starts), the Houston native threw for 9,477 yards and 80 touchdowns. Even more impressive, though, are his 3,274 career rushing yards and 33 touchdowns.
Despite his prolific numbers, Hurts is generally viewed as more of an athlete than a pure quarterback. Critics point to his small stature (6-foot-1, 222 pounds) and inconsistent decision making as detrimental factors to his NFL future behind center.
Those concerns reared their head in the College Football Playoff matchup between Oklahoma and LSU. While Burrow systematically attacked the Sooners defense, Hurts struggled with his reads and accuracy.
Some have suggested that he should abandon the thought of playing quarterback altogether.
Maturity and leadership give Hurts a chance to succeed
Don't underestimate experience. And not just on the field.
Consider the football minds and talented teammates Hurts has been surrounded by since he broke into the starting lineup for the Crimson Tide in 2016.
Hurts spent his first three years under the tutelage of Nick Saban. He immersed himself in Alabama's legendary strength program. He was in the same quarterback room as Tua Tagovailoa.
He also won a lot of football games.
Then he did it again at Oklahoma. Utilizing his 4.59 speed, Hurts did his best Murray impression and took control of the Heisman Race early on due to his breathtaking wheels.
Although he encountered some speed bumps along the way, Hurts' overall body of work, exposure to two of college football's best coaches and leadership and maturity characteristics give him a shot to overcome the odds and become a starting quarterback down the line.
If Hurts gets drafted by a team with an aging quarterback, he could benefit greatly from sitting for a year or two and refining his footwork, accuracy and decision making before taking the reigns.
Whether he hears his name called on Day 2 or Day 3 of the 2020 NFL draft, Hurts promises to be an intriguing prospect who could be a mid-round steal.