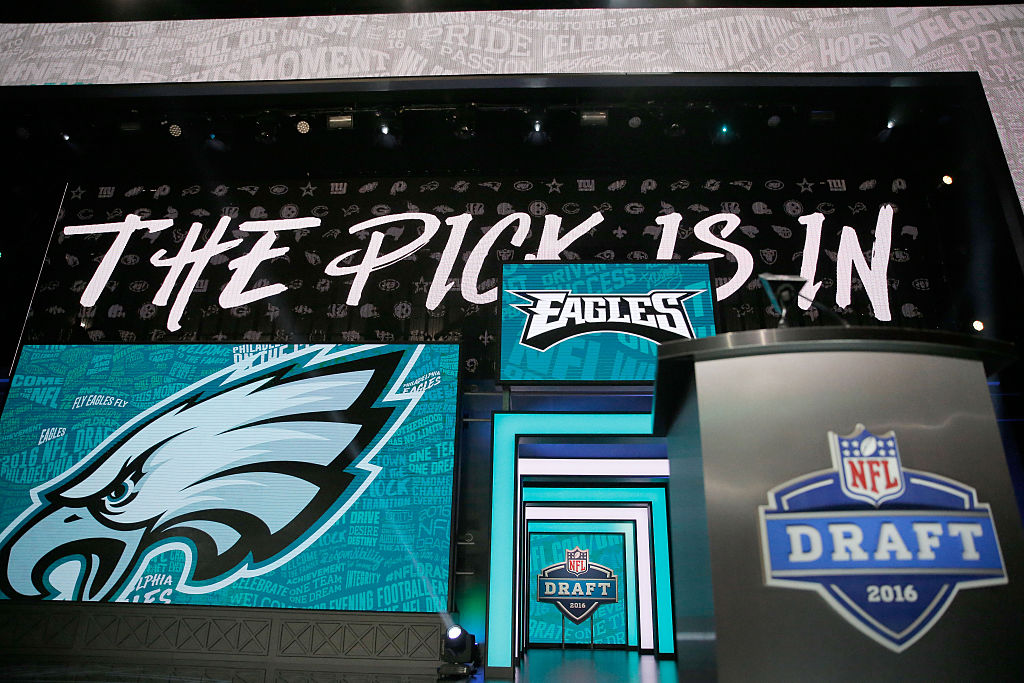 The NFL Draft Pick Who Read He'd Been Drafted by the Eagles 55 Years Later
The Eagles selected Norm Michael in the 1944 NFL draft. The fullback didn't learn he was an NFL draft pick until he read it in the newspaper 55 years later.
They say news travels fast. But in the case of one NFL draft pick, that couldn't have been further from the truth. The dinosaur days of the NFL draft didn't involve live streams, Mel Kiper's crazy hair or Twitter reactions. But for the Philadelphia Eagles, their 1944 20th-round pick Norm Michael went on to become a legendary part of NFL draft history without ever playing a single down. Of course, that's not surprising considering Michael didn't even know he was drafted until reading his name in the newspaper 55 years later.
Eagles selected 30 players in 1944 NFL draft
Before the NFL draft whittled down to just seven rounds, teams spent an absurd amount of time selecting players. In fact, there was a time when the draft lasted for more than 30 rounds. That was the case in 1944 when the Eagles selected 30 players in the 32-round bonanza.
Philadelphia owned the fifth overall pick in the draft after going just 5-4-1 the previous season. Needing a significant offensive boost, the Eagles used their top selection on Steve Van Buren. While he would go on to become a franchise legend, the rest of the draft class didn't amount to much.
In fact, only one other player in that massive 1944 draft class earned a single Pro Bowl trip. That honor belonged to 16th-round defensive end John Green, who made the 1950 Pro Bowl squad. Ironically, he played just one more game before retiring after the 1951 season. Ultimately, the Eagles' 1944 draft class is most memorable for its two running backs, though only one ever made an impact on the field.
Philadelphia's top pick became a Hall of Famer
Despite swinging and missing on most of their NFL draft picks, the Eagles landed a prodigious talent in Steve Van Buren. The LSU product racked up 847 rushing yards in his final collegiate season before Philadelphia made him the No. 5 overall pick. Tipping the scales at 6-foot, 200 pounds, the big, bruising back instantly upgraded a middling Eagles offense.
As a rookie, Van Buren earned his first of five first-team All-Pro selections after averaging 5.6 yards per carry. Philadelphia's 7-1-2 record represented its best mark in franchise history. After receiving just 80 carries in his debut season, Van Buren became the focal point of Philly's offense.
He led the NFL in rushing yards (832) and total touchdowns (17) in his second season. And after a disappointing 1946 campaign, he ripped off three consecutive double-digit touchdown seasons. In fitting fashion, Van Buren's emergence as one of the NFL's top offensive weapons coincided with the Eagles experiencing significant team success. After falling short in 1947, Van Buren carried Philadelphia to back-to-back championships. He retired with 5,860 rushing yards and 72 total touchdowns before getting elected to the Pro Football Hall of Fame in 1965.
Norm Michael didn't know he was an NFL draft pick until 1999
While Van Buren rightfully earned a spot in NFL history, it was the 206th overall pick who has the most interesting NFL draft story. In the 20th round, the Eagles drafted fullback Norm Michael out of Syracuse. Only the team didn't realize that Michael had already enlisted in the Army and wasn't even planning on playing football any longer.
Stationed in Alabama, Michael never played in the NFL because he didn't even know he had been drafted. He didn't learn about his NFL fate until 1999 when he read his name in a local newspaper article listing all the Syracuse players drafted into the NFL. His reaction was priceless:
"My son sent them a letter after we found out," Michael said. "I think he wanted to see if the Eagles owed me a signing bonus. Think of the interest I could have had. Fifty-seven years' worth."
That year, the Eagles drafted Donovan McNabb with the second overall pick. He spent 11 years as the team's starting quarterback despite getting vigorously booed on draft night.