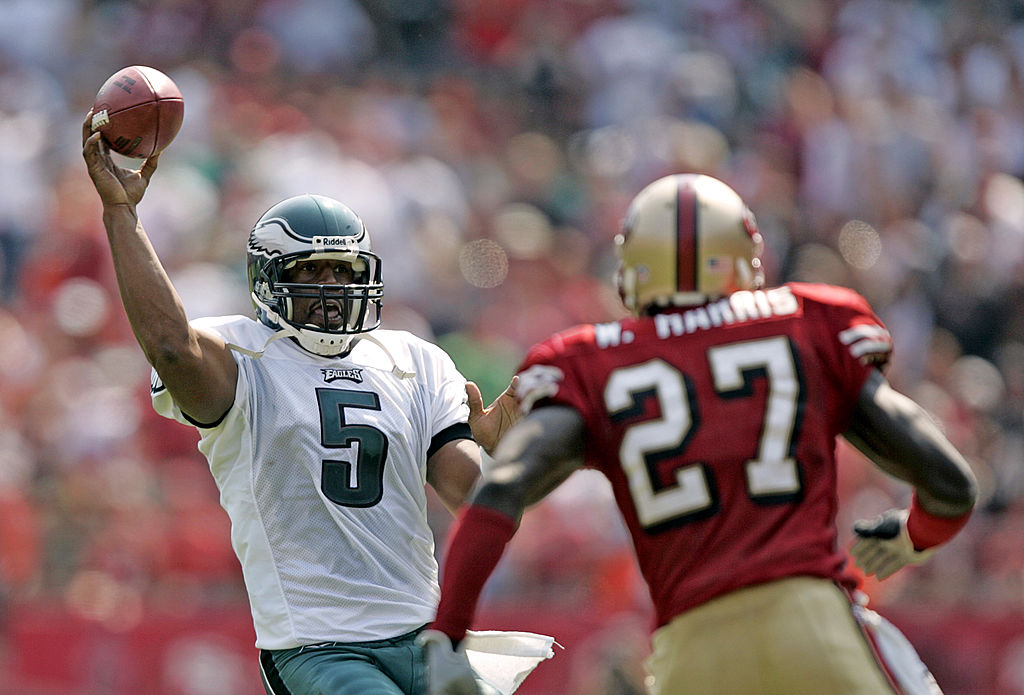 Where Is Eagles Legend Donovan McNabb Now?
Donovan McNabb overcame the odds and became the greatest quarterback in Philadelphia Eagles history. Where is the former No. 2 pick now?
In a stretch where first-round quarterbacks weren't lasting long with their teams, Donovan McNabb overcame the stigma and draft day boos to become a Philadelphia Eagles legend. The No. 2 overall pick in 1999 from Syracuse University, McNabb spent 11 successful seasons with the Eagles and built a Hall of Fame resume in the City of Brotherly Love.
Nearly a decade after his final NFL game, what is Donovan McNabb doing now and what do his Hall of Fame credentials look like? Let's take a look.
Donovan McNabb is the greatest quarterback in Eagles history
At the rate Carson Wentz is going when he's healthy, Donovan McNabb may not hold this title much longer. But as of now, McNabb is statistically and historically the best quarterback in franchise history. McNabb evolved from a traditional dual-threat quarterback into one of the league's top pocket passers who could also make plays with his legs.
Donovan McNabb led the Eagles to five NFC championship game appearances and a Super Bowl appearance after the 2004 season. McNabb won at least one playoff game in six of his seven postseason appearances. The six-time Pro Bowler threw 24 touchdowns to 17 interceptions in 16 playoff outings.
A popular quarterback who appeared on the cover of Madden NFL 06, McNabb's Eagles tenure ended with an April 2010 trade to the Washington Redskins. Although McNabb inked a long-term extension with the Redskins, he only lasted one year in Washington and played his final season with the Minnesota Vikings in 2011.
A forgettable finish to McNabb's career hurt his legacy, especially as other quarterbacks were playing deep into their 30s. It also likely played a role in McNabb's Hall of Fame case.
Will McNabb eventually be inducted into the Hall of Fame?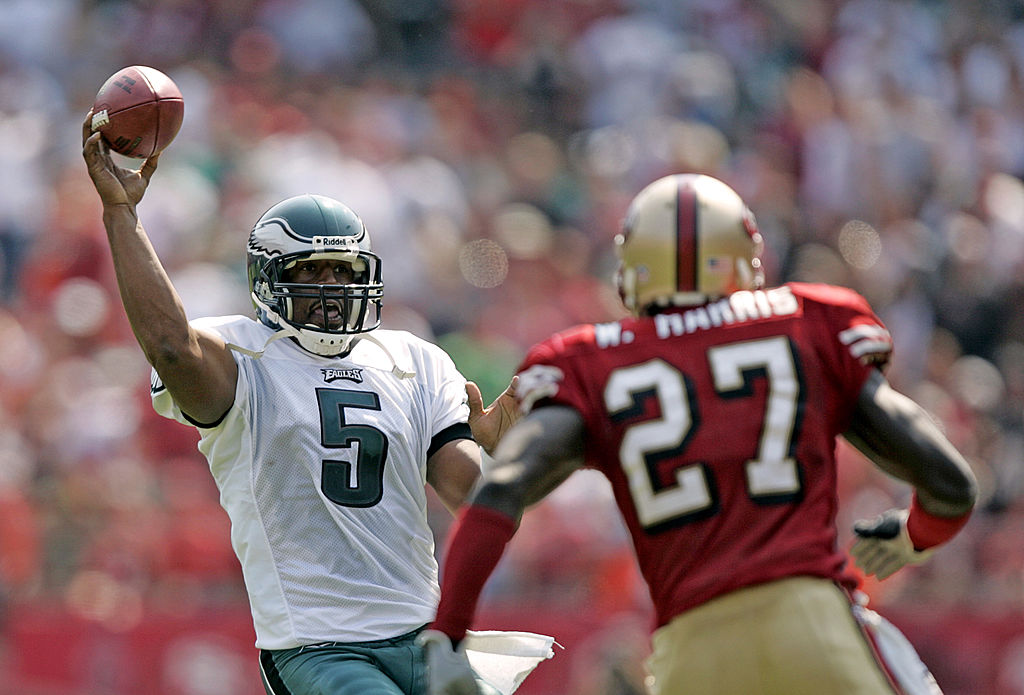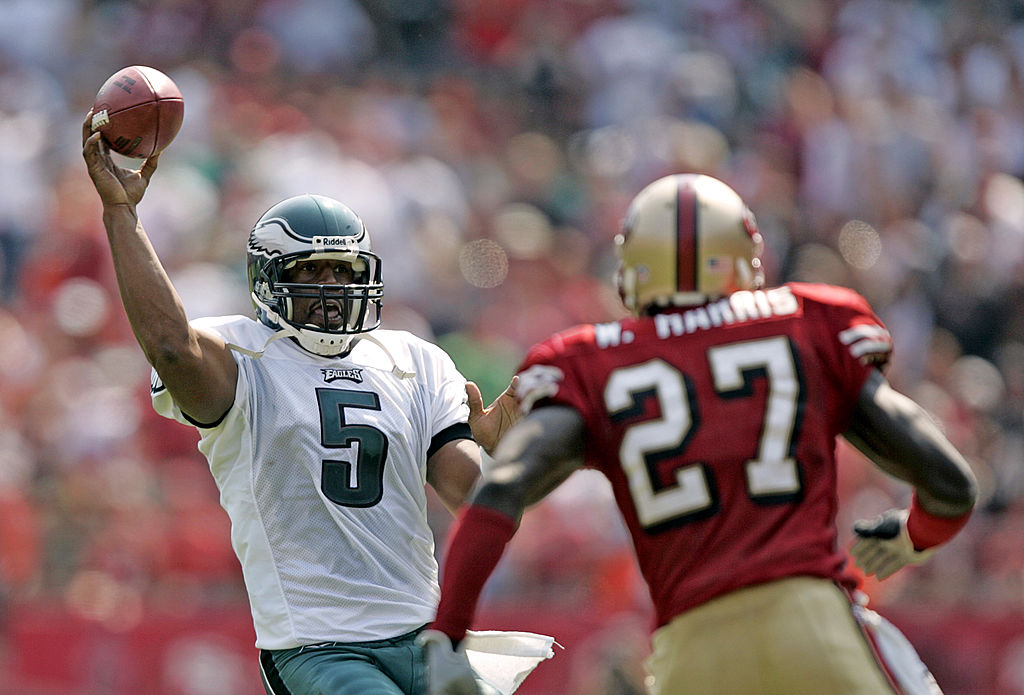 Donovan McNabb has an impressive Hall of Fame case for a quarterback who only had one losing record in a season where he started at least 10 games. McNabb ended his career with a 98-62-1 record and completed 59% of his passes for 37,276 yards, 234 touchdowns, and 117 interceptions. McNabb also ran for 3,459 yards and 29 touchdowns on 5.6 yards per carry.
Pro-Football Reference's Hall of Fame Monitor, which uses everything from traditional stats to Pro Bowl and All-Pro selections, places McNabb in 44th place. The good news is McNabb's 56.23 score isn't far behind Jim Kelly's 59.10, and Kelly was inducted into the Hall of Fame in 2002. McNabb is right above Carson Palmer (56.02), who retired after the 2017 season with a similar resume.
The Hall of Fame Monitor's average quarterback score is 103. The only quarterbacks with a score lower than 70 who are in the Hall of Fame are Kelly and Dallas Cowboys legend Troy Aikman. McNabb invoked Aikman's name when he told TMZ Sports last year he believes he should be in the Hall of Fame.
"I'm not hesitating on that. I am a Hall of Famer. My numbers are better than Troy Aikman, but he has Super Bowl rings."
Where is Donovan McNabb now?
Like many other successful NFL quarterbacks, Donovan McNabb transitioned to TV after his playing career ended. McNabb spent 2012 with the NFL Network and moved to Fox Sports 1 in 2013, where he served as a game and studio analyst. McNabb also spent time with beIN Sports' college football and basketball coverage.
Donovan McNabb's last broadcasting gig was with ESPN Radio. McNabb parted ways with the company in January 2018 after he was accused of sexual harassment while at NFL Network. Since his departure from ESPN, McNabb has appeared as a guest across various radio and TV shows to talk about football.