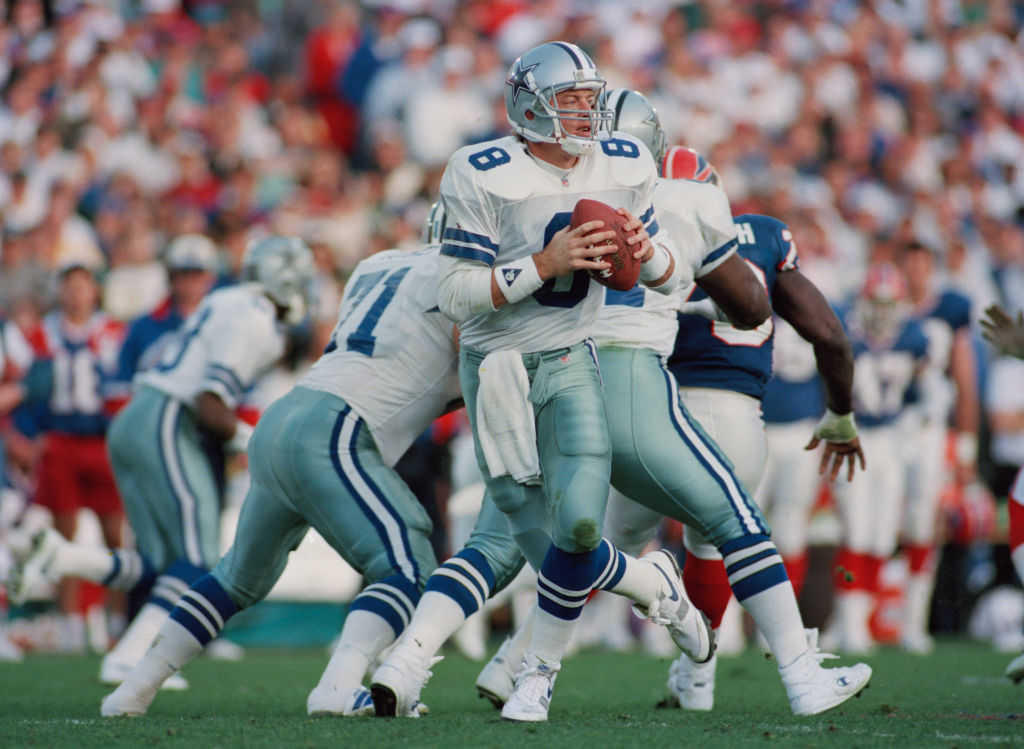 Troy Aikman and These Other Great NFL Quarterbacks Had Awful Rookie Seasons
Being a great NFL quarterback is hard to do. Athletes like Troy Aikman and Peyton Manning are a couple of guys who accomplished it though. However, even for them, it was not always easy. Here is a list of the great NFL quarterbacks who started their careers with rough rookie seasons. Troy Aikman, Dallas Cowboys …
Being a great NFL quarterback is hard to do. Athletes like Troy Aikman and Peyton Manning are a couple of guys who accomplished it though. However, even for them, it was not always easy. Here is a list of the great NFL quarterbacks who started their careers with rough rookie seasons.
Troy Aikman, Dallas Cowboys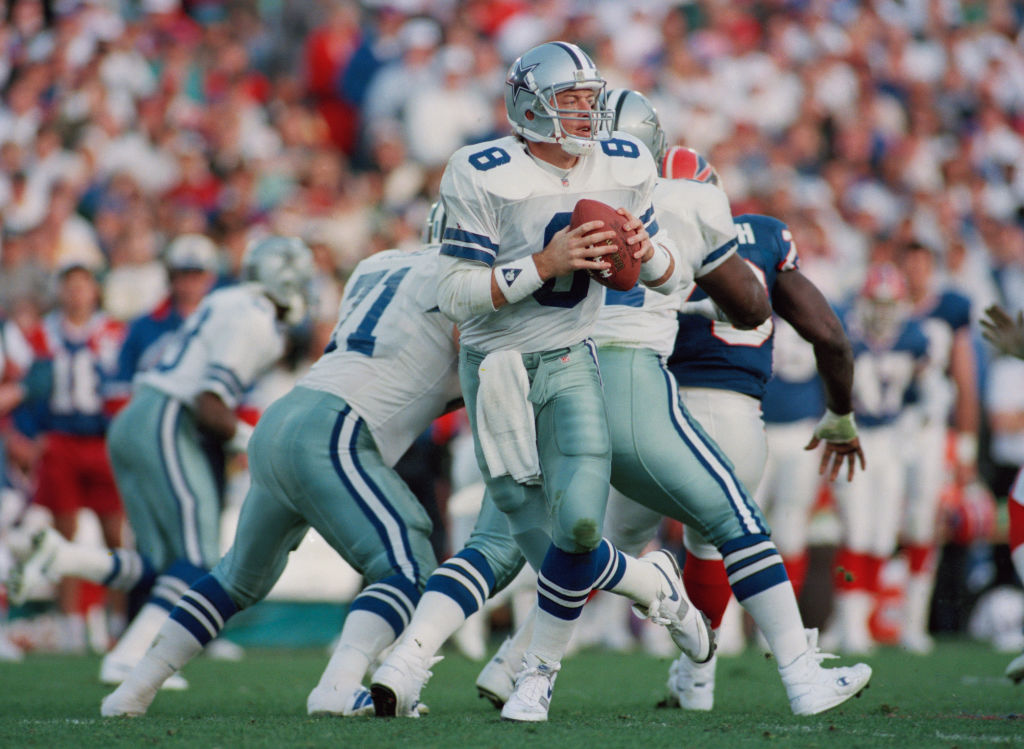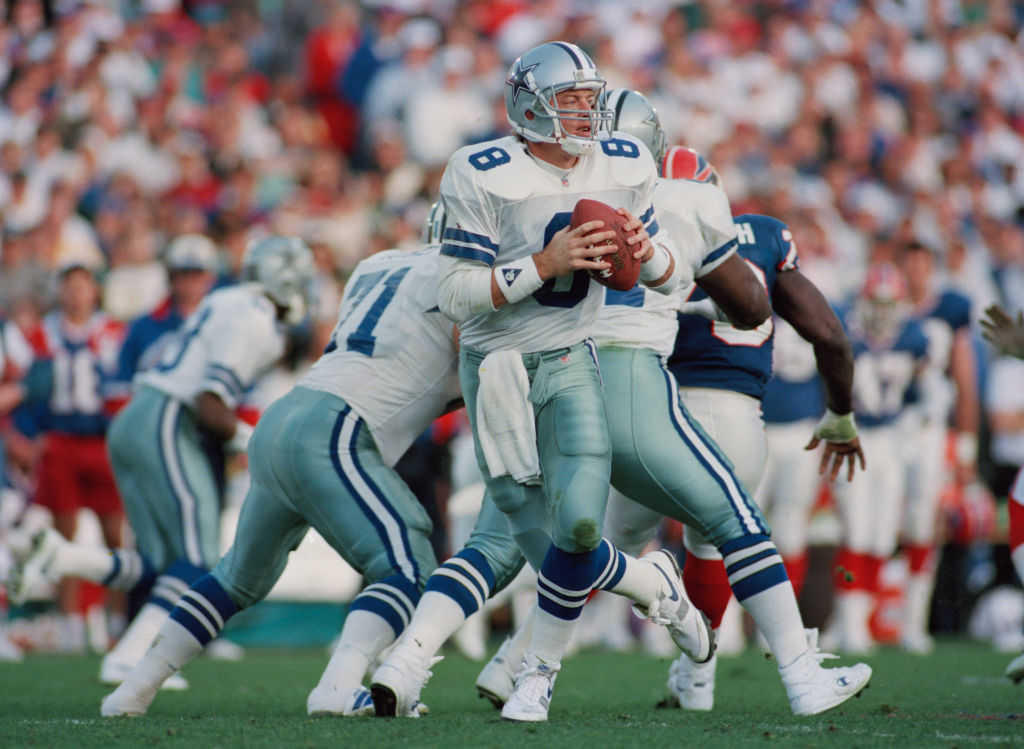 Troy Aikman was a three-time Super Bowl champion for the Dallas Cowboys. However, his rookie season was awful. In 1989, Aikman went 0-11 as the team's starter and his stats were atrocious. Aikman only threw for 1,749 yards, nine touchdowns, and 18 interceptions. He ultimately had a 55.7 quarterback rating.
Aikman still did not play great in his second season but he went on to have a great career. In addition to winning three Super Bowls, Aikman earned six Pro Bowl selections. He is also a Pro Football Hall of Fame Inductee. He finished his career with 32,942 career passing yards which is 38th all-time. He also had 165 touchdown passes and 141 interceptions.
John Elway, Denver Broncos
John Elway won two Super Bowls with the Denver Broncos, but he also certainly had some growing pains. During his rookie season in 1983, Elway went 4-6 as a starter. He ultimately only threw for 1,663 yards, seven touchdowns, and 14 interceptions. His quarterback rating was even lower than Aikman's as it was 54.9. 

Elway struggled for a couple years, even though never as bad as he did his rookie season, but he too became a Hall of Fame quarterback. In addition to winning two Super Bowls, Elway was a nine-time Pro Bowl Selection. He also won the 1987 NFL MVP award. He finished with 51,475 passing yards in his career, which is ninth all-time, to go with 300 touchdown passes and 226 interceptions.
Terry Bradshaw, Pittsburgh Steelers
Terry Bradshaw won four Super Bowls. The only quarterback in NFL history to win more is Tom Brady as Bradshaw is tied for second with Joe Montana. If that doesn't say anything about how successful he turned out I don't know what does. Bradshaw went 3-5 in eight starts during his rookie season with the Pittsburgh Steelers in 1970. Starting in eight games, he appeared in 13 games total. His numbers might be the worst out of everyone on this list. He threw for 1,410 yards, six touchdowns, and – wait for it – 24 interceptions. He had a 38.1% completion percentage and a 30.4 quarterback rating.
Bradshaw eventually got better as he is also in the Hall of Fame. In addition to winning four Super Bowls, he was a three-time Pro Bowl selection, a first-team All-Pro selection once, and he won the regular-season MVP award in 1978. Bradshaw finished his career with 27,989 passing yards, 212 touchdown passes, and 210 interceptions.
Peyton Manning, Indianapolis Colts
Peyton Manning is considered to be one of the greatest NFL quarterbacks of all-time. He is not yet a Hall of Famer as he just played in 2015, but he will be. In his rookie season with the Indianapolis Colts, he went 3-13 as a starting quarterback. He threw for a lot of yards but still struggled. He finished his rookie season with 3,739 passing yards, 26 touchdown passes, and 28 interceptions. 
He pretty much got better instantly as he only threw for 20 interceptions or more in one season for the rest of his career. Manning finished his career with two Super Bowl wins (one with the Colts, one with the Broncos) and as a 14-time Pro Bowl selection. He also earned first-team All-Pro honors seven times. This is addition to earning the league's regular-season MVP honors five times. He ultimately finished with 71,940 passing yards and 539 touchdown passes, which are both third all-time. That is compared to only 251 interceptions. Manning also holds the record for most touchdown passes in a single season with 55 in 2013.
Manning is one of the greatest NFL quarterbacks to ever play. The other three guys on this list are all Hall of Fame QBs. Just because a quarterback has struggled does not mean they can't turn it around in the future, and these guys proved that.