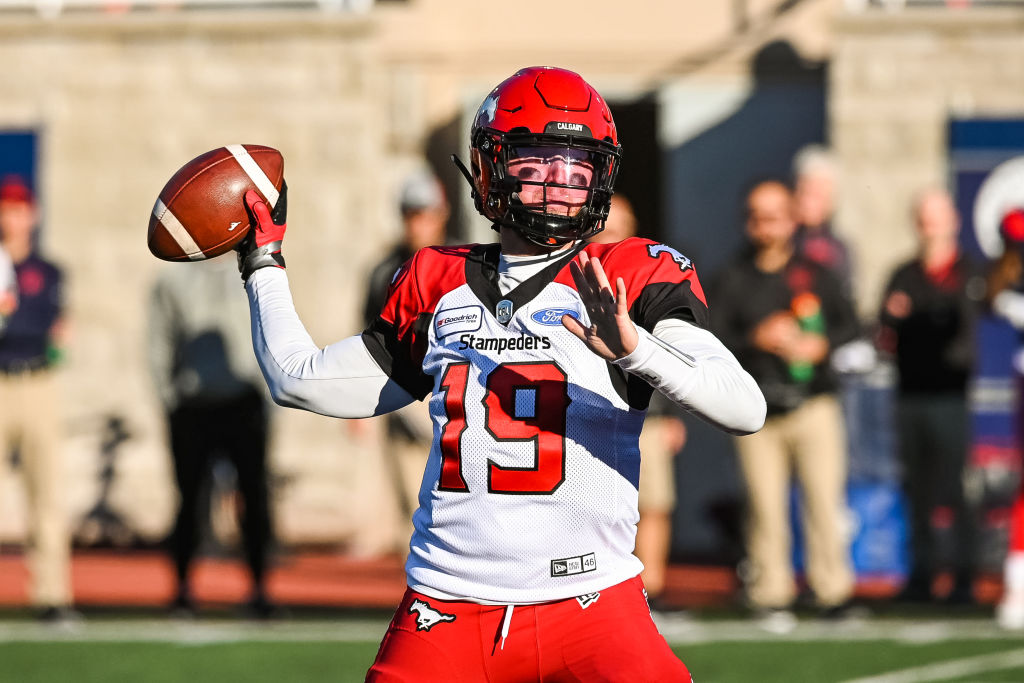 NFL: How Overconfidence Cost One Quarterback a Job With the Minnesota Vikings
Everyone wants their quarterback to be confident. The Minnesota Vikings, however, passed on one free agent because he was too sure of himself.
Everyone wants their quarterback to be confident. When you're holding the fate of the team in your hands, there's no room for second-guessing. CFL quarterback Bo Levi Mitchell, however, learned that you can be too confident when you're trying to make an NFL club.
Last year, the quarterback reportedly had a tryout with the Minnesota Vikings but didn't receive a job offer. Mitchell claims that he was simply too confident in his own abilities for the team's taste.
Who is Bo Levi Mitchell?
While Bo Levi Mitchell might not be a household name in America, he's pretty well known north of the border. The quarterback grew up in Texas and attended SMU for two seasons. He then transferred to Eastern Washington, where he started to make a name for himself.
Mitchell led Eastern Washington to victory in the FCS National Championship game, giving the school its first-ever football title; he threw three touchdowns in the game's final 16 minutes, taking home Most Outstanding Player honors. His senior year was even more impressive, as he dominated the league from a statistic perspective, throwing for over 4,000 yards and 33 touchdowns.
After going unselected in the 2012 NFL draft, Mitchell joined the Calgary Stampeders of the Canadian Football League. He spent a season as the third quarterback on the depth chart before getting a shot in 2013 due to injuries. Mitchell never looked back and has since established himself as a capable pro quarterback, with two Grey Cups and Grey Cup MVP awards on his resume.
Trying out for the Minnesota Vikings
In December 2018, the quarterback worked out for the Minnesota Vikings. Beyond the physical tests, the NFL club wanted to know why Mitchell thought he could help them win. He had a response ready to go.
"I was like 'well, for one, I've never been anywhere in football and not won a championship as a starter. High school, DI, DI-AA, now here in the CFL. Everywhere I've ever been I've won a championship within the first three years I've been there," Mitchell explained on Sportsnet 960's The Bow Show. "I can help you do that. I'm going to come in here, I'm going to take Kirk [Cousin's starting quarterback] job."
While that answer sounded good, it wasn't what the Minnesota Vikings wanted to hear. According to Mitchell, the team wasn't looking for someone to unseat Cousins, just serve as his back-up. That was all he needed to hear before moving on. "You're creating a culture — don't create competition," Mitchell explained.
Were the Vikings right in sticking with Kirk Cousins?
At the start of this season, it looked like the Vikings might have made a mistake by trusting Kirk Cousins. The quarterback struggled to get the team's passing game on track, leading to public issues with receivers Stefon Diggs and Adam Thielen. This past weekend, however, things seemed to click.
While Cousins might be perfectly capable of leading the Minnesota Vikings offense—there is a question about head coach Mike Zimmer's willingness to free up the passing game—Mitchell does have a point about building team culture. A back-up quarterback does need to be supportive, but competition is invaluable. If there's no internal pressure, it's hard for each player to be the best they can be.