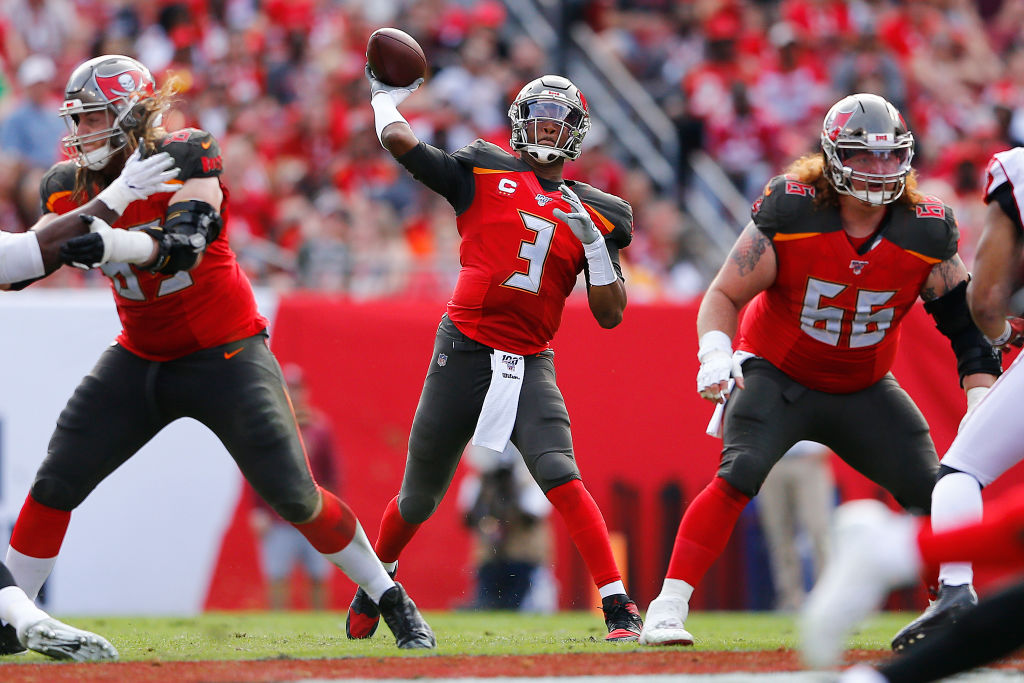 Donovan McNabb Suggests Jameis Winston Could Win AFC East Title with New England
Donovan McNabb thinks the Patriots should sign Jameis Winston to replace Tom Brady in New England. Is that such a crazy idea?
Now that Tom Brady has departed New England for Tampa Bay, former Philadelphia Eagles quarterback Donovan McNabb thinks he knows the perfect replacement for Brady—Jameis Winston and his 30 interceptions from last year.
Jameis Winston's career in Tampa
Since Tampa Bay selected Jameis Winston out of Florida State as the No. 1 overall pick in the 2015 NFL Draft, his career has been up and down to say the least.
In his rookie season, the Buccaneers appeared to have made the right decision as Winston started all 16 games and threw for 4,042 yards with 22 touchdowns and 15 interceptions. He earned a trip to the Pro Bowl. 
Winston's second season, his numbers increased with 4,090 yards and 28 touchdowns. Unfortunately, the number of interceptions went up as well to 18, which has become a common theme in the five seasons for the 2013 Heisman Trophy winner. 
Take the 2019 season. Winston started all 16 games and led the league with 626 pass attempts and 5,109 yards. He also led the league with a mind-boggling 30 interceptions, averaging just shy of two picks per contest. Surprisingly, that's not the record for most interceptions in a single season by a Buccaneers quarterback. Vinny Testaverde holds that dubious distinction with 35 in 1998. 
Donovan McNabb says Winston would succeed in New England
Donovan McNabb knows a little bit about being successful as an NFL quarterback. In McNabb's 13-year career, he earned six trips to the Pro Bowl while leading the Eagles to eight playoff appearances in his 11 seasons in Philly that included five NFC Championship games and one Super Bowl. 
When interviewed recently, McNabb admitted Winston has had his share of struggles in his career, but believes the 26-year-old quarterback hasn't always been treated fairly because of his sometimes questionable off-field choices in the past. McNabb compared Winston's interceptions with other big-name quarterbacks like Eli Manning and Philip Rivers, who have both had seasons with 20 or more interceptions. 
McNabb said if there were any place Winston's game would benefit most, it would be in New England.
"I think he would kind of flourish in the New England offense where he would be under the tutelage of (offensive coordinator) Josh McDaniels. He'll be under the Belichick way where it would be more dink-and-dunk, and they can protect the football. And all of a sudden, we're talking about New England again, possibly winning the AFC East."
Could Winston flourish with the Patriots?
McNabb's comments aren't too far-fetched. McDaniels is the highest-paid offensive coordinator in the NFL for a reason. He's been there with Belichick for all six Super Bowl titles. In that time, the Patriots have consistently put out top-rated offenses that are efficient, moving the ball up and down the field. Yes, McDaniels called the plays. Yes, Belichick managed the team. But Brady pulled the trigger.
If Winston were to join the Patriots, as McNabb said, there would be a lot of short underneath passes, which should limit Winston's turnover numbers. Winston could also afford to be in a system where he's not only taught how to complete passes but how to become a leader. If there's anyone that can do that, it's Belichick.
Whether or not Winston ends up in New England like McNabb suggests, is anyone's guess at this point. The 2020 NFL season will be an interesting one, and it will be even more intriguing to see if Belichick and McDaniels can find some semblance of an offense like the one that has been led by the greatest quarterback of all time the last two decades.