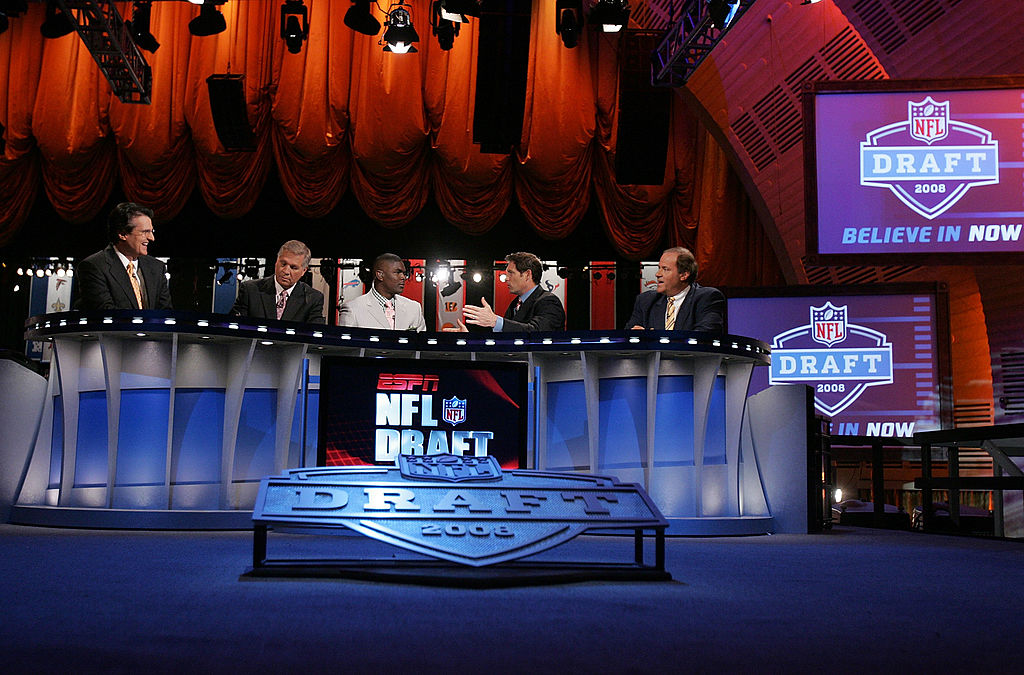 Mel Kiper Turned $400 NFL Draft Gig Into $7 Million Career
NFL draft expert Mel Kiper made just $400 in his first ESPN gig. He's turned that into a substantial net worth of $7 million.
Before he became ESPN's leading NFL draft analyst, Mel Kiper started from the bottom…literally. From the basement of his childhood home, Kiper built a multi-million dollar business centered around his obsession: football. While it took time for him to gain credibility, the Baltimore native has ascended from the depths of that basement to become one of the most popular and recognizable figures in the NFL draft industry.
Of course, it wasn't an easy journey. And though he's become one of the top-paid NFL draft experts, he had to scrape by in the beginning. In fact, his first ESPN gig paid him the paltry sum of $400. Ultimately, Mel Kiper's perseverance and marketability have made him a very rich man.
Mel Kiper's early NFL draft interest
Before his signature hairstyle became a trending topic, Mel Kiper was just another football-obsessed teenager. He grew up in the Baltimore area, where the Colts played until they relocated to Indianapolis in 1984. Growing up near an NFL franchise proved to be valuable for the amateur basement scout.
Ernie Acorsi spent more than a decade working for the Colts before rising to the general manager position in 1982. Kiper was eager to get his foot in the door, and the longtime NFL executive proposed that the fledgling scout sell his NFL draft reports to interested fans. Acorsi relayed how impressive Kiper was to the Washington Post:
"All these other kids were running around getting autographs," recalls Ernie Accorsi, the Colts' general manager at the time and a longtime NFL executive, "and instead he was there giving me his draft lists, ranking college players."

Kiper took the advice to heart and published his first NFL draft book in 1979 at the age of 19. Just two years later, he started Mel Kiper Enterprises, Inc. while attending Essex Community College. However, he dropped out of school a year-and-a-half later to dedicate his life to becoming an NFL draft star.
ESPN paid future TV star just $400 for his first gig
Everything changed for Mel Kiper in 1984. After establishing a solid reputation within the NFL draft community, the 23-year-old got a chance to interview at ESPN for a draft analyst gig. He had to answer questions from about six ESPN officials ranging from an organization's philosophy to specific players to general managers.
Despite his age, ESPN hired him for the job. All for the price of just $400. That didn't matter to Kiper, who went on record saying, "I would have paid them to have me on."
Of course, his ESPN debut simply set the stage for what turned out to be a lucrative television career. That's not to say there weren't some speedbumps on the way. Mel Kiper faced plenty of backlash from NFL executives because of his amateur scouting background. At the 1994 NFL draft, Colts GM Bill Tobin famously scorned Kiper after the NFL draft analyst ripped the organization for taking linebacker Trev Alberts over quarterback Trent Dilfer.
Ironically, the guy who made just $400 in his first NFL draft gig nailed it. Alberts started just seven games in three years with the Colts, while Dilfer made one Pro Bowl and quarterbacked the Ravens to a Super Bowl victory in 2000.
Kiper has become a leading NFL draft expert
Fast forward 35 years later, and Mel Kiper has become arguably the most popular NFL draft expert in the business. His mock drafts may not always be spot-on, but that doesn't stop football fans from obsessively pouring over them every spring. He currently has more nearly 700,000 Twitter followers, and he makes regular appearances on TV shows, podcasts and radio interviews.
From a financial standpoint, it's been an incredible career arc for someone who started scouting from his parent's basement. Kiper inked a six-year contract extension with ESPN in 2012, and he's earned a six-figure income from the network giant for years. In addition, he generated significant income for years from his annual NFL draft book and publications through his business.
According to Celebrity Net Worth, Mel Kiper is worth $7 million today. Not bad for someone who made just $400 from his first ESPN gig. It just goes to show you don't always have to be right with your predictions to achieve significant success in the NFL draft industry.