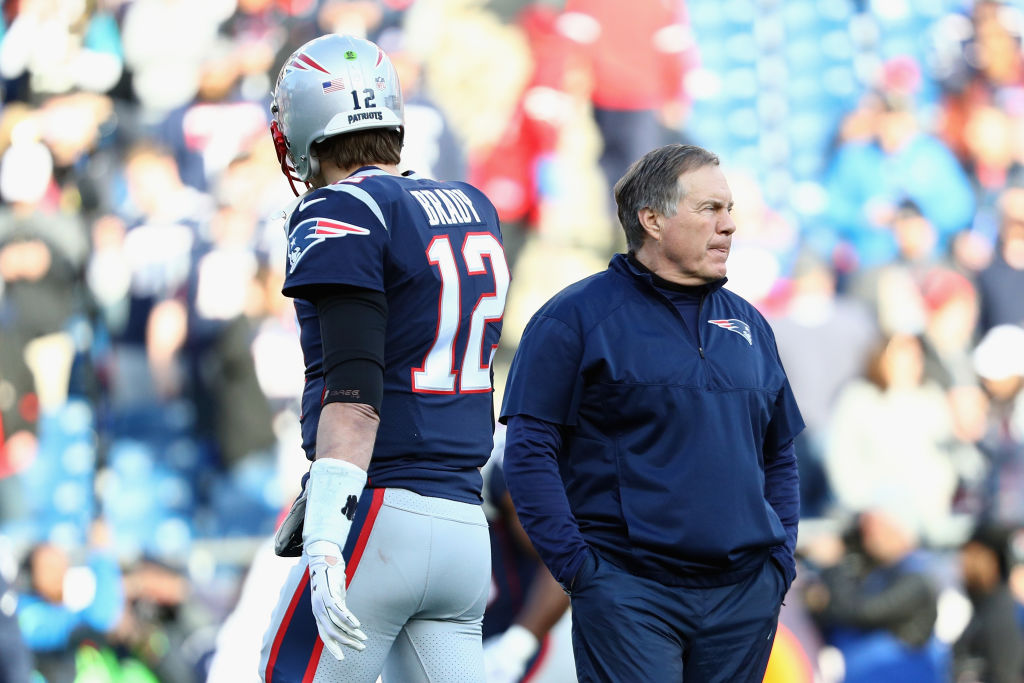 Tom Brady Defied Bill Belichick's Refusal to Draft Premium Weapons
Tom Brady managed to win six Super Bowls with the Patriots despite Bill Belichick's refusal to spend premium draft picks on weapons.
Overcoming adversity defines Tom Brady. The most famous sixth-round pick in NFL history played a pivotal role in transforming the Patriots from an underachiever into the NFL's most successful dynasty. Of course, Bill Belichick also played a huge factor in bringing six Super Bowl titles to Foxborough.
But for all of their collective accomplishments, the Patriots could have actually won more Lombardi Trophies if Belichick the general manager had better supported his legendary quarterback. Even though Bill Belichick refused to devote valuable draft capital on offensive weapons, Tom Brady defied the odds and still became the greatest quarterback of all time.
Tom Brady's best weapons with the Patriots
You don't win six Super Bowl titles with one player. Tom Brady certainly made a ton of clutch throws in his 20-year Patriots career, but he did benefit from playing with some tremendous weapons. However, consider how New England acquired some of Brady's favorite targets and you begin to realize that Belichick built the team without providing his quarterback young talent through the NFL draft.
Rob Gronkowski did enter the league as a second-round pick in 2010. And for almost a decade, he and Brady formed one of the most unstoppable duos in NFL history. The two future Hall of Famers enjoyed an unbreakable bond on and off the field that even led Gronk to come out of retirement to join Brady in Tampa. But after spending the 42nd overall pick on Gronkowski, Belichick didn't draft a single tight end in the top-100 picks until he took Devin Asiasi a few weeks ago.
Randy Moss and Wes Welker both arrived via trade. The former turned out to be a huge bargain for his fourth-round price. Welker cost a second-round pick and racked up huge numbers as the NFL's preeminent slot receiver. Even Julian Edelman, who could arguably take home the title of Brady's most trusted target, didn't cost much. The Patriots took a seventh-round flyer on the former college quarterback in 2009 and watched him develop into a more than capable replacement for Welker.
Bill Belichick drafted just one first-round receiver in 20 years
Patriots fans cringe thinking about Bill Belichick drafting receivers. Here's a list of the receivers the Patriots drafted for Tom Brady since missing on 2006 second-rounder Chad Jackson:
Brandon Tate – 83rd overall in 2009
Julian Edelman – 232nd overall in 2009
Taylor Price – 90th overall in 2010
Jeremy Ebert – 235th overall in 2012
Aaron Dobson – 59th overall in 2013
Josh Boyce – 102nd overall in 2013
Jeremy Gallon – 244th overall in 2014
Malcolm Mitchell – 112th overall in 2016
Devin Lucien – 225th overall in 2016
Braxton Berrios – 210th overall in 2018
Last year, Belichick finally broke the mold and spent a first-round pick on N'Keal Harry. That marked the first time in Brady's 20-year Patriots career that the team devoted a top-32 pick on a wideout. Of course, Harry never earned Brady's trust after missing so much time with injuries. Still, the overall lack of support from Belichick is baffling. In a league that clearly puts an emphasis on the passing game, why not surround the greatest quarterback of all time with premium talent?
It's not like the Patriots skipped over receivers and landed stars in the first round, either. Since hitting big on Chandler Jones and Dont'a Hightower in 2012, Belichick has had his fair share of Day 1 whiffs. Dominique Easley got cut after two nondescript seasons. Malcom Brown defined the word average. The Georgia duo of Isaiah Wynn and Sony Michel has yet to live up to expectations due in large part to durability issues. Even the Harry selection looks questionable, as Deebo Samuel, A.J. Brown, Mecole Hardman and D.K. Metcalf all went in the second round and turned out to be instant-impact rookies.
Did Belichick prevent Brady from winning more Super Bowls?
The eternal debate about who played a bigger role in New England's historic 20-year run will never be answered. But there's a reasonable argument that Brady defied Belichick's own lack of personnel support. Looking at how the New Orleans Saints and Indianapolis Colts constantly devoted premium draft picks to help Drew Brees and Peyton Mannning, it's incredible to think about what Brady could have done with better weapons.
Belichick the coach certainly orchestrated terrific gameplans. He transformed castoffs like Kyle Van Noy, Rob Ninkovich and Rodney Harrison into invaluable role players in a Super Bowl machine. Yet, he devoted just one first-round pick on a receiver for the best quarterback in NFL history, and that came in his final year. Even when Gronkowski showed clear signs of decline, Belichick refused to restock the tight end position.
Ultimately, Brady has spent his entire football career overcoming obstacles. He had to fight to maintain a starting job at Michigan. He overcame his sixth-round draft status and sent a $103 million QB to the bench. And he defied Bill Belichick's refusal to surround him with premium weapons to win six Super Bowl rings. Tom Brady could have added to that collection if Bill Belichick the GM had helped him more.