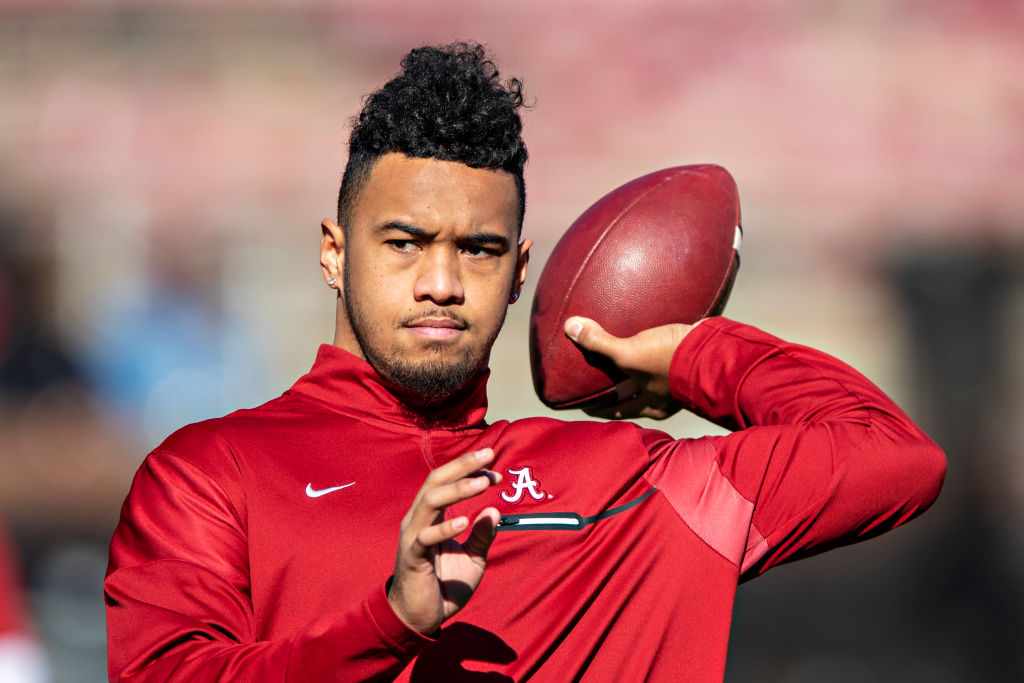 Dolphins Stealing Tua Tagovailoa Caps off the NFL's Perfect Rebuilding Blueprint
By patiently waiting for Tua Tagovailoa in the 2020 NFL draft, the Miami Dolphins showed the NFL how to perfectly execute a rebuild.
#TankforTua didn't go as exactly as planned for the Miami Dolphins. After shipping off Laremy Tunsil and Minkah Fitzpatrick, it looked like Brian Flores' team was destined for a winless season. Yet, the former New England Patriots linebacker coach refused to lose. Though the Dolphins had one of the NFL's least-talented rosters, they went 5-4 down the stretch and watched the Cincinnati Bengals swipe away the No. 1 overall pick. Armed with ample cap space, Miami attacked its defensive needs in free agency and still entered the 2020 NFL draft with a trio of first-round picks. By staying patient and letting the draft board fall to them, the Dolphins stole Tua Tagovailoa with the fifth pick and showed the rest of the NFL how to perfectly execute a rebuilding blueprint.
Dolphins tore down their roster to acquire valuable NFL draft capital
Any rebuild starts with tearing down the existing infrastructure. The Dolphins took that to another level. After poaching Flores from the division-rival Patriots, Miami went about cleansing its roster of past sins. Ryan Tannehill became the first casualty. Miami's 2012 first-round pick got shipped to Tennessee for a 2019 seventh-rounder and a 2020 fourth-round pick. Tannehill parlayed a surprising breakout season into a massive $118 million contract this offseason. Still, the trade made total sense for a Dolphins team seeking a clean slate.
Just two weeks later, the Dolphins unloaded Robert Quinn's contract in a trade with the Dallas Cowboys. Following a no-nonsense draft class predicated on improving both lines of scrimmage, Miami made Xavien Howard the NFL's highest-paid cornerback. Though they invested in one young star, the Dolphins did quite the opposite with two of their recent first-round picks.
Right before the 2019 season started, Miami sold high on Laremy Tunsil. In another deal that Bill O'Brien managed to bungle, the Dolphins traded their young left tackle (along with Kenny Stills) for a huge haul that included two first-round picks and a 2021 second-rounder. Just 16 days later, the Pittsburgh Steelers sent a 2020 first-round pick for safety Minkah Fitzpatrick in a deal that also included a few late-round pick swaps. In less than eight months on the job, Brian Flores had gotten rid of three former first-round picks while acquiring a boatload of valuable draft assets.
Miami's utilized massive cap space to land Byron Jones and Kyle Van Noy
Flores motivated his undermanned team to a surprising 5-11 record. Entering the offseason, the Dolphins had more than $100 million in cap space. And after purging the roster, Miami spent freely on key defensive players for a defensive-minded head coach. In a move that few saw coming, the Dolphins made Byron Jones the NFL's highest-paid corner less than a year after doing the same with Howard. Adding a lockdown defensive back with the athleticism and length to shut down opposing No. 1 receiver will give the Dolphins their best cornerback duo since Patrick Surtain and Sam Madison. However, Miami didn't stop spending.
In a move that not only strengthened their team but also weakened their biggest nemesis, the Dolphins signed linebacker Kyle Van Noy to a four-year, $51 million deal. A critical component to the Patriots' 2016 and 2018 Super Bowl squads, Van Noy gives Miami championship credibility and positional versatility. Along with fellow free-agent additions Shaq Lawson, Emmanuel Ogbah and Elandon Roberts, the Dolphins wisely invested their massive salary-cap space on improving the league's worst scoring defense.
Tua Tagovailoa caps off brilliant rebuild
Miami's rebuilding blueprint started with hiring a rising head coach. It continued with a blue-collar 2019 draft class. Building a war chest of draft capital came at the cost of some talented young players. However, that also freed up valuable cap space to target specific free agents to bolster a defense in need of premium playmakers. Those collective moves set the stage for a pivotal 2020 NFL draft that could make or break Miami's rebuild.
Despite rampant rumors about trading up to land Tua Tagovailoa, the Dolphins displayed incredible patience. Instead of sacrificing precious draft picks to maneuver up the board, they simply waited. And by exercising caution, Miami landed the steal of the 2020 NFL draft. An extensive injury history may have knocked Tua Tagovailoa down draft boards, but the Dolphins landed a quarterback with unlimited potential who could very well become the next Drew Brees. Thanks to the Tunsil and Fitzpatrick trades, the Dolphins also added a promising left tackle prospect in Austin Jackson and a high-upside corner in Noah Igbinoghene with their other first-round selections.
It'll be up to Brian Flores to make the most of his revamped roster. But what the Dolphins did in the last year or so should give NFL teams the perfect blueprint on how to execute a rebuild. Now it'll be up to Tua Tagovailoa and his new teammates to turn Miami into a playoff contender.