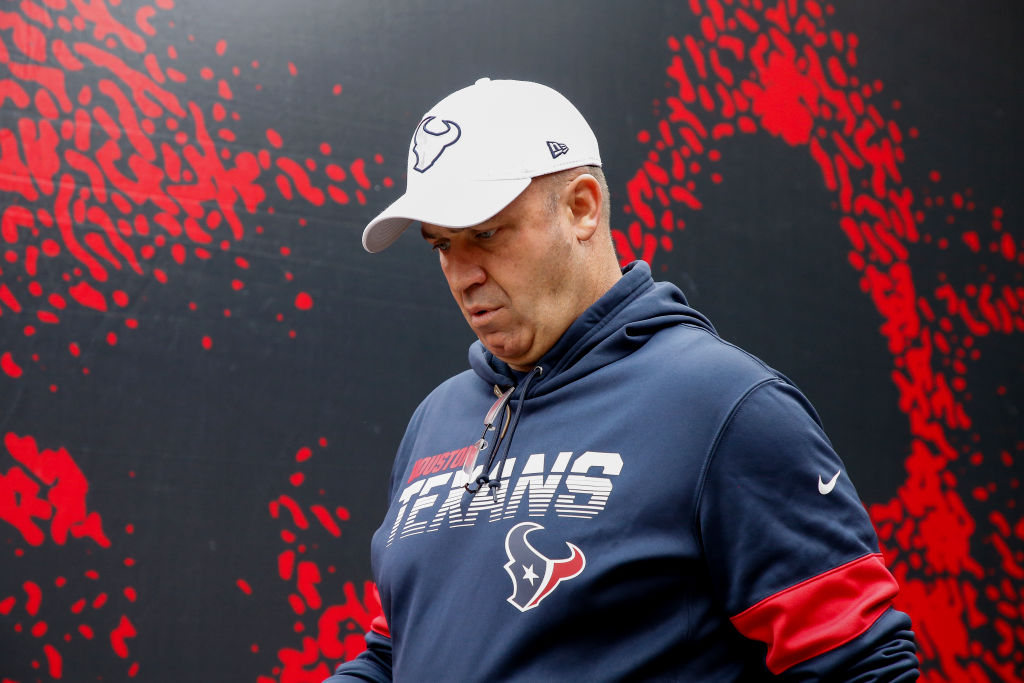 Bill O'Brien's Incompetence Just Cost the Texans $66 Million
Bill O'Brien bizarrely traded for Laremy Tunsil without a long-term deal in place. That mistake just cost the Texans $66 million.
In less than a year, Bill O'Brien managed to turn the Houston Texans from a title contender into one of the most laughably run franchises in the NFL. Power-hungry and with essentially no one to check him, O'Brien got rid of arguably the team's two best players not named Deshaun Watson. Incredibly, he traded Jadeveon Clowney and DeAndre Hopkins without getting back a single first-round pick. However, those moves could somewhat be justified from a financial standpoint. What can't be excused is how badly O'Brien bungled the Laremy Tunsil deal. And on Friday, Bill O'Brien's incompetence cost the Houston Texans $66 million.
Bill O'Brien traded a huge haul for Laremy Tunsil
From a football standpoint, the Texans can't get knocked for trading for Laremy Tunsil. Watson clearly needed better protection in order for him to just survive. The Miami Dolphins had just hired Brian Flores and were preparing for their #TankforTua campaign. So when Houston decided to pursue the former first-round blindside protector, it made total sense.
Only Bill O'Brien eschewed all conventional wisdom when it comes to draft pick value. In stunning fashion, the Texans head coach traded two first-round picks plus a second-rounder to the Dolphins for Tunsil and Kenny Stills. Houston even threw in two more players while receiving fourth- and sixth-round picks back from Miami.
While Tunsil filled a huge hole at left tackle, O'Brien paid an exorbitant price for a player who had positioned himself for a massive payday. Tunsil entered the 2019 season on the final year of his rookie deal, though he did have the fifth-year option in play. To perfectly sum up how much Bill O'Brien overpaid, Tunsil even told the Dolphins they couldn't pass up on the trade:
"A funny story I was saying the other day was I called Laremy about the trade, and Laremy walked in my office and saw it on the board and goes, 'I would trade me for that,'" said Grier.

When a player is telling his own general manager to not pass up a good deal, you know you're probably doing something wrong.
Texans coach/GM didn't give his left tackle a new deal last season
Perhaps the most egregious blunder by Bill O'Brien wasn't even the price he paid for Tunsil. Sometimes, a team has to be that aggressive in shoring up a critical need. And considering Watson had already suffered a torn ACL behind a porous Texans offensive line, the trade haul could be explained away as a necessity.
But where O'Brien truly fell short in his attempt at being a general manager was his complete lack of foresight at the financial implications of not signing Tunsil to an extension. A young left tackle with Pro Bowl potential rarely hits the open market. Instead of locking up his new blindside protector to a multi-year deal, O'Brien didn't do a single thing. Tunsil made his first Pro Bowl and entered this offseason with all the leverage as a highly valuable commodity. And boy did he utilize that to his advantage.
Tunsil negotiated a record-setting deal against O'Brien
Even acting as his own agent, Tunsil managed to outduel Bill O'Brien at the negotiating table. On Friday, the Texans signed their left tackle to a three-year, $66 million with nearly $58 million guaranteed. That figure included a whopping $40 million over the first two years of the deal. Needless to say, Tunsil banked.
O'Brien's incompetence cost the Texans dearly. Despite negotiating against his own coach, Tunsil managed to secure a record-setting deal that averages out to $22 million per year. Not only does that surpass quarterbacks like Teddy Bridgewater and Andy Dalton, but that absolutely blew the rest of the tackle market out of the water.
Because O'Brien failed to lock up Tunsil on a long-term deal at the time of the trade, he will pay his franchise left tackle $5.5 million more per season than the NFL's second-highest-paid tackle, Anthony Castonzo. Chalk that one up as yet another expensive management misfire by Bill O'Brien.