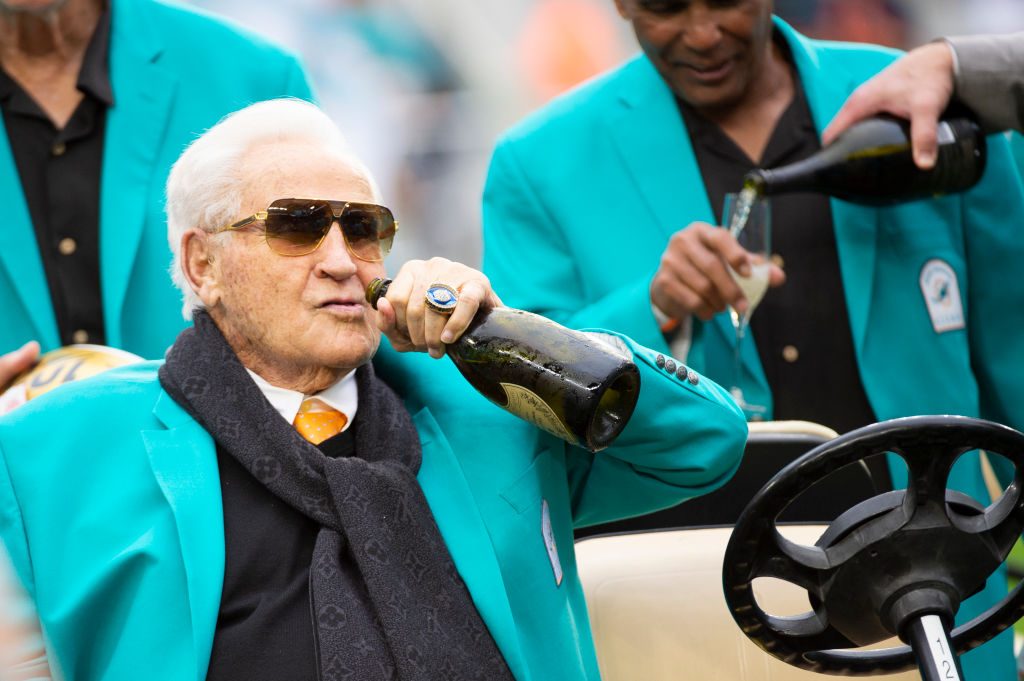 Don Shula's Death Highlights Bill Belichick's Impossible Odds to Overtake the Dolphins Legend
Dolphins legend Don Shula died on Monday. Patriots head coach Bill Belichick will have to defy the odds to top Shula's all-time win record.
For 33 years, Don Shula showed the rest of the NFL how to win at an unbelievable level. As the head coach for both the Baltimore Colts and Miami Dolphins, he won three NFL championships. By the time he wrapped up his legendary coaching career, Shula had won 328 regular-season games plus another 19 in postseason play. He left no doubt that he was the best head coach in NFL history, at least until Bill Belichick turned the New England Patriots into the NFL's greatest dynasty.
Yet, with Don Shula passing away on Monday, it only reinforces just how impressive his career wins record truly is. While Belichick may be the best head coach of his generation (and some would say of all time), he faces nearly impossible odds to overtake the legendary Dolphins coach in NFL record books.
Don Shula became the face of the Dolphins
Most people remember Don Shula for his amazing 26-year tenure with the Dolphins. But before he brought two Super Bowl titles to South Beach, he honed his craft in Baltimore. In seven years as Colts head coach, Shula posted an insane 75.5 winning percentage that included a league title in 1968.
Just two years later, he took his talents south to Miami. That decision proved to be fruitful for both Shula and the franchise. Under his watch, Miami quickly transformed from a perennial loser into one of the most dominant teams ever. In his first season at the helm, Shula directed the Dolphins to their first winning season in franchise history. In year two, the team advanced to Super Bowl VI, where they lost to the Dallas Cowboys. However, that simply set the stage for the greatest season in NFL history.
The 1972 Dolphins became the only team in league history to finish the season with a perfect record. Ironically, Bill Belichick's Patriots came dangerously close to completing the feat in 2007. But one desperate heave from Eli Manning to David Tyree ensured the Dolphins would maintain their status as the only undefeated team in NFL history. Shula coached Miami to back-to-back Super Bowl titles. From 1973 until he retired after the 1995 season, Shula incredibly posted just two losing seasons in Miami.
Patriots became the NFL's most successful dynasty under Bill Belichick
If there's any NFL coach who deserves to be mentioned in the same breath as Don Shula, it's certainly Bill Belichick. Though his tenure as head coach of the Cleveland Browns didn't go as planned, he's more than made up for it during his two-decade run in New England. Whether he deserves more credit than Tom Brady for the Patriots' six Super Bowl titles remains a hot-button topic, but there's no doubt that what Belichick has done will never be replicated.
Placing an emphasis on consistency, reliability and accountability, Belichick's famous "Patriot Way" program laid the foundation for the most successful dynasty in professional sports. Since Brady took over for an injured Drew Bledsoe in 2001, the Patriots have won double-digit games every year except 2002. He even coaxed an 11-5 season out of Matt Cassel after Brady tore his ACL in the 2008 season-opener. He doesn't win people over with his personality, but Bill Belichick wins on the field at a rate unmatched by any of his contemporaries.
Odds are against Belichick passing Shula for the NFL win record
Sadly, Don Shula died on Monday at the age of 90. The Dolphins legend left behind an indelible mark on the game of football. He stands atop NFL record books with 347 career victories, with 328 of those coming during the regular season. Shula's passing brings up an important question: Can Bill Belichick surpass his all-time wins record? Maybe with Brady still in the fold, he'd have a better chance. But the 2020 team will look far different without TB12. For Belichick, the prospect of coaching up 2019 fourth-rounder Jarrett Stidham will be a dramatic change from the 42-year-old Brady.
The Patriots' coach faces nearly impossible odds at overtaking Shula's wins record. Belichick currently has 273 regular-season wins under his belt, which puts him in reasonably striking distance. Including the postseason, his 304 victories mean he'd have to win another 44 games to best Don Shula's record. Belichick does have a significant factor working against him, though. At 68 years old, he would need to coach well into his mid- to late-70s to realistically topple Shula's record, which would easily make him the oldest coach in NFL history.
Given the changing landscape in New England and his age, Bill Belichick faces a severely uphill climb to beat Don Shula's wins record. But if his tenure as Patriots head coach has taught us anything, it's to never doubt William Stephen Belichick.