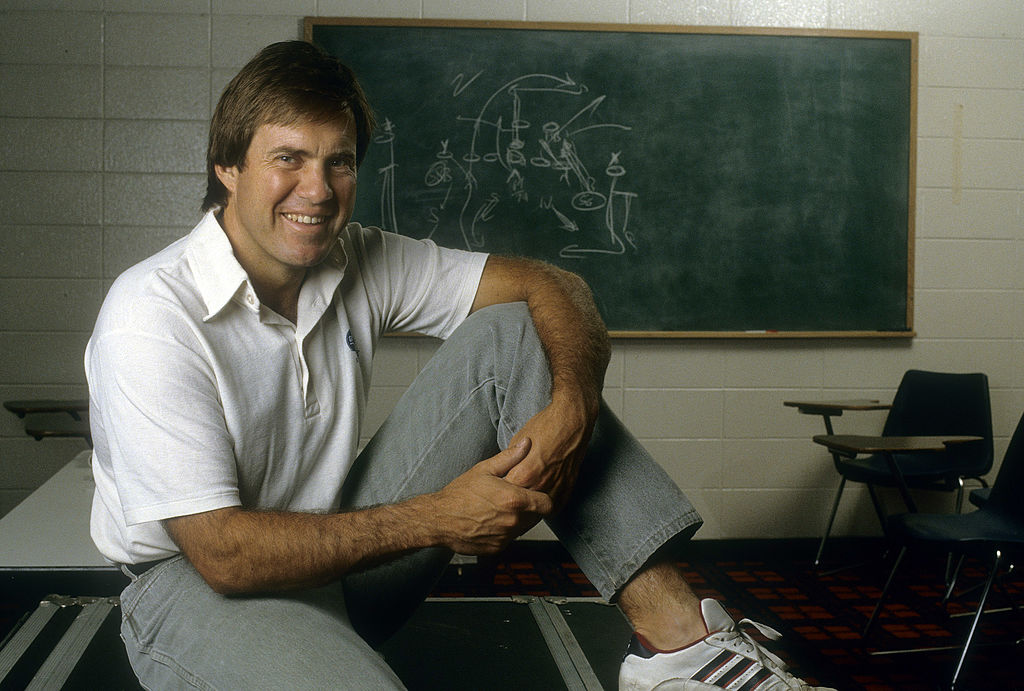 Bill Belichick Was Once the President of a Hard-Partying College Fraternity
Bill Belichick might be all-business as an NFL head coach, but he once served as the president of a hard-partying college fraternity.
When it comes to NFL head coaches, Bill Belichick doesn't seem like the most fun guy to be around. While he can occasionally show some emotion, he's usually all business; if it doesn't help the New England Patriots win football games, he's probably not interested. During his college days, however, things were a bit different.
At Wesleyan, Belichick served as the president of a hard-partying fraternity. Even amid the revelry, though, there were still some trademark signs of the man who would become one of football's greatest coaches.
Bill Belichick's legendary coaching career
During his time at Wesleyan, Bill Belichick played football, lacrosse, and squash. After graduation, however, he hung up his pads for good and took his first steps into coaching.
In 1975, Belichick landed a job as a special assistant on the Baltimore Colts staff; the role only lasted for a season, but it still opened up more opportunities. He then joined the Detroit Lions and Denver Broncos, continuing to pay his dues.
Eventually, Belichick landed with the New York Giants. While he started out as a special teams coach and defensive assistant, he rapidly ascended the organizational ladder. Within one season, he was coaching the team's linebackers; in 1985, he took over the entire defense. As coordinator, he and Lawrence Taylor helped the club claim two Lombardi Trophies.
Those championships helped Bill Belichick land his first head coaching gig, which came with the Cleveland Browns in 1991. He only posted one winning season, however, and got the ax in 1995. After brief spells with the Patriots and Jets, he took over as the Patriots head coach; from there, the rest is history.
Presiding over a hard-partying fraternity
While Bill Belichick may seem like a strict college dean when he's prowling the sidelines, things used to be much different. As Wesleyan, he was the president of a real-life animal house.
"We were Animal House before the movie," said Mike Celeste, a Florida lawyer who played football and lacrosse with Belichick, told Bob Holer of the Boston Globe in 2012. "It seemed like we were on double-secret probation the whole time."
While most of the Chi Psi brothers' exploits have been lost to time, we do know a bit about Belichick's time in college. According to Holer, there were some wild trips to the Quebec Winter Carnival and New Orleans' Mardi Gras. Their "alleged misdeeds included urinating on a rival frat and breaking several windows;" on one occasion "Belichick was jolted awake by a frat brother firing a shotgun at a soda machine that ate his quarter."
Even as a fraternity brother, Bill Belichick was still himself
While Bill Belichick may have been a bit more fun in college, don't let your imagination get carried away. Even as a fraternity brother, the future head coach was already leading his troops.
"He was the mild one in that [frat] house," Belichick's freshman coach John Vino recalled in Ian O'Connor's book about the Patriots head coach. "He was the voice of reason even when there was no reason. And if there was an argument on the field, he would be the arbitrator."
The Chi Psi brothers shared a similar recollection of their fearless president. "Bill was the responsible conscience of the place," his former roommate Bill Deveraux told Holer.
Perhaps the ultimate foreshadowing of Belichick's future success, however, came on a trip to the Big Easy. When the group ran out of money, Bill did what any college student would do and called home. "Belichick's father contacted Jim Royer, an assistant coach for the Saints, who took in the Wesleyan crew," Holer explained. "While Belichick's buddies partied on, he stayed behind to talk football with Royer."