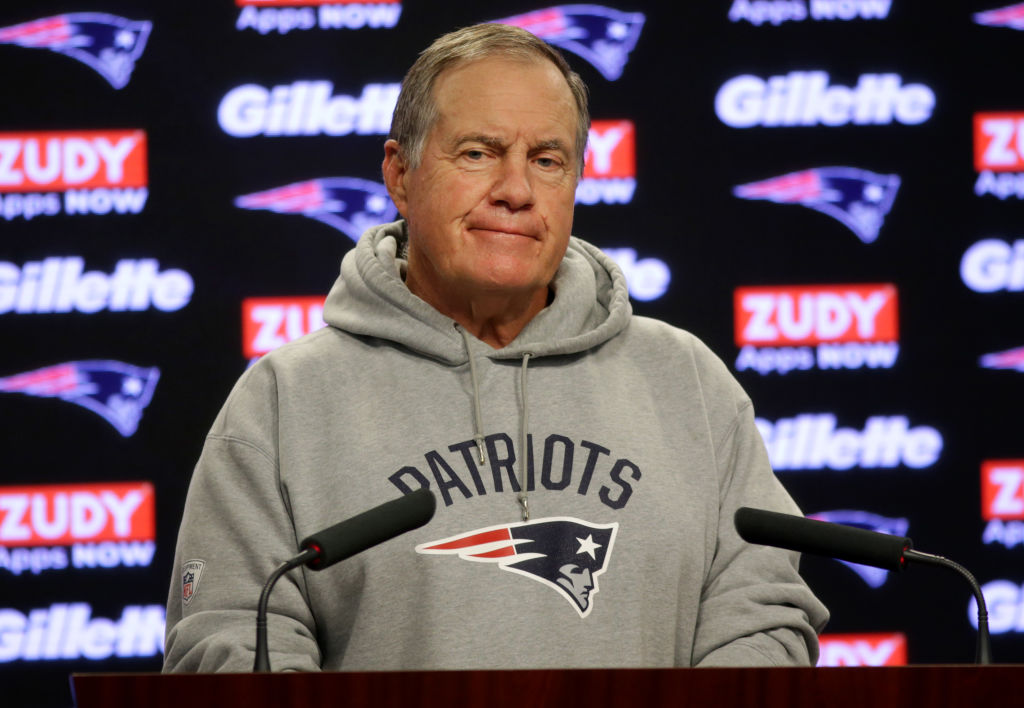 Patriots Coach Bill Belichick Doesn't Like to Publicly Praise His Players Until They Leave New England
While Patriots head coach Bill Belichick isn't the most forthcoming speaker, even he can't help but praise some of his former players.
While New England Patriots head coach Bill Belichick is a serial winner, he's not the most beloved man outside of Foxboro. Between his hoodie, his grumpy demeanor, and his consistent claim to the Lombardi Trophy, it's easy to understand why many fans can't stand the coach. Patriots players, however, always seem to buy into his message.
Although Belichick might not seem warm and fuzzy, he does sometimes break character for a brief moment. He'll occasionally praise some of his players, but he usually waits for them to leave New England first.
Bill Belichick and the Patriot way
Bill Belichick took over the New England Patriots in the year 2000. While the club finished 5-11 during his first season in charge, things have been markedly different ever since.
Over the years, Belichick's team has been based around the principles of 'the Patriot Way.' While the head coach has publically stated that he isn't familiar with the concept, the notion has taken on a life of its own.
While former players like Kevin Faulk have distilled the concept into one simple reality—winning football games—the Patriot way has grown into something larger. As far as the public understands it, everyone on the team has a job to do; you then master that job and do what it takes to win, regardless of your individual role. In theory, that system has allowed players to be cogs in a greater system, which explains how Belichick manages to let players leave New England without sacrificing overall performance.
Stephen Gostkowski receives some rare praise from the Patriots coach
During his time in New England, Bill Belichick hasn't publically praised many of his players. While there were a few notable exceptions—the coach recently highlighted a linesman who played through illness, for example—it's safe to assume press conferences aren't the highlight of his day.
Belichick, however, does praise players in one specific circumstance. If a key contributor is leaving New England, regardless of the reason, the Patriots head coach will make a point of acknowledging.
After cutting kicker Stephen Gostkowski, the coach did just that. "I have had the privilege of coaching some of the best specialists in the NFL and Stephen Gostowski is one of them," Belichick said in a statement. "Stephen is a great teammate who made outstanding contributions over a decade of championship football."
Bill Belichick shows his appreciation for the greats
Tuesday's statement wasn't the first time that Bill Belichick has praised a player after they've left the Patriots, however. While the coach doesn't make a habit of issuing public statements about his troops, he has made an exception for some major names.
Earlier this offseason, the coach heaped praise on Tom Brady. While things may have broken down behind the scenes, Belichick still hailed his quarterback as "a tone setter and a bar raiser" and both "a special person and the greatest quarterback of all-time." In the past, he's also paid tribute to Adam Vinatieri, Rob Ninkovich, and Tedy Bruschi after their time in Foxboro had come to an end.
While we'll never know what Bill Belichick is like in the locker room, it's safe to say that he doesn't like to praise his players publically. When a key contributor leaves New England, however, even the Patriots coach can't help but show his appreciation.