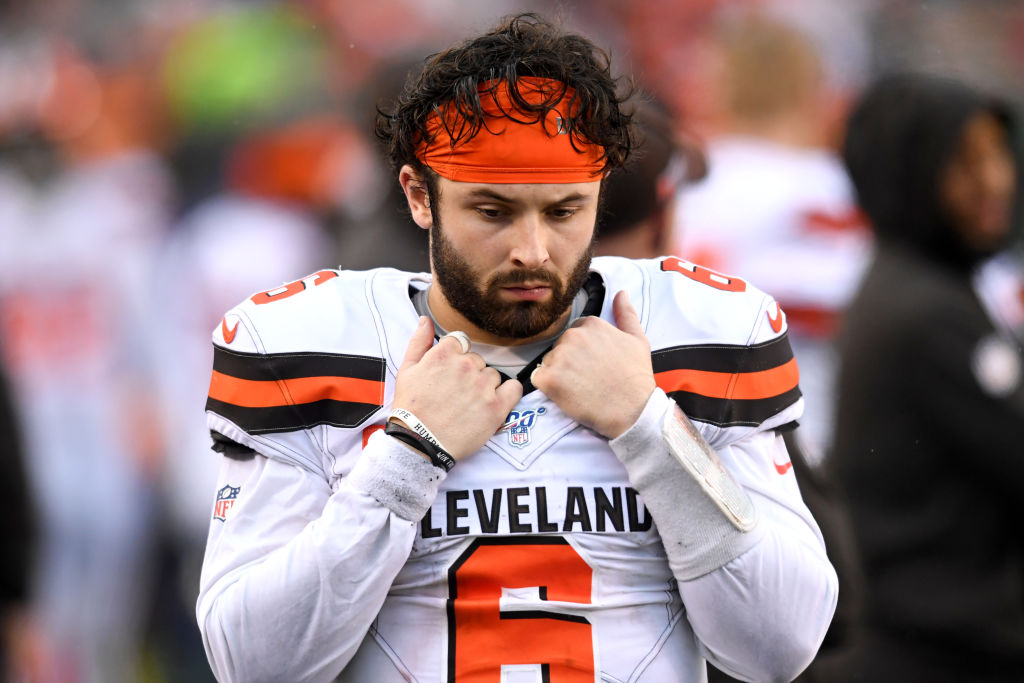 Baker Mayfield is Out of Excuses After Browns Invest Over $100 Million in Upgrades
Baker Mayfield hasn't exactly lived up to expectations since the Cleveland Browns made him the No. 1 pick in the 2018 NFL draft.
While he hasn't reached Johnny Manziel territory, Baker Mayfield has clearly fallen short of expectations since the Cleveland Browns made him the No. 1 pick in 2018. A promising rookie season led many to believe that Mayfield could finally turn the Browns around in 2019. Yet, the NFL's most embarrassing franchise watched the postseason from home.
But with a new regime and more than $100 million in offensive upgrades, it's put up or shut up time for the former Heisman Trophy winner. And if Baker Mayfield doesn't deliver, don't expect him to be in a Browns uniform much longer.
Baker Mayfield hasn't lived up to No. 1 pick status
Coming out of Oklahoma, Baker Mayfield garnered comparisons to Drew Brees for his pinpoint accuracy. Despite his small stature and maturity concerns, he still went No. 1 overall. The former Sooners superstar started 13 games as a rookie. While the Browns went just 6-7, Mayfield flashed glimpses of his Pro Bowl potential. The 6-foot-1, 215-pounder wrapped up his rookie season with 3,725 yards, 27 touchdowns and a 93.7 quarterback rating.
After bringing in Odell Beckham Jr., the Browns seemed destined to not only make the playoffs but also contend for the Super Bowl. That plan never got off the ground. Freddie Kitchens famously flopped as a full-time head coach. Mayfield regressed mightily behind a porous offensive line. He finished his second year with an ugly 59.4 completion percentage. More alarmingly, he posted a 22:21 touchdown-to-interception ratio while getting sacked 40 times. The Browns finished 6-10 and once again hit the restart button.
Browns invested more than $100 million on offensive help this offseason
Firing Kitchens represented the first step of admitting failure. Cleveland then went on an exhaustive search to find not only a new head coach but also a general manager. Ultimately, the Browns hired Kevin Stefanski and Andrew Berry as their new top tandem. Those two quickly went to work to bolster Baker Mayfield's supporting cast.
Even with former first-round pick David Njoku on the roster, Cleveland signed Austin Hooper to a record-setting deal. The former Atlanta Falcons tight end caught 146 passes and made the Pro Bowl in each of the last two seasons. Though he's not a big-play threat, Hooper should provide Mayfield with a reliable check-down option.
The Browns also beefed up one of the league's worst offensive lines with two huge investments. First, they inked former Tennessee Titans right tackle Jack Conklin to a monster $42 million contract. The Browns then spent the 10th overall pick on Jedrick Wills, who protected Tua Tagovailoa at Alabama. A mauling right tackle in college, the 6-foot-4, 312-pounder will shift to the left side in Cleveland. Conklin and Wills should give Mayfield plenty of time in the pocket and help open holes for a ground game that produced just 15 touchdowns last season.
Mayfield must lead Cleveland to the playoffs to secure his job
Baker Mayfield may be entering just his third season, but it's put up or shut up time for the former No. 1 overall pick. On paper, the Browns have more than enough talent on both sides of the ball to make the playoffs. In fact, you could argue that the Browns' offense has more pure talent than any other NFL team. Just look at Cleveland's projected starting lineup based on each player's draft position:
QB – Baker Mayfield – 1st round, 1st overall
RB – Nick Chubb – 2nd round, 35th overall
WR – Odell Beckham Jr. – 1st round, 13th overall
WR – Jarvis Landry – 2nd round, 64th overall
TE – David Njoku – 1st round, 29th overall
TE – Austin Hooper – 3rd round, 81st overall
LT – Jedrick Wills – 1st round, 10th overall
LG – Joel Bitonio – 2nd round, 35th overall
C – J.C. Tretter – 4th round, 122nd overall
RG – Wyatt Teller – 5th round, 166th overall
RT – Jack Conklin – 1st round, 8th overall
That lineup consists of highly-paid veterans like Beckham, Landry, Conklin, Bitonio and Hooper, plus a number of early-round draft picks. Defensively, the Browns boast a devastating defensive line headlined by Myles Garrett. Of course, it'll be up to Stefanski to turn an on-paper juggernaut into a title contender.
But at the end of the day, Cleveland's playoff hopes rest on the right arm of Baker Mayfield. And if he can't make a significant year-three leap, don't be surprised to see the Browns move in a new direction in 2021.
Statistics courtesy of Pro Football Reference