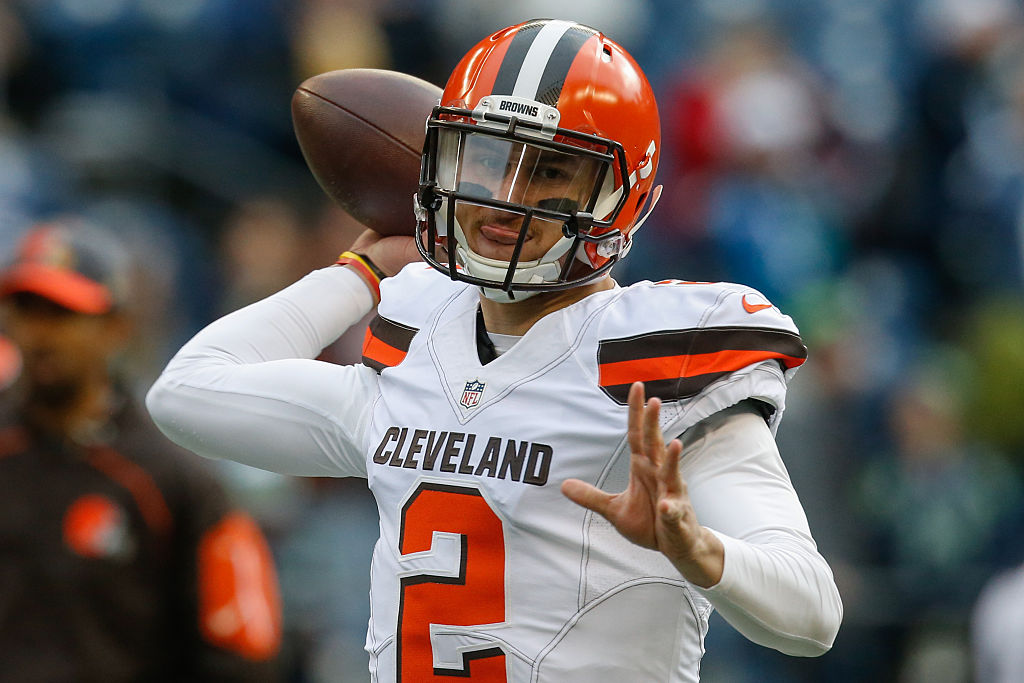 Johnny Manziel Made $800,000 Per Touchdown as an Epic Browns Draft Bust
Johnny Manziel managed to make $800,00 per touchdown despite being one of the biggest busts in NFL history for the Cleveland Browns.
Johnny Manziel defied every preconceived notion about quarterbacks en route to one of the greatest careers in college football history. An electric playmaker capable of both running and throwing his way into the end zone, he became an SEC legend at Texas A&M. Despite concerns about his maturity and ability to be the face of an NFL franchise, the Cleveland Browns still took the talented dual-threat quarterback with the 22nd overall pick in the 2014 NFL draft. Unfortunately, the former Heisman Trophy winner became one of the biggest busts in NFL draft history. Still, Johnny Football made almost $800,000 for each touchdown he threw in the NFL.
Johnny Manziel won the Heisman as a first-year starter
Long before Joe Burrow and Tua Tagovaoila set the SEC ablaze, Johnny Manziel was the most exciting player in college football. Tipping the scales at just 6-feet, 207 pounds, he defied preconceived notions about how a quarterback should be built. Playing in the toughest conference in college football, the Texas native hit the ground running after redshirting his freshman year.
Manziel's first season as a starter still ranks as one of the most impressive performances of all time. The uber-talented youngster turned into an overnight sensation by passing for 3,706 yards and 26 touchdowns while leading the Aggies with 1,410 yards and 21 more scores on the ground. His ability to generate game-changing plays out of seemingly innocuous circumstances made him a threat every time he was on the field.
Of course, he got some help from current Tampa Bay Buccaneers wideout Mike Evans, who posted 82 catches, 1,105 yards and five touchdowns in Manziel's first season behind center. Manziel's individual brilliance helped transform Texas A&M into an 11-2 juggernaut after finishing 7-6 the year before. Kevin Sumlin's squad pulled off three straight SEC road wins against Auburn, Mississippi State and Alabama before defeating Oklahoma in the Cotton Bowl.
Browns tried to make Manziel their franchise quarterback
As a redshirt sophomore, Johnny Manziel elevated his game to another level. His statistics improved across the board, though the Aggies slipped to 9-4. However, in a stacked draft class that featured Jadeveon Clowney, Khalil Mack and Evans, Manziel had to wait till the 22nd pick before Cleveland came calling. Surely that had to do with off-field concerns, as the former Heisman winner didn't exactly boast the mental makeup or leadership skills for a team to invest millions of dollars in.
So after taking Justin Gilbert with the No. 8 pick, the Browns fatefully selected Manziel 14 picks later. Unfortunately, that turned out to be a massive mistake. As a rookie, the 22-year-old started just two games and the results were far from impressive. Manziel threw two interceptions and completed just 51.4 percent of his passes in two losing efforts.
It didn't get much better in 2015 when he assumed the starting role. The highly talented but erratic gunslinger went 2-4 and threw just seven touchdowns and five interceptions. His dynamic running skills resulted in 230 rushing yards, but his inability to earn the trust of his teammates, coaches and the front office ultimately led to an abrupt ending to what should have been a fruitful NFL career.
NFL draft bust still banked in his brief career
Despite playing just 15 games (eight starts), Johnny Manziel took advantage of his draft slot from a financial standpoint. According to Over the Cap, the former first-round pick signed a four-year, $8.25 million contract. That deal included a whopping $7.7 million guaranteed. However, because Manziel got cut well before the deal expired, he earned just $5.5 million.
In essence, the Browns paid Johnny Manziel almost $800,000 for each touchdown he threw. Ironically, he tossed the same number of touchdowns (seven) as interceptions. Despite brief attempts at a football comeback in the CFL and and American Alliance of Football, it appears the era of Johnny Football is over. But boy did he bank for a guy who barely made a blip once he made it to the NFL.