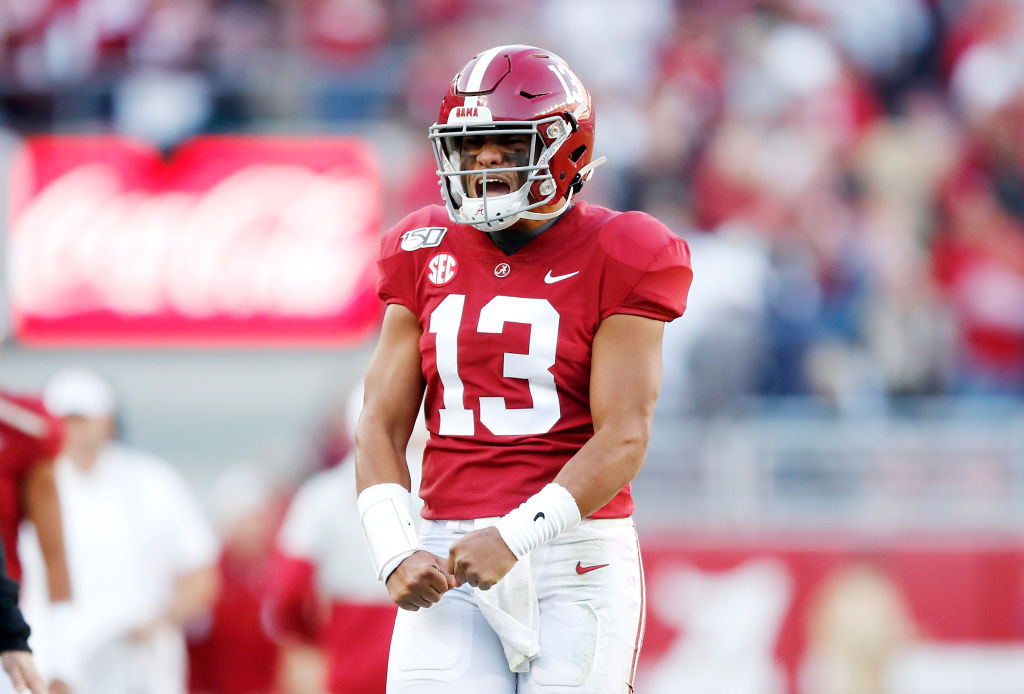 Tua Tagovailoa Got the Dolphins to Put Their Money Where Their Mouth Is
Tua Tagovailoa will receive 85 percent of his $19.6 million signing bonus from the Miami Dolphins before June begins.
Before Joe Burrow exploded onto the scene, everyone expected Tua Tagovailoa to be the No. 1 pick in the 2020 NFL draft. But a gruesome hip injury knocked the Alabama star off his thrown as QB1. Still, the SEC's best left-handed quarterback since Tim Tebow didn't have to wait long to hear his name called. As the new face of the Miami Dolphins, Tua faces a ton of pressure. But he can sleep soundly after scoring a massive payday from the Dolphins before June begins.
Tua Tagovailoa has major durability concerns
Dolphins fans were all in on the #TankforTua campaign in 2019. But that plan got thrown off a bit when the Alabama star suffered a season-ending hip injury on November 16. Tua's injury immediately sparked painful memories about Bo Jackson and his strikingly similar career-ending injury. Luckily, modern medicine and an excellent rehab program helped the national champion get back on his feet.
With Burrow taking over the No. 1 spot, nobody knew exactly where Tua would land on draft day. The Detroit Lions and New York Giants seemed like logical trade partners for a team desperate to land the talented quarterback. Luckily for Dolphins fans, both NFC franchises stayed put.
Miami landed its biggest catch by staying patient. Despite considerable durability concerns, the Dolphins wasted no time making Tua Tagovailoa their new franchise quarterback. While he may not be ready to play right away, he represents a significant step in the right direction for a franchise that hasn't won a Super Bowl since Don Shula hoisted the Lombardi Trophy in 1973.
Dolphins QB will receive 85 percent of his signing bonus before June begins
As a top-five draft pick, Tua won't ever have to worry about money. While he didn't get Burrow money, he still did quite well for a guy coming off a potentially career-ending injury. Ian Rapoport reported the Dolphins signed their new franchise QB to a four-year, $30.28 million contract. Tua's rookie deal includes a $19.6 million signing bonus. However, unlike most rookies, he won't have to wait long to get the majority of that figure.
According to Rapoport, the former Alabama star will receive a whopping 85 percent of his signing bonus before June begins. That equates to about $11.5 million over the next few weeks. While the coronavirus pandemic may have shut down South Beach, you can be sure Tua will be ready to celebrate once the world gets back on track.
Scoring such a significant chunk of his signing bonus before he even suits up represents a big win for Tua Tagovailoa. Considering he hasn't played a live game since November, he's lucky to receive such a front-loaded contract. It also shows tremendous faith from the Dolphins. Miami truly put its money where its mouth is by rewarding their top draft pick despite his durability concerns.
Tua can transform the Dolphins into a Super Bowl contender sooner than later
Whether Tua Tagovailoa suits up in 2020 remains to be seen. But even if he spends a year on the sidelines, Dolphins fans shouldn't have to wait too long to taste playoff success. Landing a franchise quarterback capped off one of the most impressive rebuilds in recent history.
Miami first landed a hungry head coach in Brian Flores. They sold high on young assets like Laremy Tunsil and Minkah Fitzpatrick to accumulate draft picks. Then, despite an undermanned roster, Flores showed the rest of the NFL that the Dolphins have the right attitude and mental makeup by winning five games in 2019.
Then, the Dolphins landed two defensive stars in free agency. Both Byron Jones and Kyle Van Noy should take the league's worst defense up a few notches. Miami also added a number of starters using its plethora of cap space. That set the team up for a franchise-changing draft class. And with Tua Tagovailoa on board and financially secured, don't be surprised if the Dolphins become Super Bowl contenders sooner than later.