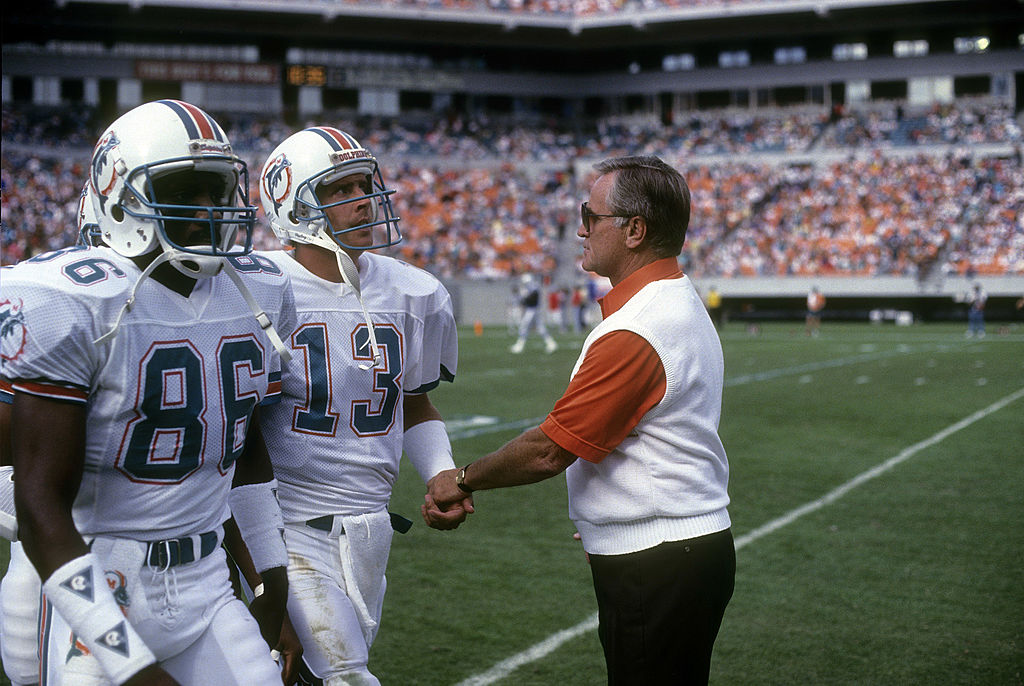 Don Shula Disciplined Dolphins Players Using Their Own Autographs Against Them
Don Shula disciplined Dolphins players for breaking curfew by using their autographs against them in the most creative way possible.
Don Shula may be gone, but he'll certainly never be forgotten. The legendary Miami Dolphins coach passed away on Monday at the age of 90. He spent more than a third of his life as an NFL head coach. And during his 33-year run, he experienced incredible success and retired as the NFL's all-time winningest coach. Of course, that success can be attributed to dedication and discipline. And one story about how Don Shula creatively enforced curfew with his Dolphins players perfectly sums up why he's regarded as the best coach in NFL history not named Bill Belichick.
Don Shula left a lasting legacy
Don Shula dedicated his life to the game of football. In fact, before he embarked on his legendary Dolphins coaching career, he carved out quite an impressive resume on the field. A ninth-round pick by the Cleveland Browns in the 1951 NFL draft, Shula spent seven seasons as a defensive back. Impressively, he totaled 21 interceptions in 73 career games before retiring after his age-27 season.
Of course, most people recognize Shula as the greatest head coach of all time. And for good reason. He spent 33 years as the man in charge of two iconic franchises. Before he made his way to Miami, Shula broke in with the Baltimore Colts and went 71-23-4. However, he ascended to legend status once he took over the Dolphins in 1970.
His 26-year tenure included back-to-back Super Bowl titles and the NFL's only undefeated season in 1972. Though he never managed to win another ring even with Dan Marino as his quarterback, Don Shula had just two losing seasons as the head coach of the Dolphins. He retired after the 1995 season with 328 regular-season victories plus another 19 in postseason play.
Dolphins had many high-profile players under his watch
When you spend a quarter-century with one organization, you're bound to coach a number of star players. That certainly was the case for Don Shula. Marino obviously takes top honors. Selected 27th overall in the famous 1983 NFL draft, the Pittsburgh native exploded onto the scene in his second season by throwing an NFL-record 48 touchdown passes. While Peyton Manning, Tom Brady and Patrick Mahomes have gone on to surpass that record, Marino's incredible 1984 season still stands out considering the era in which he played.
Besides his star quarterback, Shula also coached other high-profile Dolphins stars. Running back Larry Csonka made five straight Pro Bowls once Shula came on board. He would never top 1,000 yards again after moving on to the New York Giants.
Marino's receiver tandem of Mark Duper and Mark Clayton torched defenses with their speed. Both wideouts posted nearly identical numbers while playing in the same offense from 1983-1992. Fellow receiver Nat Moore also turned into a highly productive offensive weapon with the Dolphins. The 1974 third-round pick spent his entire 13-year career playing for Shula and retired with 74 touchdowns in 183 games.
Shula's diabolical way of upholding curfew rules
Corraling so many big personalities can be a nightmare for any coach. As Belichick has taught us with the New England Patriots, accountability and reliability are two pillars to sustaining organizational success. And like his modern-day counterpart, Don Shula had his own unique way of ensuring Dolphins players respected his rules.
On Monday, reporter Jeff Darlington relayed an incredible story about Shula's diabolical method of making sure his players stuck to their curfew, which had become a problem for his team. And ironically, it involved taking advantage of the players' own autographs. Shula gave a valet attendant a football and a sharpie and instructed him to ask for an autograph from anyone who walked into the hotel after midnight. The next day, the Dolphins coach got on the bus and read all the names off of the football.
When he finished, Don Shula simply said, "You've been benched for the first half."
Well played, coach. Well played.