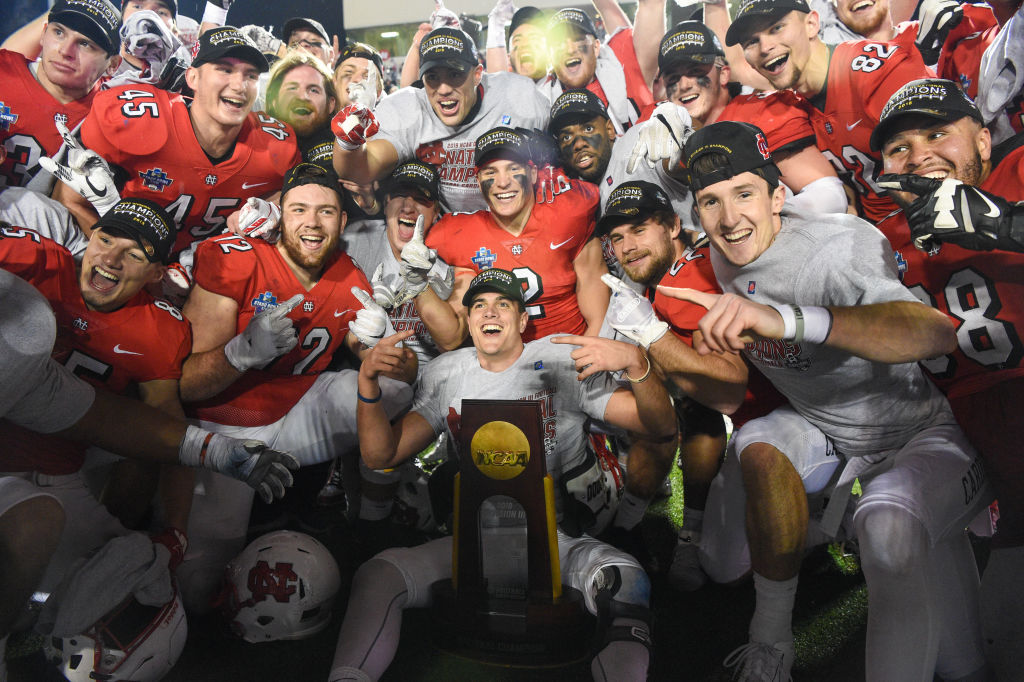 49ers Reward College Legend Broc Rutter With a Tiny $279 Signing Bonus
Broc Rutter didn't get selected in the 2020 NFL draft, but the 49ers gave the record-setting D-III quarterback a $279 signing bonus.
Despite putting together arguably the greatest career of any Division III quarterback, Broc Rutter didn't hear his name called in the 2020 NFL draft. The prolific passer set numerous records for North Carolina College and led his team to a national championship as a senior. Yet, he had to settle for an undrafted free agent contract from the San Francisco 49ers after the seven-round marathon concluded Saturday.
Though the defending NFC champions already boast a franchise quarterback in Jimmy Garoppolo, they couldn't pass on the opportunity to add the small-school star. Despite a ridiculous resume, Rutter's UDFA contract originally did not include a signing bonus. But after handing out nearly all their allocated signing bonus money, the 49ers were left with just $279. And so, Broc Rutter received perhaps the smallest signing bonus in NFL history.
Broc Rutter became a Division III legend at North Central College
Making it to the NFL is difficult for any college prospect. It's even more arduous when your opponents include Illinois Wesleyan and Delaware Valley. Broc Rutter may have played at a Division III school, but the North Central College signal-caller obliterated records and accomplished everything possible in his four-year career. Looking at his production, it simply defies logic. In 51 starts, Rutter threw for 14,265 yards and 135 touchdowns. As a junior, he set school single-season records for completions (269) and passing yards (3,539) while ranking third in completion percentage (69.9).
That set the stage for a dominant senior season in which Rutter firmly put himself on the 49ers' radar. He shattered his previous passing records and finished the year with 56 touchdowns and 4,591 passing yards. Rutter's list of individual awards included First-Team All-America honors. To top it off, Rutter received The Gagliardi Trophy, which is the Division III equivalent of the Heisman Trophy. Oh, he also led the Cardinals to their first national championship.
49ers supplemented strong NFL draft class with undrafted free agents
The 49ers only made five selections in the 2020 NFL draft, but they scored two potential studs with their pair of first-round picks. Defensive lineman Javon Kinlaw went off the board at 14. He fits a huge hole up front, as the 49ers shipped former first-round pick DeForest Buckner to the Indianapolis Colts this offseason. An athletic, pass-rushing interior lineman, Kinlaw should be an instant-impact starter on a defensive line that already features Nick Bosa, Arik Armstead and Solomon Thomas.
San Francisco took advantage of a historically deep wide receiver class by taking Brandon Aiyuk with the 31st pick. Highly productive and physically gifted, the former Arizona State wideout should be a perfect fit in the 49ers offense. He and Deebo Samuel should be long-term fixtures for Garoppolo.
While their draft class only featured five players, the 49ers went to work once Tae Wilson became the latest Mr. Irrelevant. San Francisco signed a number of intriguing undrafted free agents, including former University of Washington running back Salvon Ahmed. But their most notable signing had to be Broc Rutter, who joins a crowded quarterback room with Garoppolo, Nick Mullens and 2017 third-rounder C.J. Beathard.
Rutter received an unexpected gift from the 49ers
Every dollar counts. At least that's what the 49ers taught us with Broc Rutter. After signing nine players, San Fransisco's undrafted free agent signing bonus pool had just $279 remaining. Incredibly, despite his legendary college career, Rutter's initial rookie contract did not contain a signing bonus. However, according to NFL Media's Tom Pelissero, the 49ers decided to give their fourth-string QB a surprising (albeit inexpensive) gift.
"They gave him a peculiar signing bonus of $279," Pelissero said Friday. "Turns out the original deal included no bonus, but when the 49ers were done signing all their undrafted rookies, they had 279 bucks left over and decided 'Hey, give it to Rutter. Let him take his family out to dinner. His agent Mike McCartney told me after he direct deposits it, he better frame [the check because] it might be the smallest ever."

That $279 check won't make Broc Rutter a rich man, but it certainly makes for a great story. Let's see if the 49ers found a hidden gem in the D-III legend.