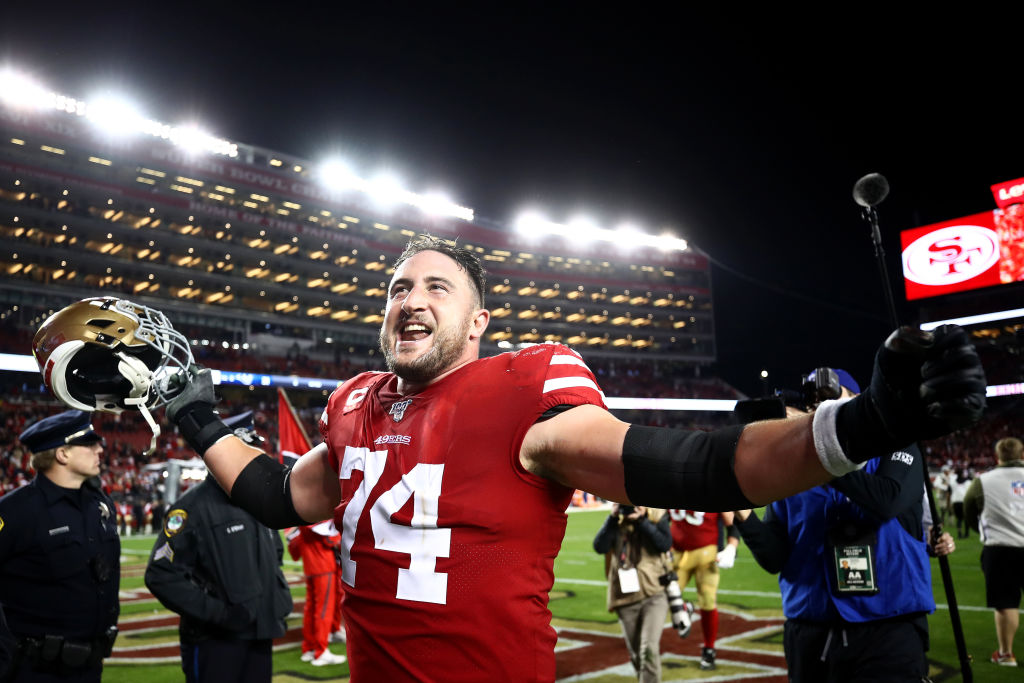 49ers Rewarded Joe Staley's Rare 13-Year Loyalty with $88 Million
Joe Staley made $84 million while spending his entire NFL career with the San Francsico 49ers before announcing his retirement Saturday.
Rarely does an NFL player—or any professional athlete for that matter—spend his entire career with one team. Even Tom Brady moved on from the New England Patriots after 20 years of dominance. Free agency, trades and the constant need to churn over rosters makes it nearly impossible for an NFL player to start and finish his career with the same organization. Yet, that's exactly what San Francisco 49ers left tackle Joe Staley did.
For 13 years, he protected the blind side of whatever quarterback lined up under center. A consummate pro with incredible skill and legendary leadership, Staley stayed loyal to the 49ers and managed to make $88 million in the process.
Joe Staley's path to the 49ers
Interestingly, Joe Staley's NFL career has a direct tie with none other than Randy Moss. So how did the left tackle and Hall of Fame receiver cross paths? You have to dial the clock back to the 2007 NFL draft. The 49ers selected future All-Pro linebacker Patrick Willis with the 11th overall pick. Thirteen picks later, the Patriots drafted safety Brandon Meriweather. New England, though, also held the 28th overall pick as a result of trading Deion Branch to Seattle.
In typical Bill Belichick fashion, he executed a masterful trade by sending the 28th pick to San Francisco for the 110th overall pick plus a 2008 first-round selection. Belichick flipped the fourth-rounder to the Oakland Raiders for Moss and the 49ers took Staley at 28. Of course, Moss and Brady immediately took the NFL by storm by breaking the single-season passing and receiving touchdown records. In the 2008 NFL draft, Belichick utilized the extra first-round pick on linebacker Jerod Mayo after trading down a few spots. He developed into a Pro Bowler before injuries forced him to retire. Mayo, who drew rave reviews for his intelligence and leadership, became a linebacker coach with the Patriots last season.
The Patriots certainly made good on the draft-day trade in landing Moss and eventually Mayo. But the 49ers ultimately got the better value by landing a franchise left tackle. Joe Staley's ascension from Central Michigan star to first-round NFL draft pick set the stage for success.
2007 first-round pick developed into a dominant left tackle
As a rookie, Staley started all 16 games at right tackle for a 5-11 49ers team. He made the permanent switch to the left side in his second season, though he did not immediately become a star. Injuries caused him to miss 16 games from 2009-2010. But once Jim Harbaugh took over as head coach, the 6-foot-5, 295-pounder flourished.
After four years of solid play, Staley transformed into one of the NFL's best blindside protectors. In his first year under Harbaugh, he made the Pro Bowl. Coincidentally, Staley's ascension to elite status occurred once Colin Kaepernick took over starting duties. Utilizing his rare athleticism, Staley made the Pro Bowl every year from 2011-2015. He anchored one of the NFL's strongest offensive lines and paved the way for five-time Pro Bowl running back Frank Gore.
The 49ers enjoyed a dominant three-year stretch in which they sandwiched a Super Bowl appearance between two trips to the NFC Championship. Unfortunately, Harbaugh and Kaepernick flamed out and Staley once again had to deal with a rebuilding effort. Despite watching the 49ers go from an NFC powerhouse to posting four straight losing seasons from 2015-2018, Staley never wavered in his commitment to the franchise that paid a steep price to draft him back in 2007.
Staley earned $88 million in 13-year 49ers career
Joe Staley had no choice but to accept change in San Francisco. During his 13-year career with the 49ers, he played for Mike Nolan, Mike Singletary, Jim Tomsula, Jim Harbaugh, Chip Kelly and Kyle Shanahan. He protected a number of different quarterbacks, including Alex Smith, Blaine Gabbert, Jimmy Garoppolo, and of course, Kaepernick. He even watched Willis, a future Hall of Famer, abruptly retire due to injuries.
Yet, the one constant for the 49ers was No. 74. And by sticking around through multiple regime changes and developing into an All-Pro, the 49ers made Joe Staley a wealthy man. According to Over the Cap, he totaled $88 million in career earnings. Staley's rookie deal totaled just under $8 million, but he cashed in just two years later by signing a massive six-year, $40.2 million contract. That proved to be a wise investment by the 49ers, and the team re-upped their star lineman on another six-year deal in 2014. This time, Joe Staley received $44.65 million, including $10 million guaranteed.
Last offseason, San Francisco gave its longtime left tackle a two-year, $28 million contract extension that made him one of the highest-paid players at his position. Unfortunately, the blindside protector suffered a broken fibula and played a career-low seven games before returning for the 49ers' Super Bowl run. Joe Staley ultimately retired without a ring, but he made $88 million and earned widespread respect as one of the rare players to spend his entire NFL career with one organization.