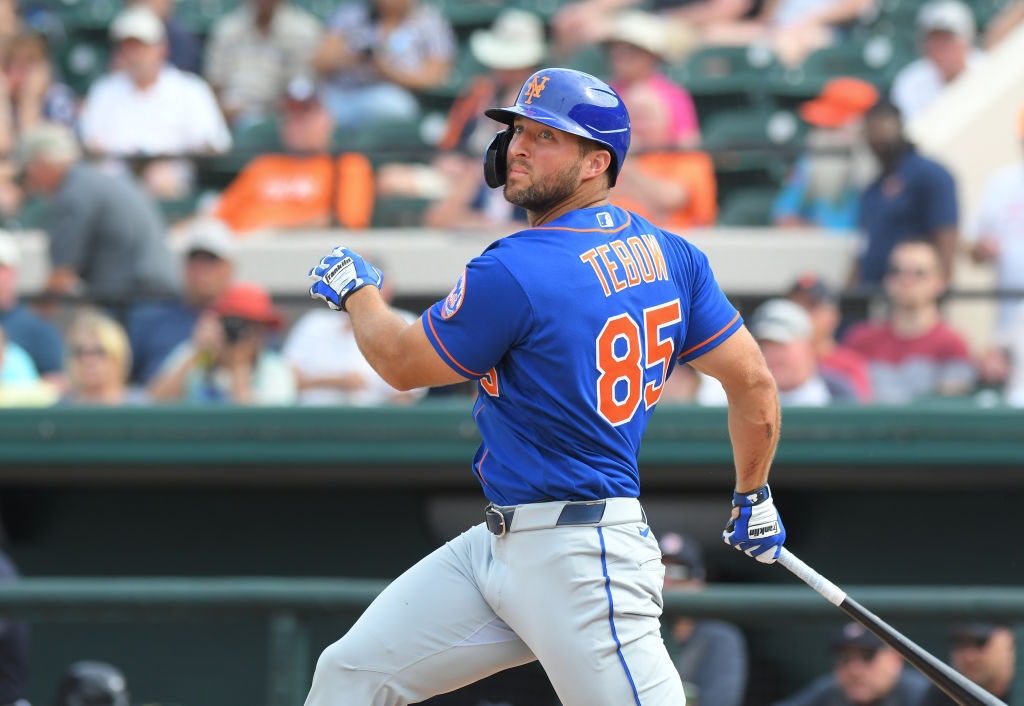 Will Tim Tebow Play for the New York Mets in 2020?
Does former Heisman Trophy winner Tim Tebow actually have a chance to make the New York Mets roster for the 2020 MLB season?
Tim Tebow is still trying to turn his dream of playing Major League Baseball into a reality.
The former Heisman Trophy winner was among the non-roster spring training invitees to the New York Mets' training camp in Florida, meaning that the Mets haven't given up on the Tebow experiment just yet. Or could it be that they know Tebow will bring fans to the ballpark every day?
The Mets have only played a handful of games thus far in spring training, and Tebow will actually be leaving camp soon. But the question is obviously out there. Could Tim Tebow actually play for the New York Mets in 2020?
Tim Tebow has already homered in spring training
There wasn't a ton to get excited about as it pertained to Tim Tebow in the first couple of exhibition games for the Mets. He did show some patience at the plate, drawing a couple of walks in his first few games, but that big moment hadn't happened yet.
That changed on February 25, when Tebow belted a homer over the left-center field fence at Publix Field in the sixth inning of a 9-6 loss to the Detroit Tigers. The two-time national champion at Florida batted ninth in the Mets' lineup as the designated hitter and finished the day 1-for-2 with a walk. Tebow commented afterward that he's just trying to improve with each and every game.
"I feel like I am seeing the ball pretty well besides my first at-bat of the spring when I was super-aggressive. After that I feel like I have been seeing it, three walks, so trying to see more pitches and the home run today, really had a chance to work that count and try to see some too. I am just trying to improve a little bit every day."

Tim Tebow
Unfortunately, that's been the only hit for Tim Tebow through his first five games in spring training. He's 1-for-6 (.167) with three walks and three strikeouts.
Tebow will play for the Philippines in World Baseball Classic qualifying
Tim Tebow will soon leave Mets camp to join the Philippines team that will attempt to qualify for next year's World Baseball Classic. Tebow was actually born in Manila when his parents were there serving as Baptist missionaries. The family moved to Florida when Tebow was three years old.
Tebow will attempt to help the Philippines earn one of four available slots in next year's international tournament. The WBC has expanded from 16 to 20 teams and Tebow & Co. will play in Pool 2 with the Czech Republic, Great Britain, New Zealand, Panama, and Spain. The top two teams will advance to the WBC next spring. Pool 2's tourney will take place in Tucson, Arizona from March 20-25. It's not yet known when Tebow will depart.
Could Tebow actually make the Mets roster in 2020?
At this point, it's highly unlikely that Tim Tebow will be on the New York Mets' roster on opening day. He just hasn't shown enough at the minor-league level to warrant a spot and seems to be headed back to Triple-A Syracuse, where he spent all of the 2019 season. The former NFL quarterback hit just .163 in 264 plate appearances in the International League, with four home runs, 19 runs batted in, and 98 strikeouts against just 20 walks.
Tebow seemed to have turned a corner in 2018 at Double-A Binghamton. Just his second full season of baseball since high school, he hit .273 with six homers and 36 RBI and had a respectable slash line of .273/.336/.399. However, the move to Triple-A didn't go as well as many hoped. Mets GM Brodie Van Wagenen has said that Tebow would be back in Syracuse in 2020.
While many thought that Tebow might have a chance to get to the big leagues in September due to the rosters being expanded, the new rule for 2020 likely eliminates that possibility. In the past, anyone on the 40-man roster on August 31 was eligible to play the rest of the year. Now, the rosters will expand only to 28, which means that unless Tim Tebow has a monster year in Syracuse, the 32-year-old will have to continue to wait.