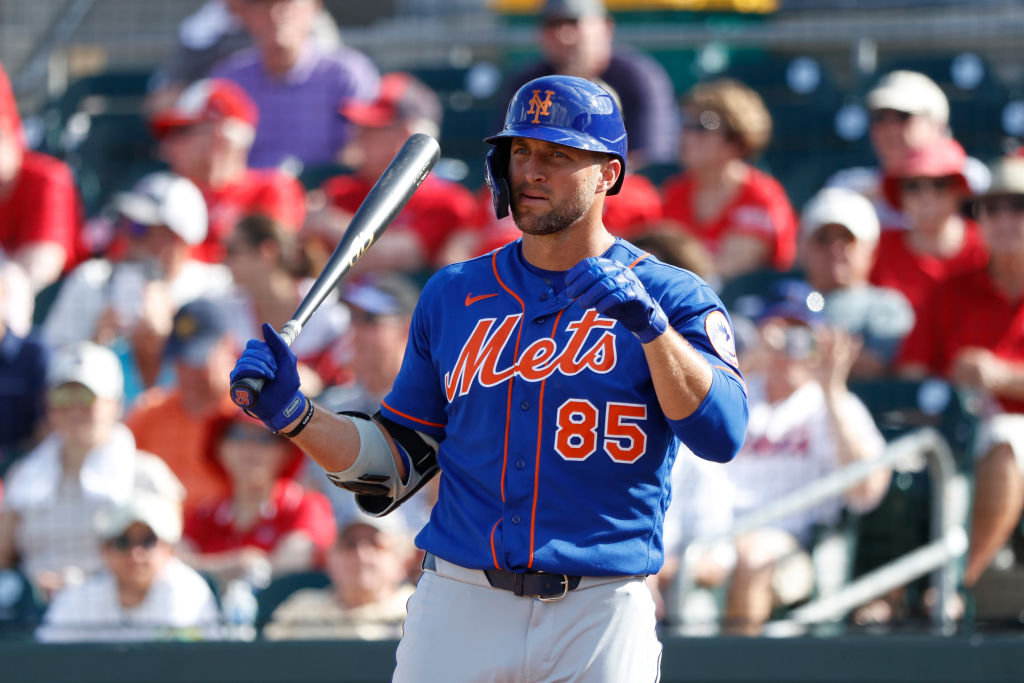 Pitcher Reveals the Real Reason Tim Tebow Plays Pro Baseball
The New York Mets have been criticized repeatedly for signing former college and NFL quarterback Tim Tebow.
Some are sure to call it sour grapes from a guy who couldn't cut it in the minor leagues, but a former top pitching prospect for the New York Mets finally said what most observers already know: Tim Tebow has no business playing professional baseball.
Andrew Church called out the Mets on Thursday after being released by the organization.<
Minor-league baseball is going through a shakeup
Numerous major-league baseball teams have begun releasing dozens of players at a time from their farm systems as it has become apparent that there will probably be no minor-league season this summer.
Many of those being released would have been cut in spring training, which was terminated in March because of the pandemic. But the mass releases are coming now because major-league teams had only agreed to pay prospects $400 a week through the end of May.
The development comes at a time when MLB owners and players are at odds over starting the major-league season while the owners are also pushing forward with a plan to shrink minor-league systems beginning next year.
Prospects being cut this week are understandably concerned about losing the relatively minuscule paychecks now – only a few teams have committed to paying players for at least another month — and the opportunity to continue their careers in 2021.
Andrew Church blasts the New York Mets for signing Tim Tebow
Although he did not identify Tim Tebow by name, New York Mets farmhand Andrew Church posted a scathing message obviously aimed at the ex-NFL quarterback after being released Thursday. Writing on Instagram, the former second-round draft pick with a 30-33 record on the mound in seven minor-league seasons referenced a "celebrity" signing by the Mets in 2016:
"(The Mets) made a mockery of our team by putting a celebrity on it to sell more tickets. I saw players lose their jobs because of it. We weren't playing to win, we were playing to make everyone else money. Not the players. We never saw a cut. Well, allegedly that one player did. I think people are starting to understand that more now but they didn't in 2018 when it was happening again. I was fed up."
Church, a 25-year-old right-hander who was only 2-11 above the Class A level, has a personal grievance with the Mets, accusing the organization of mishandling an injury he suffered. He retired in 2018 but attempted a comeback last season.
"Instead of seeing a doctors like I asked, they sent me back to High-A to pitch in the playoffs," he wrote. "When I told them I couldn't I was made out to be the bad guy."
Criticism of Tim Tebow is nothing new
Tim Tebow had a legendary career as a college football quarterback and played in the NFL from 2010-12 with the Denver Broncos and New York Jets. The New York Mets brought him to the Arizona Fall League in 2016 when he was 29 years old, long past the age when players typically begin their pro baseball careers.
Now 32, Tebow is a career .223 hitter with 18 home runs in 287 minor-league games as an outfielder. His 2018 season in Class AA Binghamton and 2019 in Class AAA Syracuse were cut in half by injuries. He hit .163 in Syracuse with 98 strikeouts in just 239 at-bats.
The Mets' motivation for signing Tebow has been criticized from the start. Even assuming above-average progress through the minors, he wouldn't have been projected to reach the major leagues before the age of 33.
Even then, it would have been unlikely that he could crack the every-day lineup. As such, the Mets looked to be wasting valuable development time that could have been devoted to genuine prospects 10 years younger who might have gone on to lengthy careers in the majors.