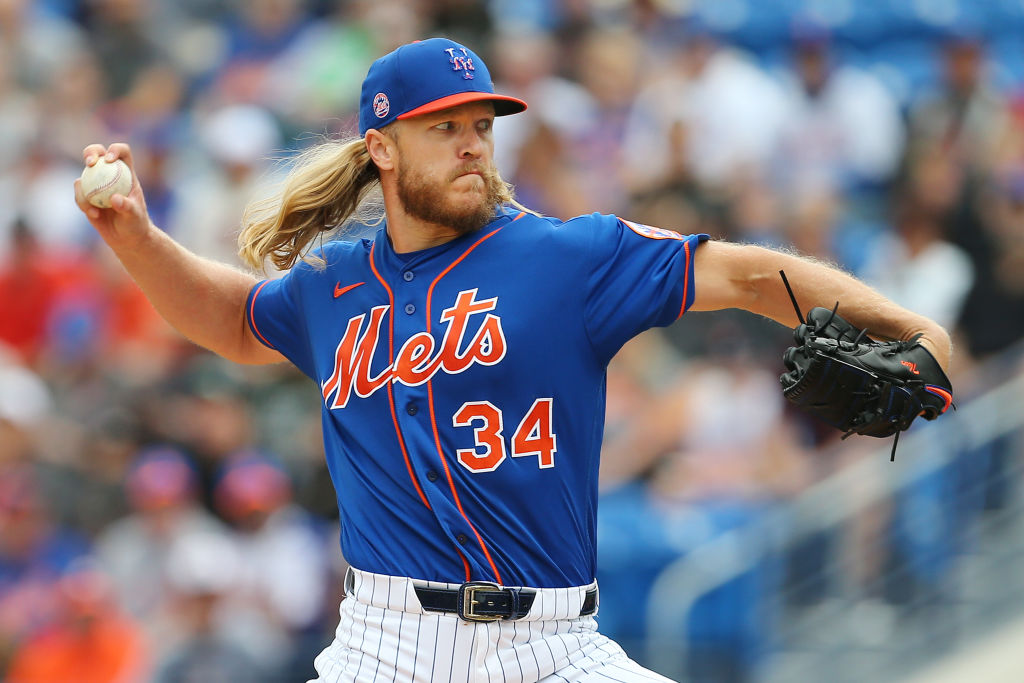 Noah Syndergaard's Landlord Throws a Brushback Pitch at the New York Mets Hurler
New York Mets pitcher Noah Syndergaard has been taken to court by his landlord in a dispute over his pricey Tribeca apartment.
No, no, no, Noah. That's what a landlord has to say to Noah Syndergaard, accusing the New York Mets pitcher of skipping out on a $27,000 rent payment for a Lower Manhattan apartment.
Being dragged into court is merely the latest setback for Syndergaard, whose career has been long on potential but somewhat short on productivity.
Noah Syndergaard started the year on a positive note
As if the coronavirus pandemic wasn't enough, New York Mets pitcher Noah Syndergaard has already had an eventful 2020 with more than half the year remaining.
The year started relatively well for the 27-year-old right-hander when he agreed to a one-year contract with a substantial raise, salvaging something from a failed attempt to earn a deal comparable to teammate Jacob deGrom's $25 million for the upcoming season.
Syndergaard had been set to go to arbitration this offseason, but he wasn't dealing from a position of strength. He was a modest 10-8 with a 4.28 ERA in 2019, though he did pile up 202 strikeouts in 197 2/3 innings. Still, the ERA was more than a run a game above his career-worst 3.24 recorded as a rookie in 2015.
Syndergaard made $6 million in 2019, so settling for $9.7 million in January to avoid arbitration qualified as a bit of a win for the hard-throwing pitcher, who was  heading to spring training in February with a goal of finally establishing himself as a durable, consistent presence on the mound.
A National League All-Star in 2016, which he finished with a 14-9 record and 2.60 ERA, Syndergaard missed almost all the 2017 season with a torn lat muscle in his pitching arm. He set a career high for starts last season with 32 and logged a career high for innings, but he has just 47 wins to show for five seasons as a starter in the majors.
The 2020 season ended before it even started
The Coronavirus pandemic that shut down MLB's spring training in early March has proven to be the least of Noah Syndergaard's problems this spring. He reported to camp in February and threw a total of eight innings in three exhibitions, but discomfort in his right elbow was a sign of looming trouble.
An MRI exam revealed a torn ulnar collateral ligament, requiring Tommy John surgery at the end of March.
The timing of the injury and surgery could hardly be worse for Syndergaard, who becomes eligible for free agency after the 2021 season. Under optimal circumstances, he could be back on the mound near the end of spring training in 2021 but would still be unlikely to go full throttle before Memorial Day. At the other end of the recovery spectrum, it's possible that he could miss all of next season, which would greatly diminish his value in the open market.
Noah Syndergaard's landlord wants to get paid
Pitcher Noah Syndergaard is being sued in a Manhattan federal court after failing to pay the $27,000 monthly rent on Tribeca apartment, The New York Post reported.
The landlord's filing says Syndergaard signed an eight-month lease on a three-bedroom, 2,700-square-foot duplex in Lower Manhattan. The lease was effective March 20, and the landlord says he notified Syndergaard on April 17 that the pitcher was in default.
Syndergaard's lawyer notified the landlord at the beginning of May that the MLB veteran did not intend to move in and that he could seek a new tenant.
The landlord is seeking $250,000, the total value of the eight-month lease.