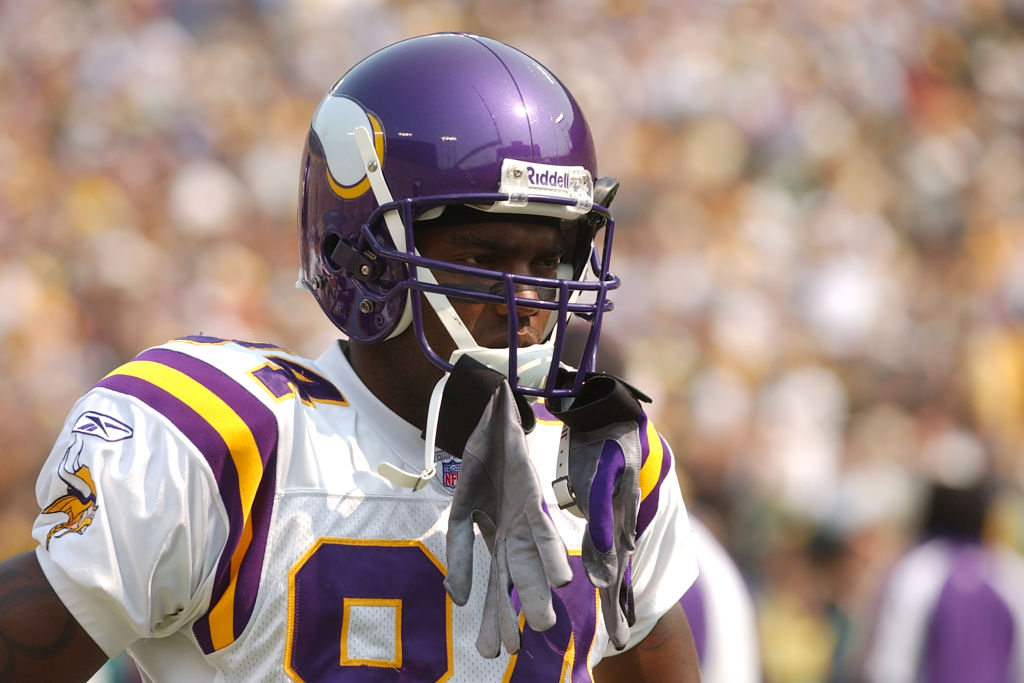 Randy Moss Was Once Fined $10,000 for Pretending to Moon Green Bay Packers Fans
During his NFL career, Randy Moss paid plenty of fines. One of the most famous, however, stemmed from a pretend mooning incident.
During his NFL career, it was impossible to ignore Randy Moss. On the field, the Minnesota Vikings wide receiver was capable of burning any defense for a big play; off the field, he had a knack for making headlines. A famous example of the latter came during the tail end of the 2004 NFL season.
In a playoff game against the Green Bay Packers, Moss caught a touchdown, turned toward the crowd, and pretended to drop his pants. Unsurprisingly, the NFL was not impressed.
Randy Moss' tumultuous football career
Throughout his entire football career, Randy Moss' talent has been apparent. Unfortunately, the receiver also found himself in plenty of trouble, which could overshadow his on-field abilities.
Moss was supposed to play his college football at Notre Dame but never got a chance to head to South Bend. During his senior year of high school, the receiver kicked another student in a racially-charged fight; Moss pleaded guilty to two counts of misdemeanor battery and, unsurprisingly, lost his chance to play for the Fighting Irish. He instead headed to Florida State, but violated his probation and was dismissed from the program before playing a single snap.
Moss then landed at Marshall University, where he was able to strut his stuff on the field. He played two seasons for the Thundering Herd and showed enough to go pro. While some teams were scared away by his past, the Minnesota Vikings decided to take a chance on the receiver toward the end of the first round.
Once Randy Moss reached the pros, the rest is history. He proved to be immensely talented, capable of burning virtually any defense, but continued to be a controversial figure; during his career, he was fined for everything from squirting an official with his water bottle to refusing to talk to the media. In all, Moss played 14 NFL seasons, pulling 982 catches for 15,292 yards and 156 touchdowns.
An infamous mooning incident
One of Randy Moss' most infamous moments came during the 2004 playoffs. After scoring a touchdown against the rival Green Bay Packers, he turned to the Lambeau Field faithful and pretended to drop his pants.
On the TV broadcast, Joe Buck called the celebration "a disgusting act;" the NFL wasn't too happy, either. They promptly fined Moss $10,000 and, in turn, created one of the most famous interviews in modern football history.
When Moss reported to the Vikings facility the following week, he was met by a cameraman from KARE-TV, who asked if the receiver had written a check to the NFL yet. The receiver responded by saying, "When you're rich you don't write checks." When asked how he would pay his fine, Moss simply said, "Straight cash, homey."
Randy Moss made more than enough to pay off any fine
During that infamous conversation, Randy Moss also said that he wasn't upset about the fine since it only cost him $10,000. While that might not be the most endearing thing a professional athlete ever said, the receiver wasn't wrong.
During his playing career, Moss earned more than $82 million; in that context, a $10,000 fine does seem pretty insignificant. The receiver's now a TV analyst and still has an estimated net worth of $25 million today, so it's not like his NFL indiscretions put him out of house and home.
While Randy Moss' antics may have contributed to the stereotype of a moody wide receiver, his fans and detractors can all agree on one thing: he made enough talent to laugh all the way to the bank.