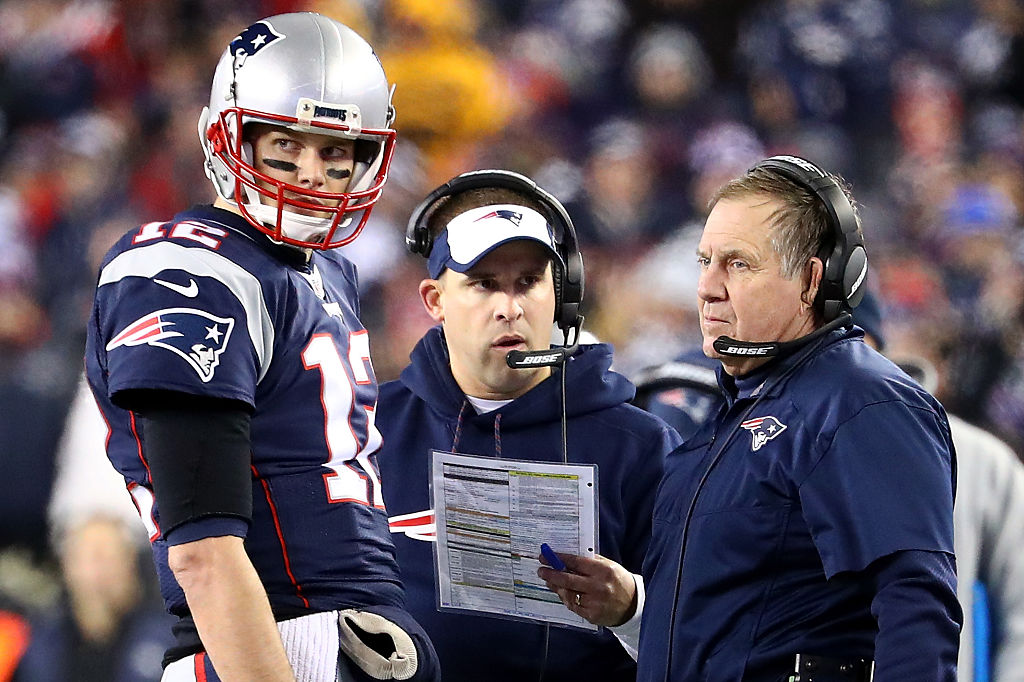 Tom Brady Apparently Left the Patriots Because of Someone Other Than Bill Belichick
While Tom Brady and Bill Belichick dominate the conversation, another Patriots coach may be responsible for Brady's departure.
Relationships change over time. Tom Brady proved that this offseason. The face of the New England Patriots for two decades, he finally left the cold confines of Foxborough for the sunnier skies of Tampa. But is Bill Belichick the only coach to blame for Brady's surprising departure?
Apparently the greatest quarterback of all time didn't just grow tired of his head coach's lack of love. Someone else on the Patriots staff may be the reason behind the TB12 rebrand with the Tampa Bay Buccaneers.
Tom Brady left the Patriots after 20 years of unprecedented success
Apparently Tom vs. Time didn't just refer to Tom Brady's lifelong dream to play until he's 45. It also had something to do with his feelings toward the Patriots. Since taking over for Drew Bledsoe in 2001, Brady brought six Super Bowl titles to a team that had never tasted championship success before. Though he spent much of his early career as a high-level game manager, he eventually stood out as one of the NFL's best quarterbacks.
The NFL's GOAT put together a fantastic two-decade run despite constantly changing personnel. Brady's 2007 season still stands out as arguably the best of all time. Teamed with Randy Moss and Wes Welker, he led the NFL in passing yards, touchdowns, completion percentage and quarterback rating. Unfortunately, a miraculous catch by David Tyree ended New England's quest for an undefeated season.
Going 10 years without another title didn't stop Brady from giving it his all. And in 2014, the Patriots toppled the Seattle Seahawks in one of the most entertaining Super Bowl matchups of all time. Two years later, the former sixth-round pick led the greatest comeback in Super Bowl history after trailing the Atlanta Falcons 28-3. And in what turned out to be his penultimate season in a Patriots uniform, Tom Brady delivered in the fourth quarter to topple the Los Angeles Rams for his sixth Super Bowl ring.
Bill Belichick has taken most of the blame for Brady's departure
The greatest quarterback of all time didn't become a six-time champion on his own. Bill Belichick played a major role in New England's 20-year run. In fact, the debate about who contributed more to the Patriots' dynasty played an underrated role in Brady's departure. For years, Belichick treated his star quarterback like the final player on the 53-man roster. Brady played the role of the good soldier and inspired teammates to follow in his footsteps. By holding his best player just as accountable as the lowest one on the totem pole, Belichick established "The Patriot Way."
However, he and Brady seemed to grow weary of one another down the stretch. Part of that had to do with Belichick's refusal to commit long term to the aging quarterback. Brady rightfully earned the latitude to finish his career in New England. However, considering his own head coach tried to trade him before, it's not surprising that it didn't end that way.
Most of the blame for Tom Brady's departure has fallen on his head coach who essentially refused to make any concessions for the greatest quarterback in NFL history. Still, it's hard to blame Belichick for looking at the long-term implications of committing millions of guaranteed dollars to a player who will be 43 this season.
Josh McDaniels may have played a bigger factor in TB12 leaving
If there's any member of the Patriots organization other than Robert Kraft who always seemed to be on Tom Brady's side, it was Josh McDaniels. New England's offensive coordinator seemed to be the buffer between his star quarterback and the surly Bill Belichick. Though the Brady-McDaniels relationship did feature a famous sideline spat, Gary Myers sent shockwaves through Patriot Nation on Monday by potentially exposing McDaniels as a reason why Brady is a Buc.
Ultimately, this could be a smear campaign. On the other hand, it's difficult to believe that even Brady and McDaniels didn't have their own issues after years of marriage. The offense certainly never looked in sync last year, and even the 2018 team showed clear signs of decline. We'll never know exactly why Tom Brady moved on from the Patriots.
But with Myers mentioning McDaniels as a factor, it certainly raises questions about what exactly went on in New England the last few years. Let's just see if it's Bill Belichick or Tom Brady who wins a Super Bowl first.