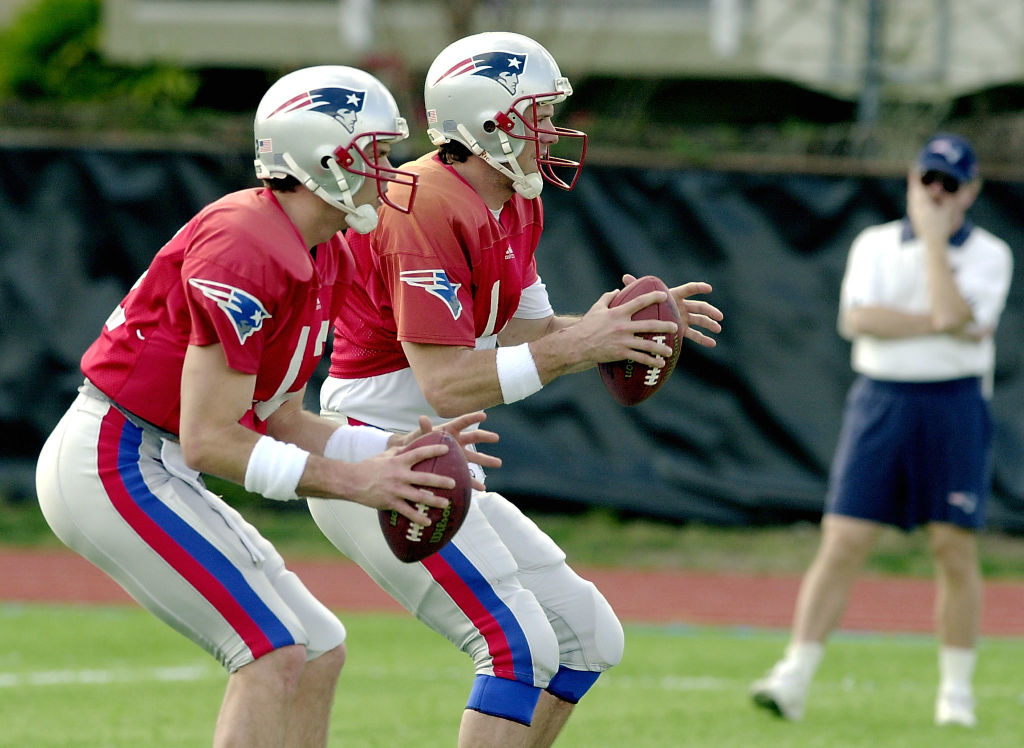 Drew Bledsoe Reveals That He Never Thought Tom Brady Could Be an NFL Starter
Today Tom Brady stands as one of the NFL's greatest quarterbacks. Drew Bledsoe, however, didn't think Brady could ever be an NFL starter.
While Tom Brady has established himself as arguably the greatest quarterback in NFL history, he wasn't always a star player. He started his college career as a back-up; at the pro level, things didn't get any easier. Brady arrived in Foxboro as a sixth-round draft pick and started his New England Patriots career fourth on the depth chart, miles behind Drew Bledsoe.
While we all know what happened next, Bledsoe wasn't initially impressed by Brady's talent. In fact, he recently revealed that he thought the young quarterback would never make it as a starter.
Tom Brady's road to the NFL
During his time in high school, Tom Brady shone on both the baseball diamond and the gridiron. Despite an offer from the Montreal Expos, he decided to pursue football at the next level.
Brady enrolled at the University of Michigan but wasn't guaranteed a shot at success. He arrived as the seventh quarterback on the depth chart and considered transferring to another program; he stuck with it, however, and eventually became the back-up QB. After two seasons sitting behind Brian Griese, Brady finally got his chance to shine.
Brady outdueled Drew Henson for the starting job—the two would briefly platoon during the 1999 season—and started building his winning legacy. While the young quarterback never posted eye-popping stats, he did find plenty of success. During his two seasons as a starter, Brady won 20 of his 25 starts, including victories in the Orange Bowl and the Citrus Bowl.
Drew Bledsoe didn't think the young quarterback could cut it
When the 2000 NFL draft rolled around, Tom Brady wasn't a highly-touted prospect. He slipped all the way to the sixth round, where the New England Patriots took a flyer on the quarterback.
Drew Bledsoe, who was the starter at the time, apparently didn't think too highly of Brady's skills. While he liked the rookie on a personal level, he never thought that his understudy could cut it as a top quarterback.
"When he was on [the] practice squad his rookie year [Brady was the fourth-string quarterback, not on the practice squad], I actually called my financial advisor about him," Bledsoe explained in an ESPN interview. "I was like, 'I really like this kid. He's never gonna be a starter. He's gonna be Jason Garrett or one of those guys who's just going to be around forever. You'll really like the kid.' And we really liked the kid, we kind of brought him in, he was over at our house for dinner probably once a week. I really liked the kid, and still do. But nobody, outside of maybe Tom himself, would have ever predicted that he would go on to be a starter in the league and be in the conversation as maybe the greatest of all time."
That self-belief will be Tom Brady's legacy
Tom Brady, of course, did have what it takes to be a starter. He stepped into the breach after Bledsoe suffered an injury; the Patriots never looked back.
While Brady's career could be coming to a close, his attitude will be as much a part of his legacy as the Super Bowl titles. In an era when athletes are getting bigger, stronger, and more athletic, the Patriots' quarterback was never the most physically gifted man on the field. He found success, however, due to a mixture of hard work, self-belief, and refusal to accept anything less than perfection. (There may have also been some unfair advantages up his sleeve, but there's no way we can know for sure.)
Whether you love the Patriots or can't stand their dominance, there's still a lesson to be learned from Tom Brady. If you believe in yourself and strive for perfection, you can prove plenty of people wrong.