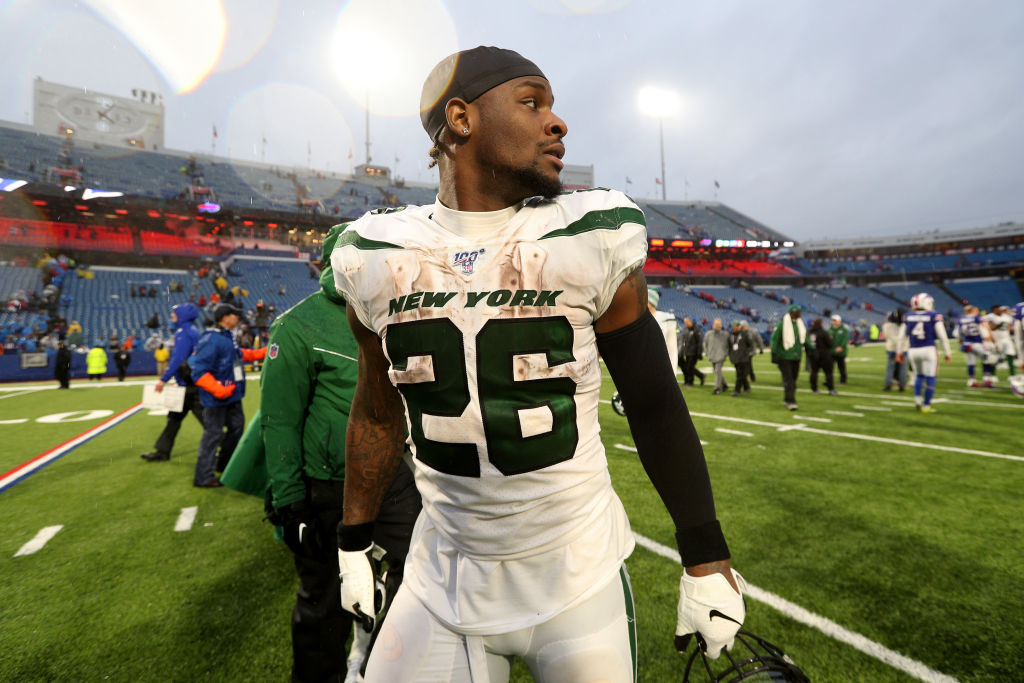 Jets Send $52 Million Bust Le'Veon Bell a Major Message
The Jets just signed Le'Veon Bell to a $52 million deal last year. That didn't stop them from signing Frank Gore to compete for his job.
When the New York Jets inked Le'Veon Bell to a $52 million contract, it came loaded with All-Pro expectations. After all, teams who pay running backs huge second contracts often get burned. In his first season in New York, Bell turned out to be a major disappointment. Like the Packers did with Aaron Rodgers, the Jets sent their highly-paid star a major message on Tuesday. Only, instead of bringing in a young successor, the Jets brought in the NFL's ageless running back, Frank Gore.
Le'Veon Bell's journey to the Jets
The Pittsburgh Steelers selected Le'Veon Bell with the 48th pick of the 2013 NFL draft. The 6-foot-1, 225-pounder flashed glimpses of Pro Bowl potential as a rookie before breaking out as a 22-year-old sophomore. Bell earned first-team All-Pro honors after racking up 1,361 rushing yards and eight touchdowns to go along with 83 catches for 854 yards and three more scores. Unfortunately, he couldn't stay healthy in 2015 and played just six games.
After serving a three-game suspension for violating the NFL's substance-abuse policy, Bell returned to the Steelers' starting lineup in 2016 and wasted no time showing why he should earn a major pay raise. From 2016-2017, he totaled more than 2,500 rushing yards to go along with another 1,271 receiving yards. In that span, he scored 20 touchdowns. Pittsburgh made the playoffs every year from 2014-2017 but ultimately came up short in the Super Bowl quest.
Like smart NFL teams, the Steelers didn't acquiesce to Bell's exorbitant contract demands. The talented running back played under the franchise tag in 2017. Incredibly, after Pittsburgh slapped him with the franchise tag again, Bell elected to sit out the entire 2018 season. Despite concerns about his workload, injury history and attitude, the Jets surprisingly handed the three-time Pro Bowler a four-year, $52 million deal that included a whopping $27 million guaranteed.
Former Steelers star disappointed in first season in New York
On one hand, the signing made sense. Head coach Adam Gase needed another premier weapon for young quarterback Sam Darnold. Given his elite receiving ability, Le'Veon Bell certainly fit the bill. Yet, after sitting out an entire season, the former Steelers star looked more like a replacement-level player than an All-Pro.
Running behind a shaky offensive line, the supposed dual-threat totaled just 789 rushing yards on 245 carries. His 3.2 yards-per-carry average easily ranked as the worst mark of his career. While he did snag 66 passes, he averaged just 7.0 yards per catch and found the end zone a total of four times. Needless to say, the Jets didn't get great bang for their buck.
Jets send a message by signing Frank Gore
The Jets placed a heavy emphasis on upgrading their offensive line this offseason. General manager Joe Douglas used the 11th pick in the 2020 NFL draft on athletic phenom Mekhi Becton. The 6-foot-7, 364-pounder should be a huge upgrade for the Jets' ground game. But the towering tackle out of Louisville may not be opening many holes for Le'Veon Bell this season.
On Tuesday, ESPN's Adam Schefter announced that the Jets signed Frank Gore. The ageless running back will be reunited with Gase, who coached the future Hall of Famer with the Miami Dolphins in 2018. Gore stayed in the AFC East and recorded 599 rushing yards as a part-time player with the Buffalo Bills in 2019.
Le'Veon Bell's $52 million deal doesn't guarantee him a starting spot
While specifics about Gore's contract haven't been disclosed, you can assume it'll be a cheap deal. The former San Francisco 49ers star made $2 million in his only season in Buffalo. However, despite his advanced age—he turns 37 on May 14—the 5-foot-9, 212-pound bowling ball shouldn't be counted out as a starting option for the Jets.
Sure, Gore has a ton of tread on the tires. But his legendary work ethic has allowed him to sustain a 15-year NFL career at a position with the shortest shelf life. The five-time Pro Bowler won't wow you with his speed. And he's nowhere near the receiver that Bell is (or used to be). But paired with 2020 fourth-round pick La'Mical Perine, who does have excellent receiving ability, the Jets could trot out a much cheaper backfield.
Le'Veon Bell's $52 million deal already looks like another major mistake for an organization that has struggled to find a direction. And with Frank Gore in the fold, the Jets just sent their overpriced incumbent starter a major message. Don't be surprised to see Bell playing somewhere else sooner than later.