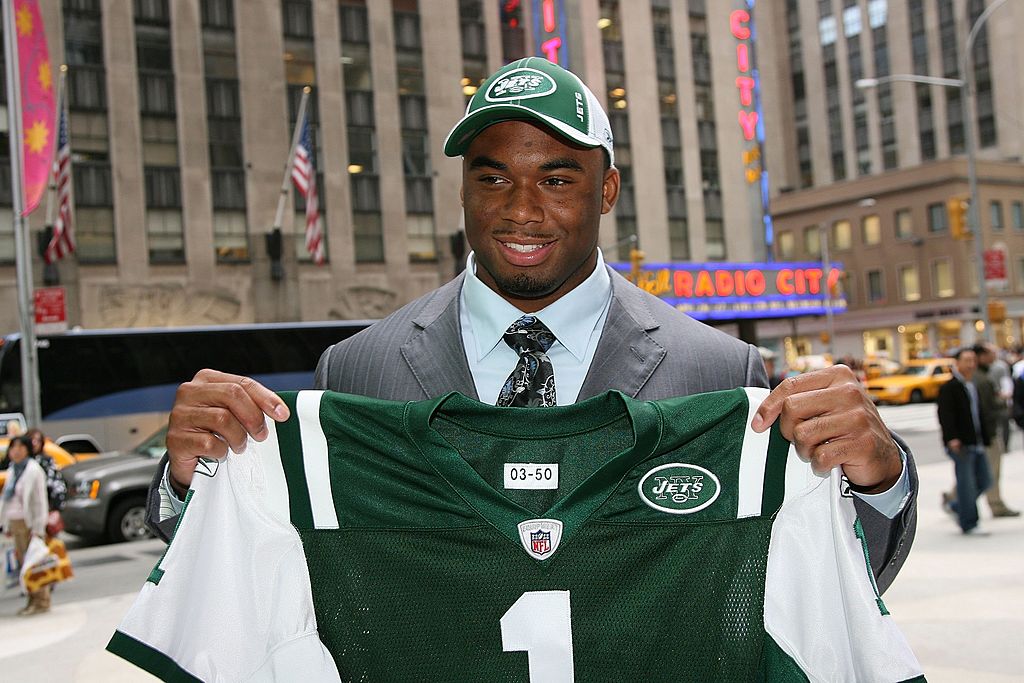 New York Jets Draft Bust Vernon Gholston Made $18 Million Without Recording a Single Sack
Even NFL draft busts like Vernon Gholston can make plenty of money. The linebacker earned $18 million despite failing to record a single sack.
As Mel Kiper can tell you, the NFL draft is notoriously unpredictable. Despite everyone's best guesses, it's tough to know exactly how a player will transition to the pros; you could end up with Patrick Mahomes, or you could pick the next David Carr. In 2008, the New York Jets selected Vernon Gholston and learned that reality firsthand.
Despite having all the physical tools, Gholston turned into a massive bust. Despite that reality, though, he still earned a nice salary, taking $18 million without recording a single professional sack.
Vernon Gholston looked like a can't-miss NFL draft prospect
While the name Vernon Gholston is now synonymous with wasted potential, that wasn't always the case. Despite only picking up football in high school, the defensive end looked like a future star.
Gholston played his college football at Ohio State but didn't get off to the smoothest start. During his first year on campus, he saw limited action and appeared in five games; the following season, he was forced to redshirt after suffering a broken hand. After that, however, Gholston turned into a force of nature.
During the 2006 campaign, the defensive end recorded 49 tackles and 8.5 sacks; the next season, though, was even more impressive. Gholston set an Ohio State record, piling up 14 sacks in 13 games and earned a place on Pro Football Weekly's All-American team.
That resume, combined with an impressive combine performance—Gholston ran a 4.56 40-yard dash and posted 37 reps on the bench press—the defensive end entered the NFL draft as a highly rated prospect. Things in the pros, however, would be much tougher.
Becoming an $18 million draft bust
When the 2008 NFL draft rolled around, the New York Jets had Vernon Gholston firmly in their sights. They selected him sixth overall, tapping him as the perfect outside linebacker in Rex Ryan's 3-4 defense. In reality, however, things were much different.
During Gholston's rookie season, he struggled to make an impact and only recorded 13 total tackles. His sophomore campaign didn't go much better—17 total tackles with two for a loss—and even a shift back to defensive end couldn't fix things. In March 2011, the Jets finally decided to cut bait.
After that, Gholston couldn't land another NFL job. While he contended that Ryan didn't give him a fair shot, the defensive end's name reputation as an overpaid draft bust was sealed. The Jets paid Gholston $18 million over three seasons; in that time, he started five games and, perhaps even more infamously, failed to record a single sack.
Vernon Gholston's life after football
It goes without saying that Vernon Gholston's football career didn't go as planned. After crashing out of the NFL, however, the former New York Jet did find a new line of work.
In 2014, Gholston and Jerome Mitchel partnered to open Anew Wellness, a treatment center in New Jersey. They aimed to provide "the intermediate phase between outpatient services and hospitalization," but, based on their Internet presence, seem to have since closed.
No matter what Vernon Gholston is up to, though, his footballing legacy is set in stone; New York Jets fans and NFL general managers alike will remember his name every spring. He's a classic cautionary tale; just because a player seems to have all the tools, no one is immune from becoming an expensive NFL draft bust.