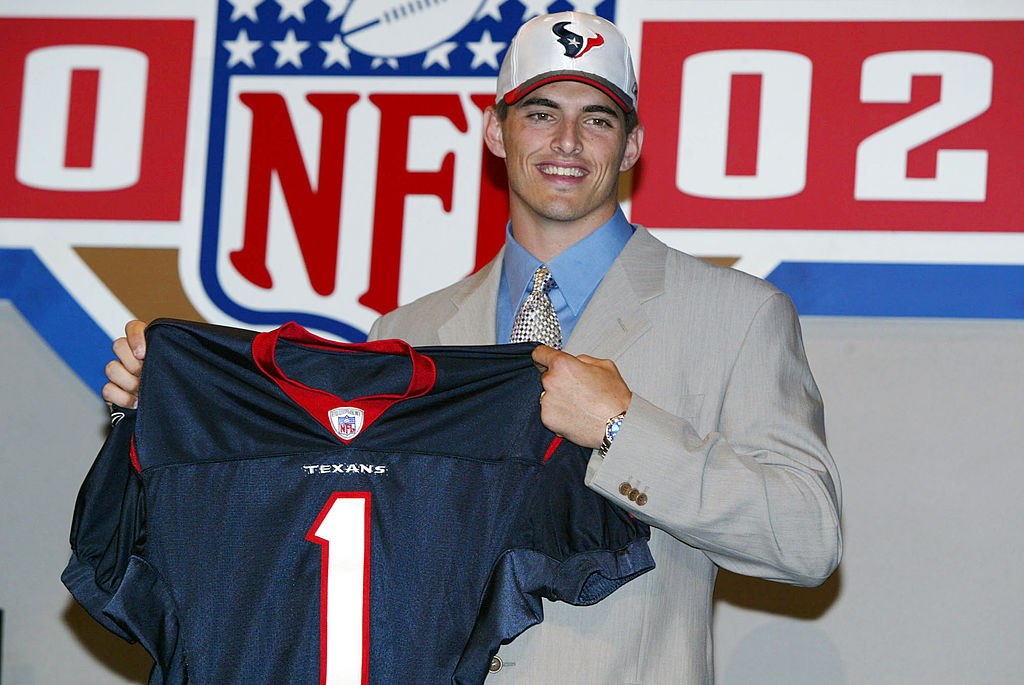 David Carr Used His $10 Million Signing Bonus to Make a Surprisingly Ordinary Purchase
As the first overall pick of the 2002 NFL draft, David Carr became an instant millionaire; he used his new-found wealth on a surprisingly ordinary purchase, though.
Playing quarterback in the NFL can be a mixed bag. During his time in the pros, David Carr experienced that first hand. In the 2002 NFL draft, he was selected first overall by the expansion Houston Texans; that job paid handsomely but came with a great deal of pressure.
While we've all heard cautionary tales of professional athletes blowing through their paychecks, Carr didn't follow suit. He did receive a sizable signing bonus but chose to use it on a surprisingly ordinary purchase.
David Carr's path to becoming the first-overall pick in the NFL draft
Retrospectively, it's easy to reduce David Carr's football career to his time with the Texans. Before heading to the NFL, however, the quarterback had a solid college career.
Carr played his NCAA football with the Fresno State Bulldogs. During his freshman and sophomore seasons, he saw sporadic action; after a redshirt season, however, he stepped into the starting role. His junior year was solid if unremarkable—Carr threw for 2338 with 18 touchdowns and 11 interceptions—but things were much different during his final collegiate campaign.
As a senior, Carr exploded. He piled up 4839 passing yards and 46 touchdowns while only throwing nine picks; that performance helped the Bulldogs go 11-3 and climb as high as eighth in the national rankings. Carr himself also became a household name, winning the Johnny Unitas Golden Arm Award and finishing fifth in Heisman voting; he was considered a can't miss NFL prospect, capable of leading any team to the promised land.
Spending a $10 million signing bonus
The Houston Texans, of course, agreed with that assessment and made David Carr the first overall pick of the 2002 NFL draft. That status put him in line for a nice payday—Spotrac lists his signing bonus alone as just under $11 million—but the young quarterback didn't blow all his cash in one place.
Rather than splashing out on a luxury car or jetting off on a celebratory trip, Carr and his wife kept things more low key. They made a surprisingly ordinary purchase, then paid the bills.
"We had already bought a beautiful home in Houston, but we had nothing in it," Carr remembered on NFL.com. "I remember eating pizza while sitting on the floor with my wife, so the first thing we did was buy a couch and a TV. Then we paid the house off."
Good advice helped David Carr stay on track
It goes without saying that David Carr never turned into a dominant professional quarterback. Despite his status as an NFL draft bust, however, good advice helped him keep his house in financial order.
"Having that much money in a matter of seconds was like winning the lottery, I'd imagine. There's no other way to equate it. It kind of feels like you have Monopoly money," the quarterback continued on NFL.com. "One hard thing is, you feel like you have to spend it because you're around all your teammates who are spending their money. It's an interesting dynamic, and you have to keep your head on straight."
Thankfully, Carr's father stepped in to keep the young millionaire grounded.
"Fortunately, I had a great support system, and my dad would've kicked my butt if I spent it recklessly," Carr remembered. "My signing bonus was around $14 million, and I told my dad that maybe I should cash it. He said laughing, 'You're going to cash this? Where do you plan on putting that when you walk out of the bank?"
When the 2020 NFL draft rolls around, plenty of college students will become millionaires in a matter of minutes. Even if they don't want to follow in David Carr's on-field footsteps, they can still take a page out of his financial playbook.