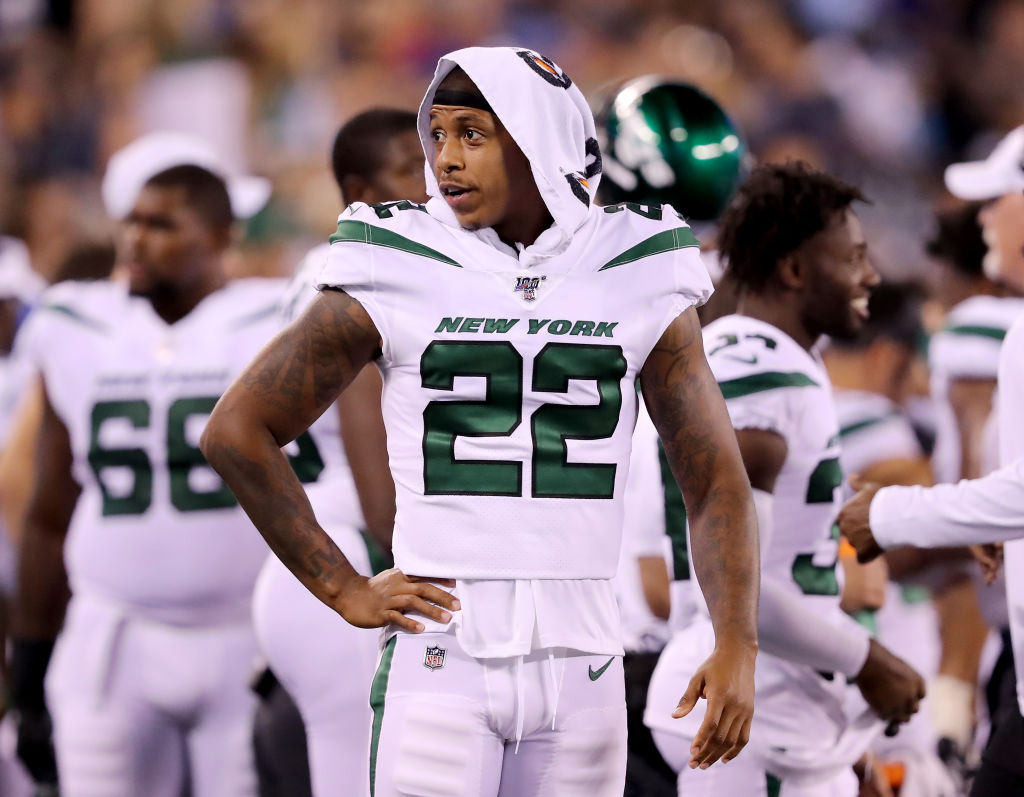 How Trumaine Johnson Stole $34 Million From the New York Jets
Trumaine Johnson signed a lucrative free-agent deal with the New York Jets just two years ago. He will be playing elsewhere in 2020 after the Jets cut him Monday morning.
Trumaine Johnson made $34 million to play football the last two seasons. At least, that's what he was being paid to do.
New York Jets fans will never forget their most expensive free-agent acquisition in franchise history. Unfortunately, the Johnson era will be as infamous as it was fleeting.
After two seasons of horrid play, the Jets announced Johnson's release. The former Pro Bowler (who never played like it in New York) will hit free agency again.
Only this time, buyer beware.
Trumaine Johnson developed into solid starter with Rams
Johnson entered the league in 2012 with the Rams. The third-rounder out of Montana did not experience immediate success. In fact, he didn't develop into a full-time starter until 2015.
That year turned out to be the pinnacle of Johnson's career arc. He recorded seven interceptions and 17 passes defended but didn't earn a Pro Bowl selection.
Though he had flashed shutdown traits, Johnson did not earn a long-term extension from the Rams. Rather, Les Snead opted to utilize the franchise tag in both 2016 and 2017 to retain his top cornerback.
Johnson recorded three interceptions and 25 passes defended in that span. However, the Rams opted to let Johnson hit free agency instead of bringing him back.
New York Jets broke the bank for Trumaine Johnson in free agency
Following the second stint of the Darelle Revis era, the Jets desperately needed to find a No. 1 corner. Johnson certainly stood out atop the free-agent class, and the Jets paid him accordingly.
New York struck a five-year, $72.5 million deal with the 6-foot-2, 213-pounder. The contract included $34 million guaranteed, with most of that coming in the form of a $20 million signing bonus.
The deal represented the largest contract in NFL history for a cornerback. Johnson's average annual salary of $14.5 million was topped only by Xavien Howard, who signed a similar deal to stay in Miami.
Remember that Johnson also banked in 2016 and 2017. His 2016 franchise tag tender carried a salary of $13.9 million. He took home even more in 2017, when the Rams paid him $16.7 million.
Johnson ranked just 68th in Pro Football Focus' cornerback rankings that season.
Trumaine Johnson era over after just two years
When Jets fans talk about free-agent flops, Johnson will certainly be the first name mentioned. His two-year stint was truly that bad.
From injuries to poor play, nothing seemed to be right about the marriage. And ultimately, it ended in one expensive divorce.
The Jets paid their prized free agent $34 million in cash for two injury-riddled seasons. In 2018, New York's No. 1 corner battled a lingering quad injury that limited him to just 10 games. He did manage to snag four interceptions.
Johnson should have enjoyed a bounce-back year playing in Gregg Williams' system. After all, he played the best ball of his career with Williams as his defensive coordinator in St. Louis/Los Angeles.
Once again, though, Johnson was paid handsomely while playing poorly. He missed significant time with an ankle injury and started just five games. His 2019 season included just one pick and two passes defended for a cool $8 million in cash.
Joe Douglas and the Jets front office smartly cut their losses by moving on from Johnson on Monday. The move will save the Jets just $3 million, but more importantly they will rid themselves of an aging, declining player who did not live up to expectations as a team leader.
Wherever Johnson resurfaces, he likely won't be paid much. He's still never been a Pro Bowler.
But the Jets sure paid him like one.