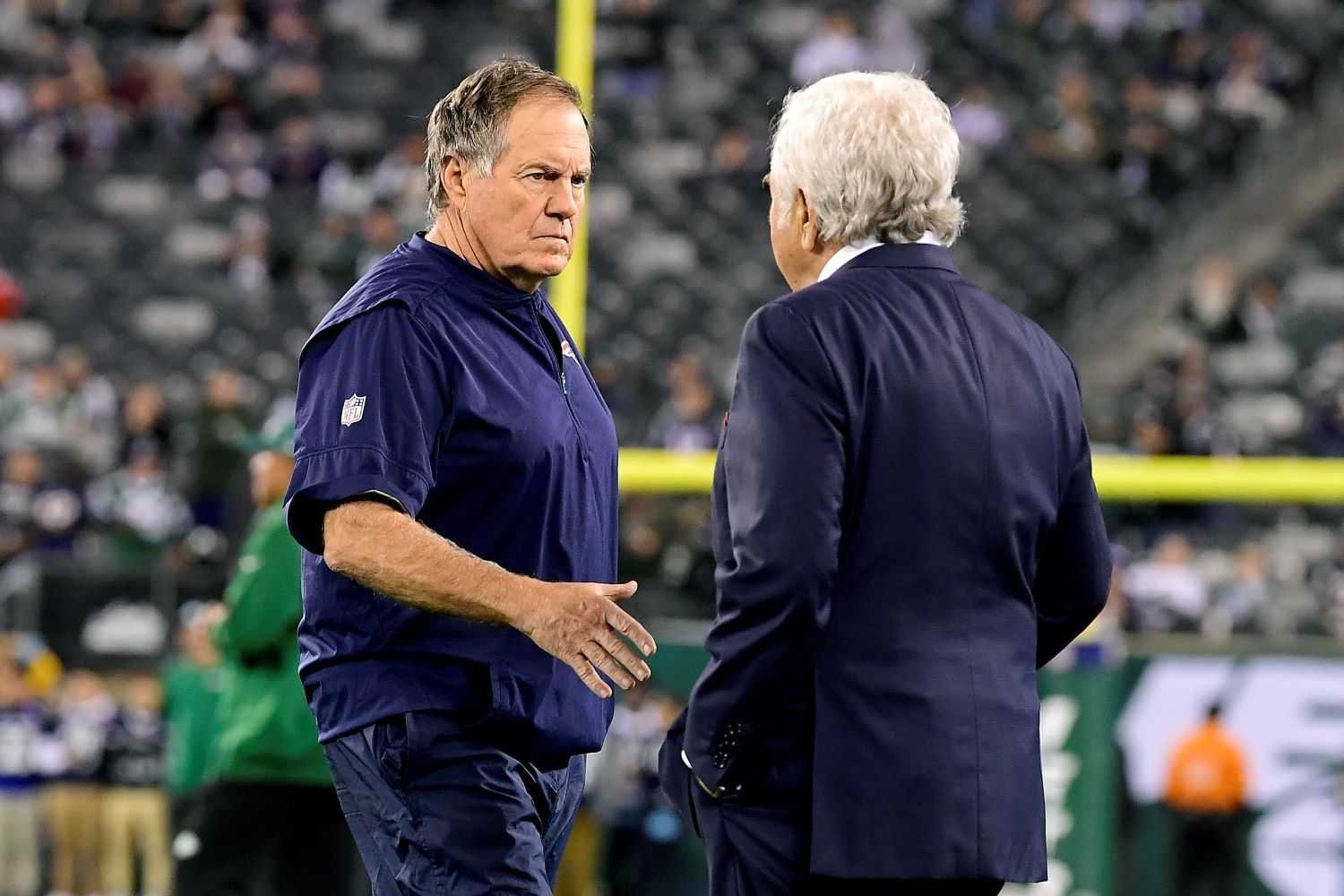 Bill Belichick Can Exact the Ultimate Revenge Against Tom Brady and Robert Kraft By Making 1 Phone Call
Bill Belichick needs to find a franchise quarterback. He can accomplish that and stick it to Tom Brady and Robert Kraft in one phone call.
If Bill Belichick had gotten his way, Jimmy Garoppolo would be starting for the New England Patriots. Yet, because Robert Kraft got involved, Tom Brady outlasted the quarterback Belichick groomed to be his successor.
Of course, TB12 relocated to Tampa this offseason, which left the Patriots shorthanded at the most important position in professional sports. Luckily for Belichick, he can fix that problem and exact the ultimate revenge over Brady and Kraft by making one phone call.
Bill Belichick put the heat on Tom Brady by drafting Jimmy Garoppolo
Bill Belichick raised eyebrows around New England when he took Jimmy Garoppolo in the second round of the 2014 NFL draft. However, the Patriots head coach had a legitimate reason to make that move.
In 2013, the 36-year-old version of Tom Brady looked nothing like the GOAT. Brady only threw 25 touchdowns and posted his lowest quarterback rating in a decade. So it made perfect sense for New England to spend an early-round pick on his potential successor.
The move paid huge dividends for both Brady and the team.
Robert Kraft's unofficial son went from having one foot off the cliff to cementing his status as the greatest quarterback in NFL history. In Garoppolo's rookie season, the Patriots snapped their decade-long Super Bowl drought by defeating the Seattle Seahawks in one of the most exciting championship games of all time.
The Deflategate debacle resulted in Brady getting suspended for the first four games of the 2016 season. Garoppolo stepped in and played well, which only added more fuel to the fire that he could replace his legendary teammate sooner than later.
Even after staging the largest comeback in Super Bowl history, Brady still didn't get the long-term contract he desired. That didn't give him confidence about his job security, especially since the Patriots did not trade Garoppolo during the offseason.
Belichick could easily have sold high on an attractive asset. Yet, he held on to the quarterback who many believed had the physical tools and mental makeup to thrive as Brady's successor.
But Garoppolo never got that chance.
The trade that changed everything in New England
On Oct. 31, 2017, the Patriots traded Jimmy Garoppolo to the San Francisco 49ers for a second-round pick. The move stunned the NFL world given the low return and curious timing of the deal.
In January, Seth Wickersham of ESPN delivered a bombshell story that exposed the ongoing power struggle between Belichick, Brady, and Kraft. He revealed some key details about the trade that changed everything in New England.
According to Wickersham, Belichick met with Kraft two weeks before the Nov. 1 trade deadline to discuss the Patriots' quarterback situation. Ultimately, Belichick received a mandate to trade Garoppolo because he wasn't going to be a part of the team's long-term plans. That reportedly left him "furious and demoralized" but he obviously followed his boss's orders.
A month after the Wickersham story broke, the Patriots lost to the Philadelphia Eagles in Super Bowl 52 despite a record-setting night from Brady.
Although New England did capture its sixth title the following year, the Brady-Belichick relationship continued to deteriorate. This spring, the six-time champion took advantage of his first real shot at free agency and said goodbye to Kraft, Belichick, and the rest of Patriot Nation.
So just a few years after having the best quarterback situation in the NFL, the Patriots entered the 2020 season with Cam Newton, Jarrett Stidham, and Brian Hoyer on their roster. Needless to say, that group (aka Newton) has failed to deliver.
Luckily for Belichick, he can exact his revenge against Brady and Kraft and fix his team's biggest flaw by making one phone call.
All it takes is a phone call for Bill Belichick to get his revenge against Tom Brady and Robert Kraft
Jimmy Garoppolo has gone 22-8 as the starting quarterback in San Francisco. He's shown flashes of Pro Bowl potential, but injuries have limited him to just 30 starts.
The 49ers could move in a different direction at quarterback this offseason, especially if the team lands a top-10 pick in the 2021 NFL draft. Based on their 5-9 record, that seems like a good possibility.
That's where Bill Belichick enters the equation.
Considering the absurdly low return Belichick asked for in the original Garoppolo deal, it seems reasonable that Kyle Shanahan—who he has publicly praised on multiple occasions—would be willing to work out a trade scenario to send the 29-year-old back to New England.
While that would require Garoppolo to waive his no-trade clause, would he really have a problem reuniting with arguably the greatest coach in NFL history? Belichick and Josh McDaniels already have an in-depth understanding of the quarterback's strengths and weaknesses. If Belichick uses free agency to fill major holes at receiver and tight end, the Patriots would suddenly have a playoff-caliber offense, at least on paper.
All it takes is one phone call to San Francisco to get the ball rolling.
Belichick can get his revenge and still build around Garoppolo, albeit a few years later than he planned.
And if he can win a title with the quarterback Kraft forced him to get rid of in order to appease Brady, Belichick will get the last laugh after all.
Like Sportscasting on Facebook. Follow us on Twitter @sportscasting19.