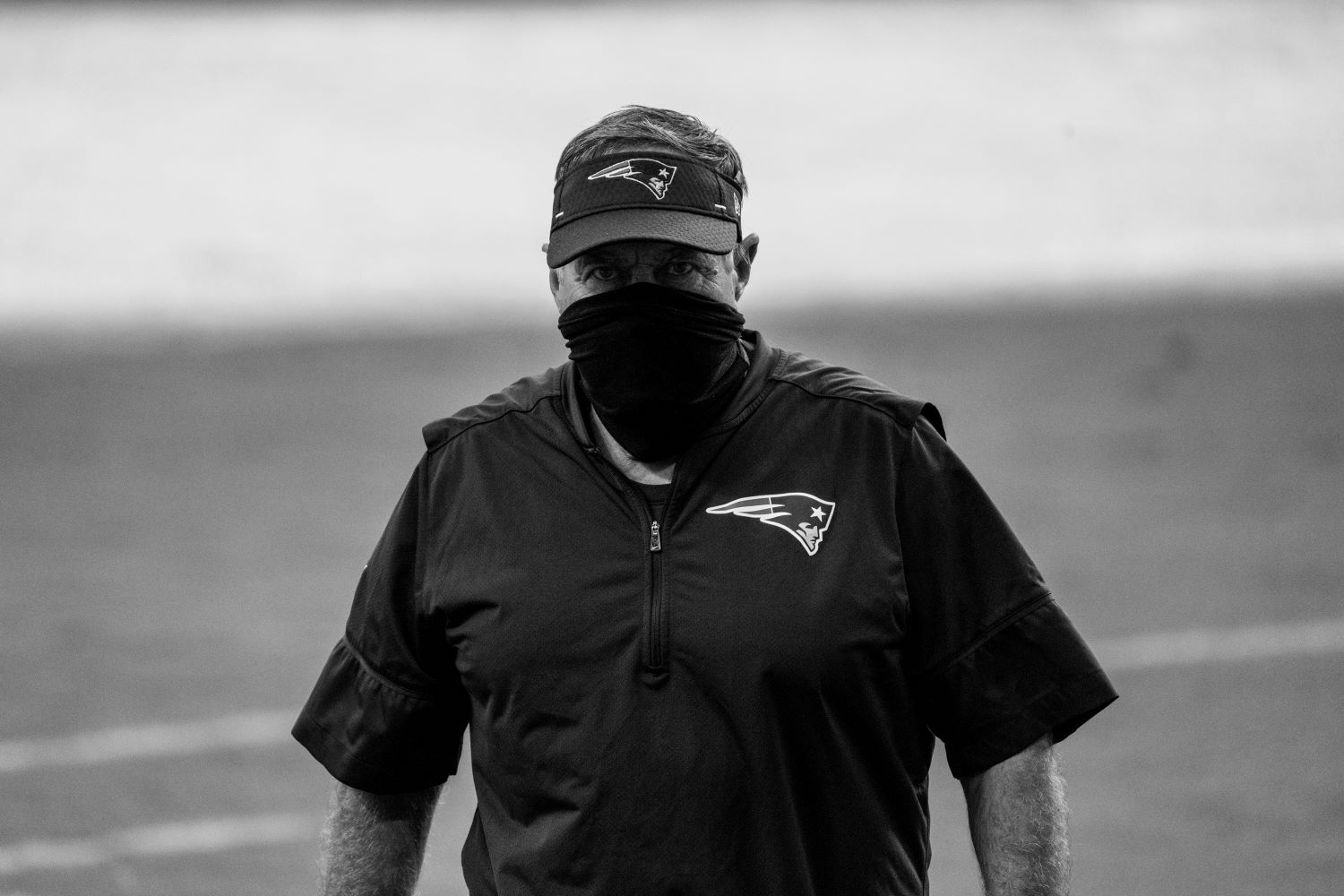 Bill Belichick Just Paid a Brutal Price For a Decision He Botched Months Ago
Bill Belichick had a chance to trade Stephon Gilmore at the deadline. Instead, he just paid a brutal price for botching that decision.
For someone who preaches about doing what's in the best interest of the football team, Bill Belichick looks like a complete hypocrite at the moment. And that has nothing to do with his inexplicable decision to keep Cam Newton in the starting lineup all season.
Instead, it has everything to do with a decision he botched months ago. Unfortunately for the New England Patriots head coach, he just paid a brutal price for a move he didn't make. And that could have a drastic effect on his ability to find his next franchise quarterback.
The Patriots didn't end up trading Stephon Gilmore at the deadline
Bill Belichick has certainly made his fair share of mistakes as a general manager. After all, a quick look at his recent work in the NFL draft reveals a stunning lack of impact from early-round picks. Plus, he basically ran Tom Brady out of town, which left the Patriots without a franchise quarterback.
Still, his decision to sign Stephon Gilmore to a $65 million contract back in 2017 falls under the "success" category. At the time, the deal seemed like an overpay. However, by the end of his first season in New England, the former Buffalo Bills cornerback showed why Belichick handed him a monster deal.
But after earning first-team All-Pro honors in 2018 and NFL Defensive Player of the Year honors in 2019 (as well as another All-Pro selection), Gilmore appeared to be on his way out of Foxborough back in October. Rumors swirled about a possible deal involving the four-time Pro Bowler.
A Gilmore trade made sense for both parties. The 30-year-old only has one year remaining on his contract, so he understandably wants to cash in before it's too late. But given Belichick's history, it's unlikely that the Patriots will give the aging corner the raise he wants.
On the other hand, New England could have sold high on an asset in order to acquire a valuable player and/or draft picks. After all, Belichick showed no hesitation in trading away beloved stars like Richard Seymour, Logan Mankins, and Chandler Jones.
Yet, when push came to shove, the Patriots didn't didn't move Gilmore. And that decision just came back to bite Belichick in a brutal way.
Gilmore is done for the season
Coming off the best season of his career, Stephon Gilmore has suffered a number of setbacks in 2020. He tested positive for COVID-19 in early October just days after Newton did. Later that month, the shutdown corner sustained a knee injury that sidelined him for three games.
When he has been on the field, though, Gilmore has still played at an elite level. The ninth-year pro has allowed just 27 completions for 318 yards on 48 targets. He's allowed only one touchdown in 11 games.
However, his worst nightmare came true on Sunday when he went down with a non-contact injury that looked to be a potential season-ender.
While Gilmore avoided tearing his ACL, he didn't escape unharmed. On Monday, Ian Rapoport reported that the Patriots' best player needs surgery to repair a partially torn quad. He will miss the remainder of the season.
Rapoport said Gilmore will need months to recover, but he should be ready to go for the team's offseason conditioning program.
Bill Belichick just paid a brutal price for a decision he botched months ago
Losing Stephon Gilmore to a season-ending injury doesn't have any real impact on the 2020 version of the Patriots. After all, the team just got eliminated from playoff contention on Sunday. However, it does have a major trickledown effect on the future of the franchise.
Ultimately, Bill Belichick paid a brutal price for a decision he botched months ago. Because even though Gilmore could have sustained a more serious injury, this latest setback drastically changes what the Patriots can do with him moving forward.
Instead of selling high on the reigning Defensive Player of the Year back in October, Belichick kept Gilmore, which obviously did little to change the outcome of New England's season. Even if NFL teams weren't willing to meet the Patriots' reported asking price of a first-round pick plus a player, Belichick could have settled for a second-rounder or a starting-caliber wide receiver or tight end.
At this point, though, what leverage does Belichick have left? Are teams suddenly going to shell out a high-round pick for a contract-year player coming off a significant injury? That's doubtful.
Plus, Gilmore could become a huge headache if he finds himself back in New England playing for a $7 million salary in 2021.
Perhaps Belichick will simply get what he can for a declining asset. But if he hadn't botched the Gilmore situation at the trade deadline, he could be entering the offseason with valuable draft capital that would go a long way in helping secure a franchise quarterback.
Once again, Bill Belichick the GM has let his team down with another bungled personnel decision.
And as we saw this season, not even Coach Belichick can make up for that.
All statistics courtesy of Pro Football Reference.