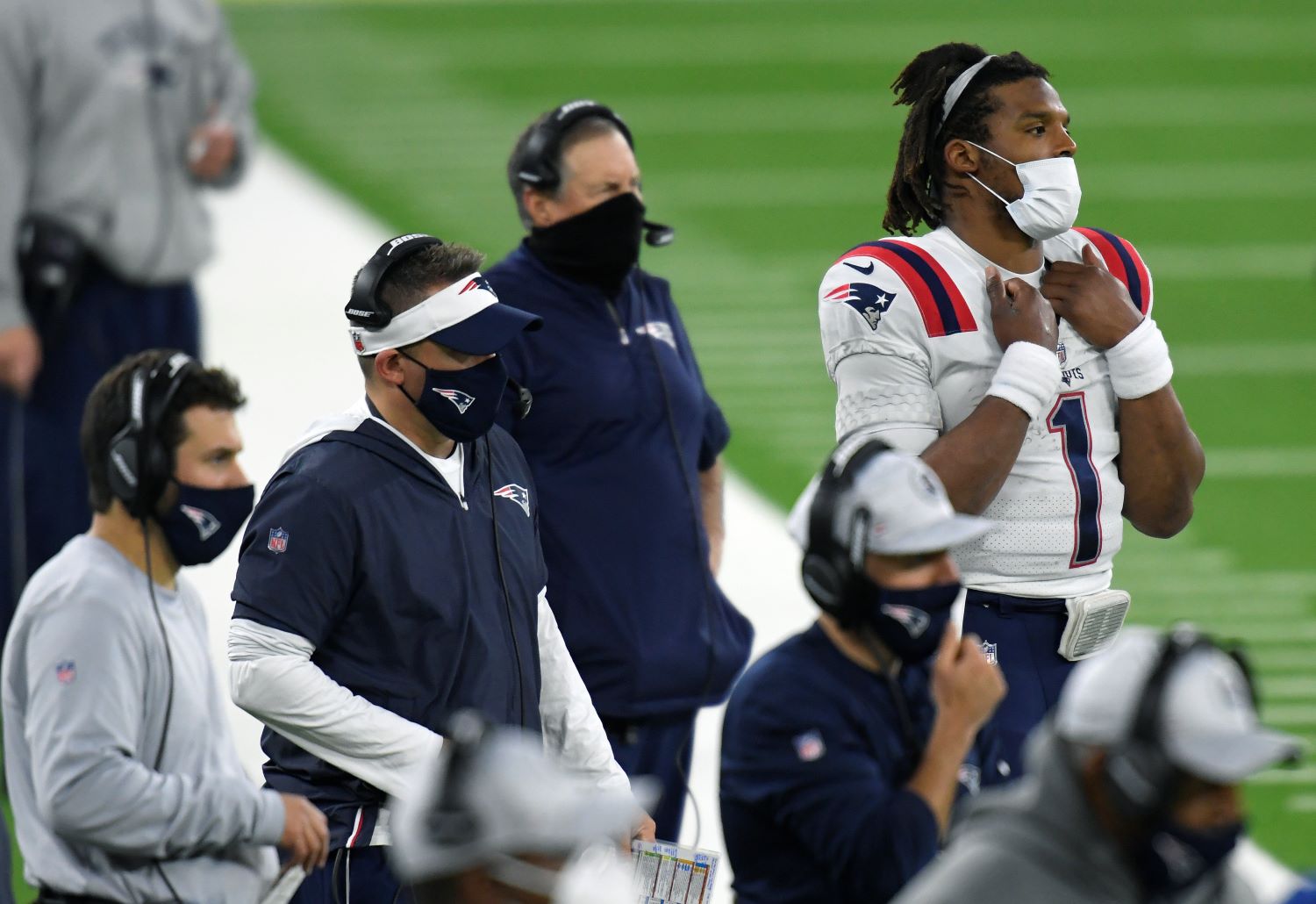 Cam Newton is Missing $1 Million From His Bank Account Because of Bill Belichick
Bill Belichick may be doing Cam Newton a favor by leaving him on the field, but the Patriots coach has also cost Newton a shot at $1 million.
For Cam Newton, signing with the New England Patriots gave him a chance to resurrect his NFL career. But the former Carolina Panthers star hasn't looked impressive in his first (and perhaps only) year in Foxborough.
Sure, Newton has mostly stayed healthy outside of his COVID-19 situation and recent abdominal issue. However, the 31-year-old has struggled to consistently make plays in the passing game.
Newton supporters will point to the Patriots' poor offensive personnel as a way to explain the quarterback's struggles. And of course, Bill Belichick controls every aspect of what goes on with the roster.
And because of that fact, it's he who deserves the ultimate blame for Newton missing an extra $1 million in his bank account.
Bill Belichick has failed to rebuild New England's offense
Bill Belichick may very well be the greatest football coach of all time. His work as a general manager, however, has not been nearly as impressive. In fact, the architect of the greatest dynasty in sports has completely botched the rebuilding process on the offensive side of the ball.
During the second half of the Tom Brady era, the legendary quarterback relied heavily upon trusted veterans like Julian Edelman, Rob Gronkowski, Danny Amendola, and Chris Hogan. Plus, James White has been a key cog in the passing game since 2015.
Yet, only he and Edelman remain from a group that made a habit of playing in the Super Bowl. Unfortunately for Cam Newton, Belichick has failed miserably to re-tool the offense with adequate talent at the skill positions.
It's not like he hasn't tried, either. A long list of big-name receivers have passed through One Patriot Place in recent years, including Antonio Brown, Josh Gordon, Demaryius Thomas, and Eric Decker. For a variety of reasons, none of them stuck around for the long haul (if at all).
Belichick has also whiffed badly in the draft. And when you look at the players the Patriots could have had, it only cuts deeper.
In 2018, New England drafted Isaiah Wynn at 23 and Sony Michel at 31. Even if Belichick didn't want Lamar Jackson, he clearly chose the wrong Georgia running back. While Michel may not even make it through his rookie deal, his former college teammate, Nick Chubb, might be the best overall back in the NFL.
And the following year, Belichick took N'Keal Harry over DK Metcalf, Deebo Samuel, and A.J. Brown. That decision looks worse by the week, even if Harry has slowly started to make an impact.
The tight end position had basically been neglected up until April when the Patriots traded up twice in the third round to address that spot. Yet, neither Dalton Keene nor Devin Asiasi have made any discernable impact.
A lackluster supporting cast leads to lackluster results
There's no doubt that Cam Newton has made major mistakes throughout the season. His fourth-quarter fumble against the Buffalo Bills cost the Patriots a potential victory. And he certainly has not played well at all in recent weeks. But ultimately, the Patriots won't make the playoffs for the first time since 2008 because their offense simply does not have enough talent for any quarterback to succeed.
Don't forget that Brady played with largely the same cast of weapons in 2019 and put up some of the worst numbers of his career. Meanwhile, he has looked much closer to his vintage self with the Tampa Bay Buccaneers now that he has legitimate weapons.
Meanwhile, while New England's defense has certainly had its fair share of bad moments, the unit ranks seventh in points allowed even without Dont'a Hightower and Patrick Chung.
Yet, the Patriots rank just 26th in scoring at 21.3 points per game. They finished 25th in Belichick's first year as head coach.
And at the end of the day, the JV-level of talent on offense (other than the line) has held back an otherwise playoff-caliber team from reaching the postseason for the 12th consecutive year.
The 6-7 Patriots still have to play the Miami Dolphins on Sunday before taking on the Bills on Monday Night Football in Week 16. They finish the year against the New York Jets, who they barely beat back in early November. At this point, an 8-8 finish seems realistic.
Cam Newton is missing an extra $1 million in his bank account
As the man in charge, Bill Belichick deserves full blame for putting Cam Newton in a position to fail. Because of his mistakes as a GM, the Patriots' complete lack of firepower on offense has not only cost the franchise a postseason berth but also resulted in Newton missing an extra $1 million in his bank account.
The former No. 1 pick carries a $1.05 million base salary for 2020. However, his one-year contract also includes incentives and bonuses.
While Newton won't collect all $700,000 in per-game roster bonuses because he missed a game due to COVID-19, he will collect a much bigger check for hitting playing-time incentives.
Assuming he continues to remain the starting quarterback the rest of the season, Newton should hit the 80% mark that triggers a $2 million bonus.
However, a postseason berth would raise that figure to $3 million.
But thanks to Belichick's inability to build a playoff-caliber offense—or even just a league-average one—the Patriots won't even have a chance to compete for the Lombardi Trophy come January.
And unfortunately for Cam Newton, his bank account will have $1 million less than it should because of that.
All statistics courtesy of Pro Football Reference.