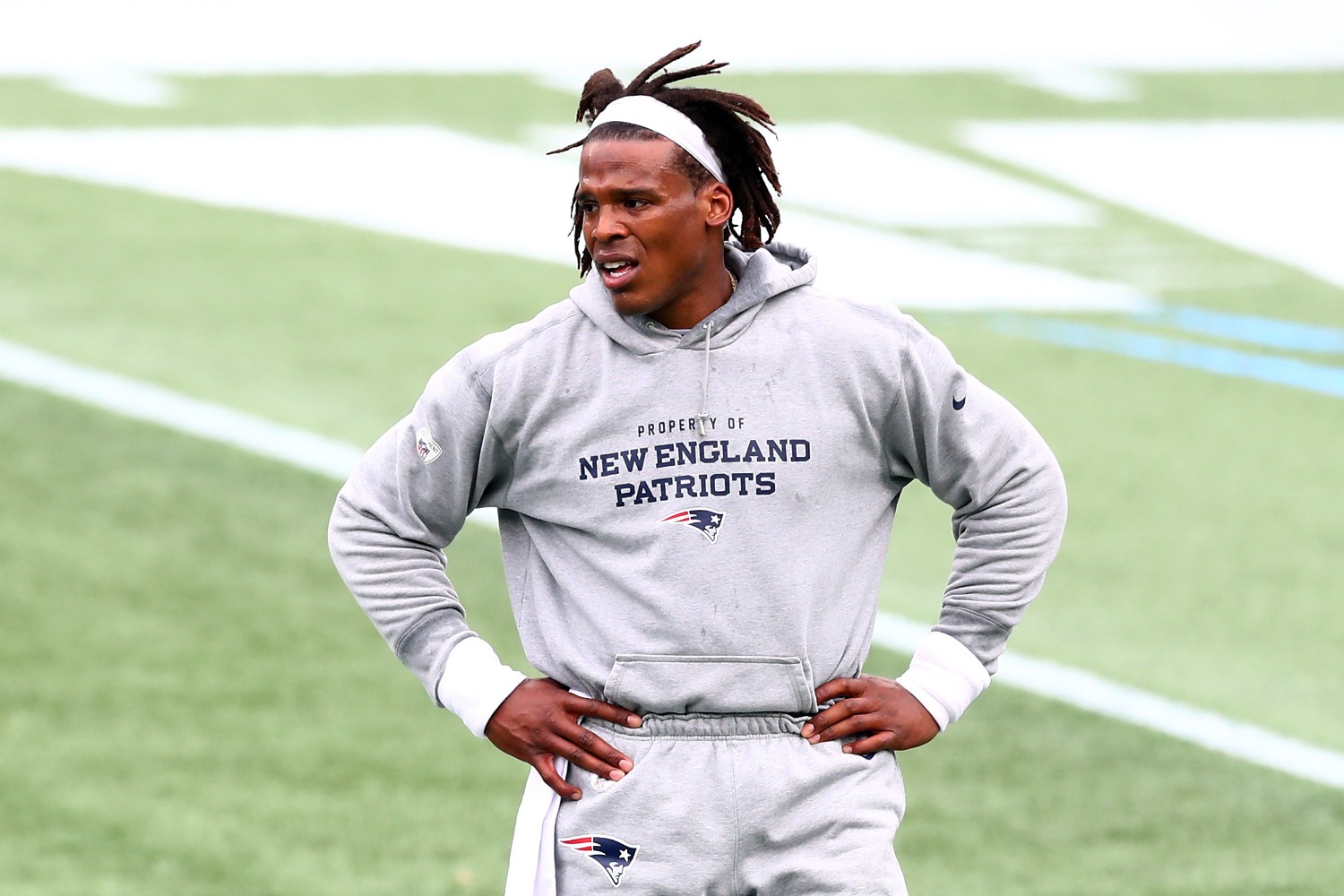 Cam Newton Just Suffered the Scary Reality of COVID-19
Cam Newton just suffered the scary reality of COVID-19. How will the New England Patriots move forward at QB with Newton out of the lineup?
The New England Patriots just got dealt a massive blow courtesy of COVID-19. Just hours before the team prepared to depart for Kansas City, news broke that Cam Newton tested positive for the coronavirus. Now, Bill Belichick must quickly adapt and determine whether Brian Hoyer or Jarrett Stidham will start against the Kansas City Chiefs.
The Patriots have already dealt with the impact of COVID-19
Even before Cam Newton tested positive, the Patriots already witnessed the impact of COVID-19. Dozens of NFL players decided to opt-out of playing the 2020 NFL season for a number of reasons. And no team suffered more from the opt-out policy than New England.
Bill Belichick lost a league-high eight players, including star defenders Dont'a Hightower and Pat Chung, starting right tackle Marcus Cannon, starting tight end Matt LaCosse, and backup running back and core special-teamer Brandon Bolden.
The loss of so many battle-tested veterans left Belichick little choice but to rely on some of his recent draft picks. So far, the Patriots have managed to get by fairly well without some of their longest-tenured players.
New England has gone 2-1 thanks in large part to the efforts of their new quarterback. However, moving to 3-1 may not happen this week given the Patriots' latest confrontation with COVID-19.
Cam Newton suffers the scary reality of COVID-19
Through his first three games with the Patriots, Cam Newton has showcased the dynamic skillset that made him a star with the Carolina Panthers. Set to square off against Patrick Mahomes on Sunday afternoon, Newton instead suffered the scary reality of COVID-19.
On Saturday, Adam Schefter reported via Twitter that the 31-year-old tested positive for COVID-19. As a result, the Patriots placed Newton on the COVID-19/reserve list. Of course, he will not play against the Chiefs.
For Newton, this setback could not have come at a worse time. He had played well in his first three games, but after beating the Dolphins and Raiders, the Chiefs represented a much more important matchup. After all, if the Patriots plan on making another Super Bowl run, they will have to figure out a way to beat the defending champs.
But without Newton in the lineup, that puts Bill Belichick in a precarious situation. Now, he must figure out who will start at quarterback against the league's sixth-ranked scoring defense.
Which QB will start against the Chiefs?
Now that Cam Newton can't play due to COVID-19, Bill Belichick faces a critical decision at the most important position in football. Should the Patriots start Brian Hoyer? Or should they go with second-year pro Jarrett Stidham?
The case for Hoyer seems fairly obvious. He has spent essentially half of his career as a backup in New England. The 34-year-old knows Josh McDaniels' system intimately and has been a part-time starter for a few NFL teams. However, Hoyer does not bring tremendous upside given his physical limitations.
On the other hand, Stidham remains somewhat of a mystery. After Tom Brady left this offseason, and the team did not draft a quarterback in April, many viewed that as a sign that Stidham would take over as QB1. Of course, that completely changed when Belichick signed Newton.
An injury in training camp resulted in Stidham falling out of the starting quarterback conversation. In fact, he has been inactive in each of the team's first three games.
Yet, given his age and upside, Belichick could throw the former fourth-round pick into the fire to see what he's made of. If Stidham flops, it would only further validate Belichick's decision to keep him inactive on game days. But if he turns in a solid performance, that would be a big boost to his stock.
And let's not forget that Brady only took over as the team's starting quarterback due to an injury to Drew Bledsoe. The situation may not be exactly the same, but perhaps Cam Newton testing positive for COVID-19 could be a life-changing ordeal for Jarrett Stidham.
Like Sportscasting on Facebook. Follow us on Twitter @sportscasting19.