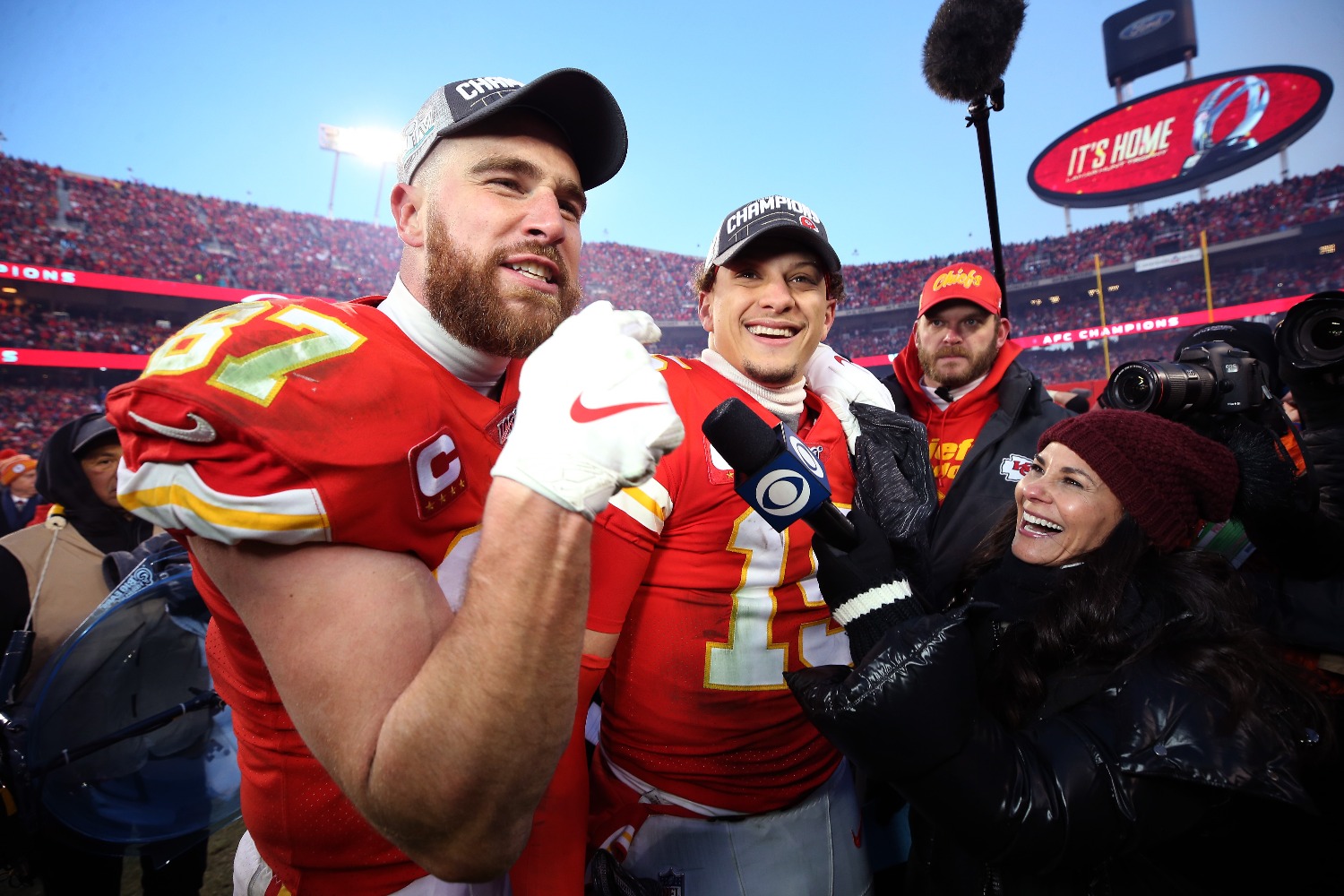 The Chiefs Just Turned $177 in Cap Space into the NFL's Next Dynasty
The Chiefs locked up Patrick Mahomes, Chris Jones, and Travis Kelce this offseason after having just $177 in cap space months ago.
Apparently the phrase "the cap is crap" may actually hold true. At least, that's what some NFL fans may think after watching the Kansas City Chiefs spend more than $600 million in contracts this offseason despite having just $177 in salary-cap space at one point. Still, that did not stop general manager Brett Veach from locking up Patrick Mahomes and a number of other critical components of the NFL's next dynasty.
So how did the Chiefs manage to extend their top stars without going over the salary cap? Let's take a closer look and start crunching the numbers.
The Chiefs had just $177 in cap space earlier this offseason
Fresh off their first Super Bowl victory in 50 years, the Chiefs entered the offseason with their sights set on building a dynasty. However, a significant hurdle stood in their way: the salary cap. By the end of March, Kansas City had just $177 in cap space—a laughably low margin with which to work.
Naturally, that led to questions about how the Chiefs could retain their young stars. After all, how could Kansas City afford to sign Patrick Mahomes and Chris Jones to long-term deals? Plus the team still needed to create enough wiggle room to sign their upcoming NFL draft class.
Thanks to Sammy Watkins, the Chiefs got some breathing room. The former No. 4 pick restructured his contract that carried a $21 million cap hit in 2020. The team negotiated a new deal with Watkins that will allow him to make up to $16 million this year. However, he will have to hit various incentives to maximize his 2020 payday.
Kansas City created about $5 million in cap space thanks to the Watkins restructure. That $177 number vanished in an instant, but it would not take long for the Chiefs to spend an absurd amount of money to build a dynasty.
Patrick Mahomes and Chris Jones scored massive deals in July
Coming off another incredible season, Patrick Mahomes positioned himself for a massive payday. With a regular season MVP award, a Super Bowl MVP trophy, and a ring to his name, the NFL's most electrifying quarterback could have handed the Chiefs a blank check at the negotiating table.
Mahomes may have left some money on the table, but he still scored the largest contract in sports history. The former baseball prodigy signed an extension worth up to $503 million if he hits certain incentives. Locking up Mahomes represented a massive win for the Chiefs, especially considering the deal's team-friendly structure. Surprisingly, Mahomes carries a cap hit of just $5.3 million this season, which helped pave the way for another major move.
With their star quarterback under contract through 2031, the Chiefs turned their attention to another building block of their dynasty. Despite speculation that he could get traded, Chris Jones signed a four-year, $85 million contract to remain in Kansas City through 2023.
Prior to signing the deal, Jones carried a $16.1 million cap hit based on his franchise tag tender. His new deal lowered his cap hit by about $1 million. Jones will receive a $20 million roster bonus next year and an $18.1 million one in 2022.
Kansas City makes another dynasty-building move with Travis Kelce extension
With their top offensive star and best defensive player locked up on long-term deals, the Chiefs ensured that Patrick Mahomes' top weapon will continue to call Kansas City home. On Friday, Travis Kelce signed a four-year, $57.25 million extension that ties him to the team through 2025.
Once again, the deal actually worked out well for the Chiefs. Kelce's extension does not carry any new money in 2020. The five-time Pro Bowler will still count $11.2 million against the salary cap this season.
Kelce will take home monster paydays in the coming years, though. Kansas City will pay the talented tight end $13.25 million in 2023, $15 million in 2024, and $17.25 million in 2025.
Overall, the Chiefs just proved that the salary cap does not necessarily prohibit teams from retaining top talent. Mahomes and Kelce had multiple years remaining on their contracts, which made their extensions palatable in the short term. For Jones, a contract extension would lower his 2020 salary-cap hit while giving him long-term financial security.
Building a dynasty involves keeping your best homegrown talent. In the course of one offseason, the Chiefs committed $645 million to Patrick Mahomes, Chris Jones, and Travis Kelce—all former draft picks—right where they belong. The future did not look so bright in March when the team had just $177 in cap space. But thanks to strong work by Veach, the Chiefs could very well take control as the NFL's next dynasty.
All contract information courtesy of Over The Cap.