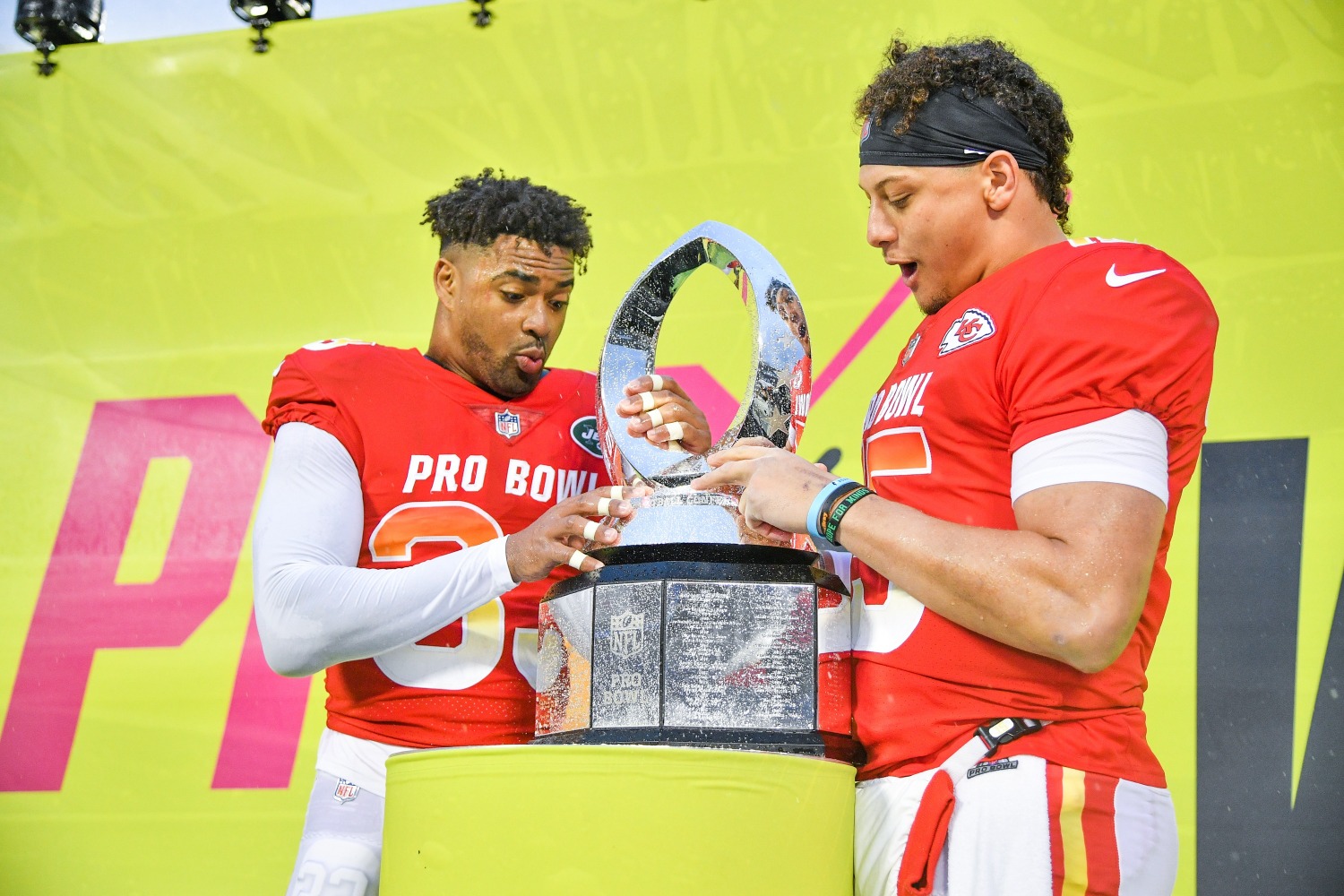 Patrick Mahomes Can Make an Obscene Amount of Money For Winning NFL MVP
Patrick Mahomes just signed a 10-year deal with the Chiefs that will pay him an obscene amount of money if he wins the NFL MVP award.
Patrick Mahomes enters his fourth NFL season with one NFL MVP award and another Super Bowl MVP award already in his trophy case. The freakishly gifted Kansas City Chiefs quarterback just signed a record-setting contract extension that will pay him an obscene amount of money if he captures MVP honors again. And really, who's betting against him?
And if his first three years in the league are a sign of things to come, Patrick Mahomes will be collecting some lucrative bonuses over the next decade.
Patrick Mahomes is no stranger to winning NFL MVP honors
When the Chiefs traded up to draft Patrick Mahomes in the 2017 NFL draft, nobody could have expected him to become the league's best player in such a short time. After all, he flashed tantalizing skills at Texas Tech, but he didn't garner any attention as a candidate to go No. 1 overall.
Still, Kansas City bet big on the rocket-armed signal-caller. And boy did Brett Veach and Andy Reid reap the rewards for taking a risk on the gun-slinging multi-sport star.
After spending his rookie season learning the ropes from Alex Smith, Mahomes took over as the Chiefs' starting quarterback in 2018. All he did was throw 50 touchdowns and lead Kansas City within a few plays of making it to the Super Bowl. Mahomes took home NFL MVP honors as a first-year starter and easily became the league's biggest breakout star.
Last season, the 6-foot-3, 230-pounder took a step back statistically due in large part to injury. However, once the postseason rolled around, he looked like the 2018 version that took the NFL by storm.
Mahomes played almost flawless football in the Chiefs' first two playoff victories. In the Super Bowl, the San Francisco 49ers held the Chiefs in check for most of the game. However, vintage Mahomes took over in the fourth quarter, and he earned Super Bowl MVP honors.
Chiefs locked up Mahomes on a 10-year deal
Cleary the NFL's best young star, Patrick Mahomes could have named any asking price at the negotiating table. Ultimately, the Chiefs got a deal done with their franchise player on Monday. ESPN's Adam Schefter broke the news on Twitter that the reigning Super Bowl champion signed a 10-year contract extension tying him to Kansas City through the 2031 season.
The $503 million deal represents the largest contract in sports history. Before Mahomes put pen to paper, Russell Wilson had the honors of holding the most lucrative deal. However, his $35 million average annual salary looks like a bargain now compared to what Mahomes will make.
Of course, the reigning Super Bowl MVP can make even more money if he successfully hits certain incentives in his new contract.
The NFL's biggest star can make an obscene amount of money for winning the MVP award
NFL contracts sometimes contain performance incentives that pay potentially substantial sums. In the case of Patrick Mahomes, his record-setting deal certainly contains plenty of financial incentives to stay atop his NFL throne.
According to Schefter, beginning in 2022, and for 10 years running, Mahomes can make $1.25 million for winning the NFL MVP award. He can also earn $1.25 million for each AFC Championship victory. In total, he has $25 million in incentives over a 10-year period. For Mahomes, $1.25 million may seem small, but in reality, it's an obscene amount of money.
According to Spotrac, only 16 Chiefs players carry a base salary north of that $1.25 million figure (not including Mahomes). That $1.25 million bonus represents a huge chunk of change for other players, especially considering Chiefs players received just $124,000 each for winning Super Bowl LIV.
Patrick Mahomes could conceivably win at least two or three more NFL MVP awards over the next decade, if not more. And if he does, he'll only continue to add to his impressive bank account.