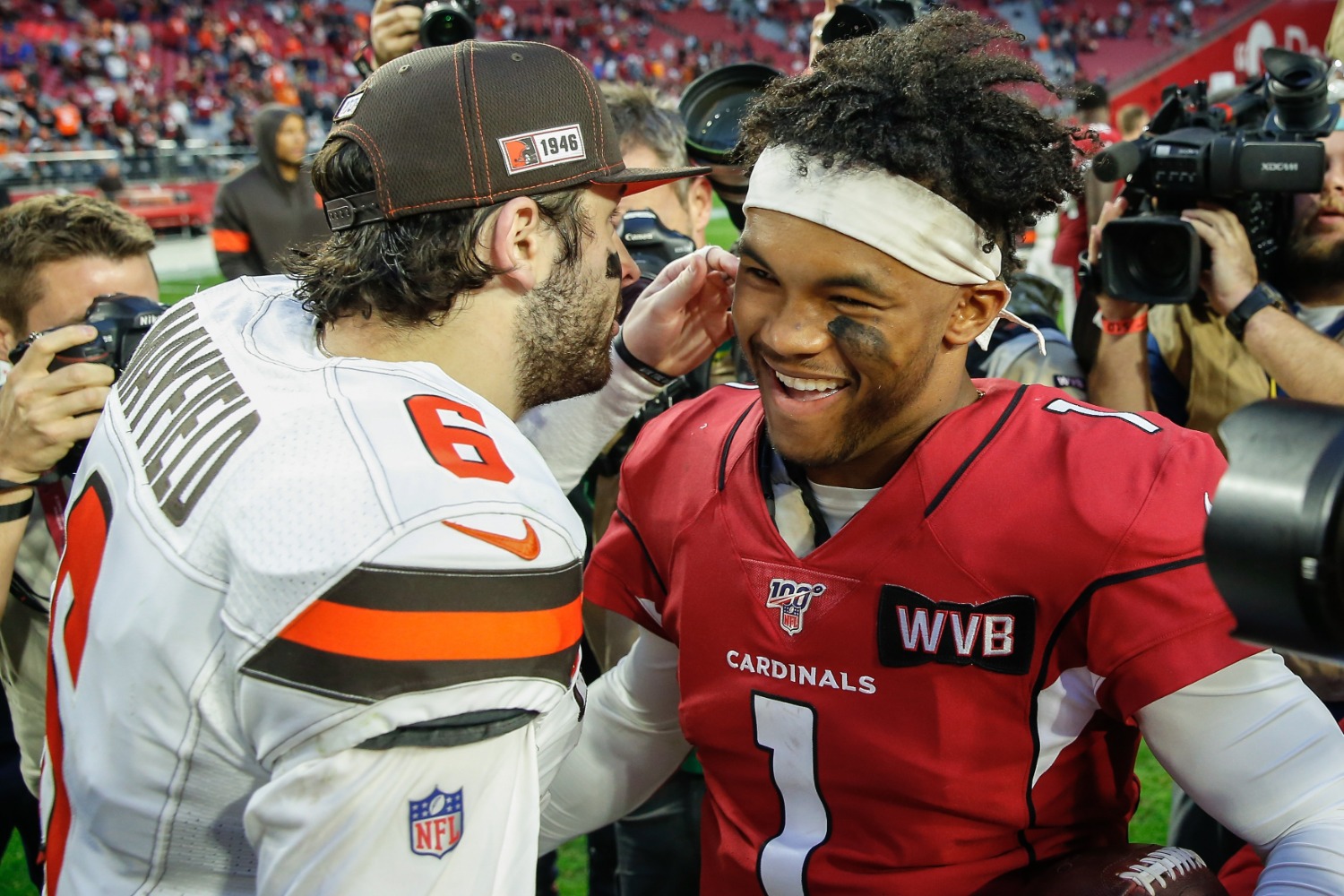 The Arizona Cardinals Can Guarantee Kyler Murray Becomes a Star For $7.7 Million
The Arizona Cardinals could guarantee Kyler Murray becomes a star by trading for Cleveland Browns tight end David Njoku.
It didn't take long for Kyler Murray to show everyone why he chose football over baseball. The multi-sport star gave up a hefty signing bonus from the Oakland Athletics to take his talents to the NFL. Smartly, the Arizona Cardinals showed no hesitation in making the 5-foot-10, 207-pounder the face of the franchise.
Murray quickly answered concerns about his small frame and dedication to the game. Now, the former University of Oklahoma star appears poised to become the NFL's biggest breakout star in 2020. And if the Cardinals want to help their young quarterback achieve his All-Pro potential, they can accomplish that feat for $7.7 million.
Kyler Murray won Rookie of the Year honors after going No. 1 overall
Viewed as a game-changing force perfectly suited for the modern NFL, Kyler Murray went No. 1 overall to the Cardinals. Of course, the selection occurred just a year after Arizona drafted Josh Rosen 10th overall. Ultimately, general manager Steve Keim shipped Rosen to the Miami Dolphins to remove any possibility of a quarterback controversy.
Kliff Kingsbury installed his pass-heavy scheme, which proved to be a perfect fit for Murray's unique skill set. A starter from day one, he completed 64.4 percent of his passes for 3,722 yards. Murray threw 20 touchdowns and just 12 interceptions in 16 games. He did, however, take a league-high 48 sacks in his rookie campaign.
Still, his legs helped him avoid even more pressure. And once Murray found some space, he inflicted serious damage. By season's end, he racked up 544 yards and four touchdowns on 93 rushing attempts. His ability to extend plays, evade defenders, and find creases made him incredibly difficult to stop down the stretch.
Though Kyler Murray faced stiff competition from Josh Jacobs, he took home 2019 NFL Rookie of the Year honors. But as he enters the second year of his promising NFL career, he will have to take another step forward in his development with some help from some new faces.
The Cardinals have built a talented supporting cast for their franchise QB
Over the last few offseasons, Keim has done a fantastic job building an offensive infrastructure catered to the modern NFL. On the offensive line, the Cardinals have former first-round pick D.J. Humphries entrenched at left tackle on a long-term contract. And while the rest of the line isn't great, it should be passable.
On the other hand, the Cardinals boast one of the most high-upside skill groups in the league. Larry Fitzgerald led the team with 75 catches and will look to finish his career on a high note. Christian Kirk looked solid as a slot option. And Kenyan Drake emerged as an every-down star after an up-and-down career in Miami.
Obviously, though, the addition of DeAndre Hopkins changed everything. Thanks to Bill O'Brien's incompetence, Arizona stole the NFL's best receiver away for pennies on the dollar. With Hopkins, Fitzgerald, and Kirk comprising a dangerous trio, the Cardinals can make one more addition to ensure Kyler Murray becomes a breakout star this season.
Arizona can guarantee Murray becomes a breakout star by trading for David Njoku
The Cardinals have invested a ton of resources to ensure their franchise quarterback can achieve success. But for $7.7 million more over the next two seasons, they can give Murray one more weapon to secure his future.
Cleveland Browns tight end David Njoku recently requested a trade. The 2017 first-round pick just watched his team sign Austin Hooper to a record-setting contract. In the 2020 NFL draft, the Browns spent a fourth-round pick on former FAU star Harrison Bryant. That certainly sent a message to Njoku that his job could be in jeopardy.
The former Miami Hurricanes star hasn't exactly lived up to expectations in his three years in the NFL. Njoku missed nearly the entire 2019 season and did not put up great numbers as a rookie. He does boast tantalizing physical tools and the raw testing numbers to be a dynamic receiving threat in Kingsbury's wide-open offense.
Can you imagine the Cardinals rolling out a four-wide set that also features David Njoku lined up in the slot? Or how about utilizing him in a trips formation with Hopkins and Fitzgerald? In addition, his size would certainly help in the red zone.
Currently, Arizona has uninspiring options at the tight end spot with Maxx Williams projected to start. Njoku would represent a massive upgrade with limitless potential playing with Kyler Murray. So what could the cost be? Well, according to Spotrac, the Browns tight end carries a $1.76 million base salary in 2020 and a $6 million salary in 2021.
If the Cardinals can send a conditional mid-round pick and take on that salary-cap commitment, then they can ensure Kyler Murray becomes a breakout star. So who's picking up the phone first?