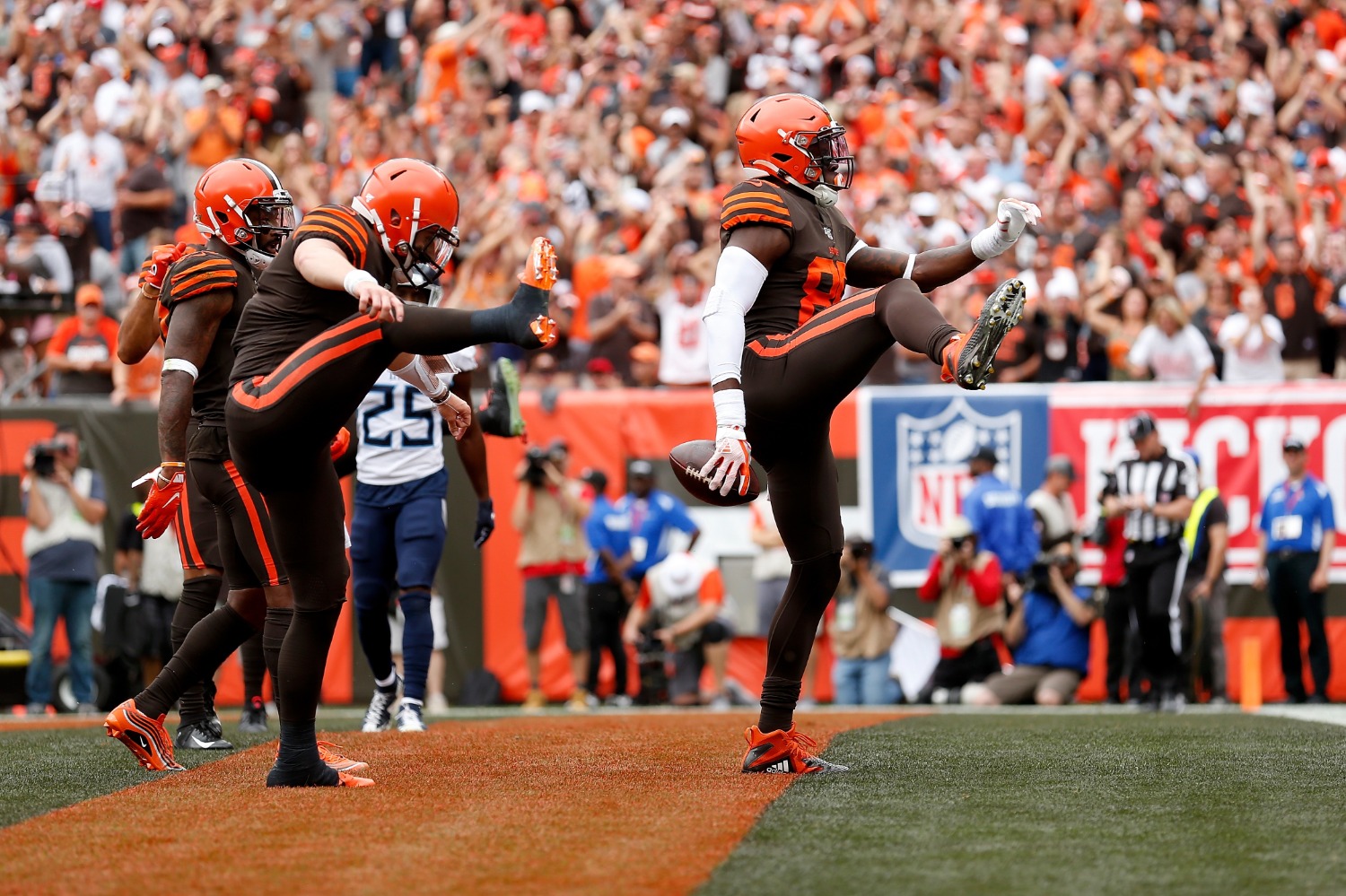 David Njoku is Officially Bailing on Baker Mayfield and the Cleveland Browns
David Njoku won't catch another pass from Baker Mayfield if the Cleveland Browns grant him his wish of getting traded before training camp.
Baker Mayfield faces a critical year if he wants to remain the quarterback for the Cleveland Browns. But his chances of success just took a major hit on Friday when tight end David Njoku made it clear he wants out of Cleveland.
And if the Browns grant Njoku his wish, Mayfield will say goodbye to his most athletically gifted target not named Odell Beckham Jr. Will Cleveland find a trade partner for Njoku's services? Or will the Browns hang on to their ultra-talented but underachieving former first-round pick?
David Njoku's journey from Miami to Cleveland
In a league full of freak athletes, David Njoku ranks among the best. His rare combination of size and speed helped him become a first-round pick. Of course, his two years of production at the University of Miami didn't hurt, either.
After redshirting, Njoku caught 21 passes for 362 yards and one touchdown for the Hurricanes. He followed up with a sensational 2016 campaign in which he exploded for 43/698/8. At the combine, he ran a blazing 4.64 40-yard dash after weighing in at 6-foot-4, 246 pounds. In addition, he posted a ridiculous 40-inch vertical jump and excellent agility scores.
With the NFL placing an emphasis on athletic tight ends, that made Njoku a highly-coveted prospect entering the 2017 NFL draft. Ultimately, Cleveland drafted the uber-athletic pass-catcher with the 29th overall pick. Expected to become a top weapon for the Browns, things haven't gone quite as planned for the former UM star.
The former first-round pick has failed to become a go-to target for Baker Mayfield
On paper, David Njoku boasts every quality you look for in an elite tight end. Unfortunately, his production hasn't measured up to his elite potential. After a rather nondescript rookie season, he got a big boost when Cleveland took Baker Mayfield No. 1 overall.
With Mayfield under center, Njoku enjoyed his finest season to date in 2018. He set career-highs in catches (56) and receiving yards (639). However, he didn't exactly endear himself to Browns fans with critical drops. The New Jersey native had just four games with at least five catches. Njoku caught just three passes in each of the Browns' final five games.
Coming off a breakout campaign, everyone expected David Njoku and Baker Mayfield to take a significant leap in their second year together. That couldn't have been further from the truth. Instead, Mayfield regressed mightily under Freddie Kitchens.
As for Njoku? He suffered a broken wrist and a concussion in Week 2 against the New York Jets. He played just four games after spending most of the year on injured reserve. Despite another disappointing campaign, the Browns still exercised Njoku's fifth-year option in April.
Njoku wants the Browns to trade him before training camp
Entering his fourth year in Cleveland and with a new regime on board, David Njoku apparently has no intention of catching another Baker Mayfield pass again. On Friday, ESPN's Adam Schefter tweeted that Njoku and his agent Drew Rosenhaus requested that the Browns trade the young tight end before training camp.
In a follow-up tweet, Schefter quoted Rosenhaus as saying, "It is in David's best interest to find a new team at this time."
So where does that leave the Browns? On one hand, the team obviously has the leverage considering Njoku's under contract for two more seasons. Cleveland's new regime may not want to set the precedent of letting a player determine his future.
On the other hand, the new power tandem of Kevin Stefanski and Andrew Berry has no loyalty to Njoku. John Dorsey drafted the talented tight end before getting fired last December. Berry could very well look to get rid of a player who has failed to live up to expectations.
Plus, Cleveland has made some major moves at tight end this offseason. The Browns just handed Austin Hooper a record-setting contract to become the team's new TE1. They followed up by drafting Harrison Bryant in the fourth round a few months ago. Perhaps Njoku already realized his playing time will evaporate this season.
Either way, this makes for an interesting decision for the Browns. But if David Njoku gets his wish, he'll never catch another pass from Baker Mayfield again.