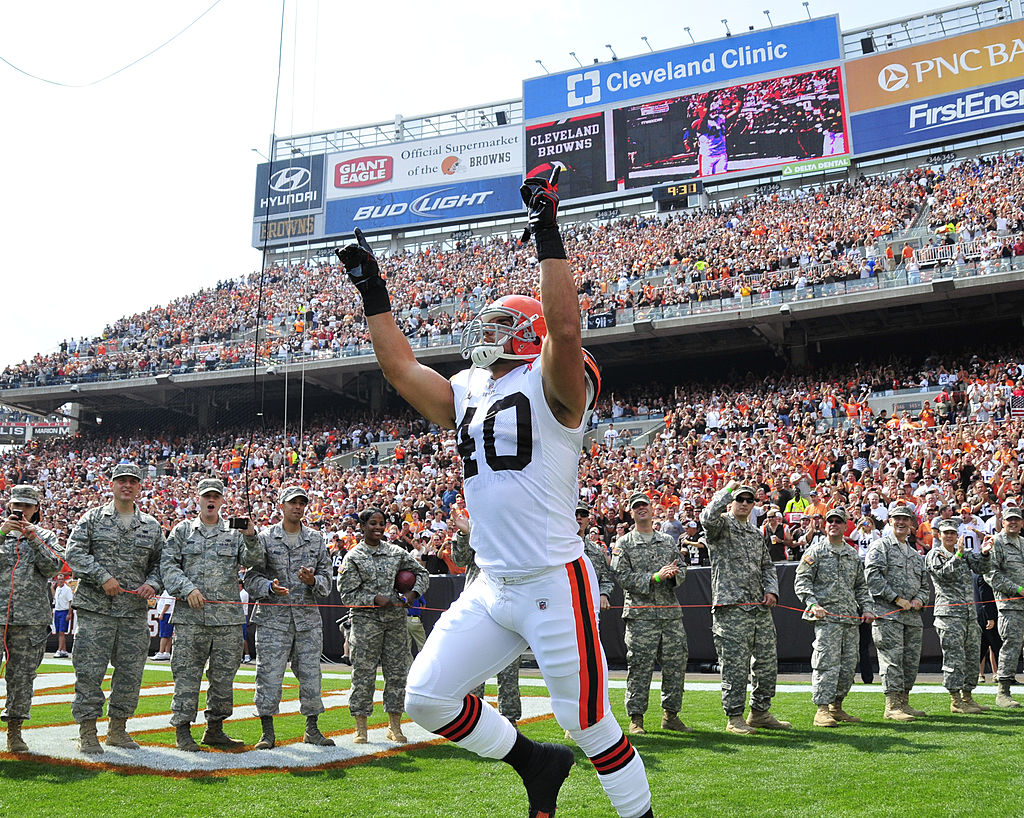 Peyton Hillis Regrets a Fate That Most Browns Players Would Celebrate
Peyton Hillis has a surprising stance on how his Browns career ended after he became one of the NFL's best running backs out of nowhere.
Peyton Hillis spent just two years playing for the Cleveland Browns. For many NFL players, that would be a blessing. After all, who wants to play for one of the worst-run franchises in the league?
The former Madden cover athlete essentially disappeared after leaving the Browns. Unlike many others who have donned the brown and orange colors, Hillis surprisingly has a different stance on playing in Cleveland.
Peyton Hillis became an overnight star for the Browns
Coming out of the University of Arkansas, Peyton Hillis didn't garner a ton of attention. He actually recorded more receiving yards (1,195) than rushing yards (959) in his four-year college career. However, he earned a seventh-round draft selection thanks to his well-rounded skill set.
The Denver Broncos made Hillis the 227th overall pick in 2008. As a rookie, he flashed intriguing potential. The physical enforcer averaged 5.0 yards per carry while chipping in 14 catches in limited action. But after falling out of the rotation, Denver traded him to Cleveland in a package deal that brought back Brady Quinn.
Seemingly out of nowhere, Hillis emerged as one of the NFL's best backs. At least, that's happened for one magical year. In 2010, the 6-foot-1, 240-pounder finished 11th in the league with 1,177 rushing yards. Hillis punched in 11 touchdowns, which tied for sixth in the NFL. He also caught 61 passes for 477 yards.
His breakout campaign and subsequent popularity rise resulted in fans voting Hillis as the cover athlete for Madden NFL 12. Unfortunately, that represented the peak for the breakout star.
Running back flamed out after leaving Cleveland
Injuries limited Peyton Hillis to just nine starts the year after he became a household name. His numbers dipped dramatically across the board. After averaging a rock-solid 4.4 yards per carry in 2010, that number plummeted to 3.6 in 2011. Hillis scored just three touchdowns compared to 13 the year before.
Despite openly discussing his desire to remain in Cleveland, the Browns reportedly never made him an offer. That left the veteran with no choice but to explore his options. Ultimately, Hillis signed with the Kansas City Chiefs. He managed just 309 yards on 85 carries operating as the backup to Jamaal Charles.
After a brief summer stint with the Tampa Bay Buccaneers, he latched on with the New York Giants. Hillis played just 16 games in two seasons. Ironically, he ran for 4.4 yards per carry in his final NFL season, which happened to be the same average from his lone 1,000-yard campaign.
Hillis surprisingly regrets leaving the Browns
For most NFL players, it's a luxury to never have to play for the Browns. But for Peyton Hillis, leaving the city of Cleveland proved to be a major regret. From a playing standpoint, he never replicated the success he enjoyed in 2010. In a recent radio appearance on Bull & Fox of 92.3 The Fan, Hillis relayed a surprising stance on how things ended with the Browns.
"Honestly, I wish I would've retired in Cleveland. I wish that I could've played there for 10 more years. Even my wife said we loved our time in Cleveland more than we loved anywhere else, even in Arkansas. We just enjoyed Cleveland and every time we go back, we try to find an excuse to go back to Cleveland all the time even to this day. There's a lot of things that I wish I would've done differently, not just for me but for the fans also. I was young and stupid, what can I say?"
Ultimately, it sounds crazy to think an NFL player actually wanted to stay in Cleveland. The Browns have been a laughable franchise for decades. Along the way, they've blown first-round picks on Johnny Manziel and Trent Richardson. They have yet to live up to their potential despite a star-studded offense led by Baker Mayfield and Odell Beckham Jr.
Yet, Cleveland manages to have at least one supporter in its corner. Who would have imagined it would be the running back who didn't even get a second contract offer?