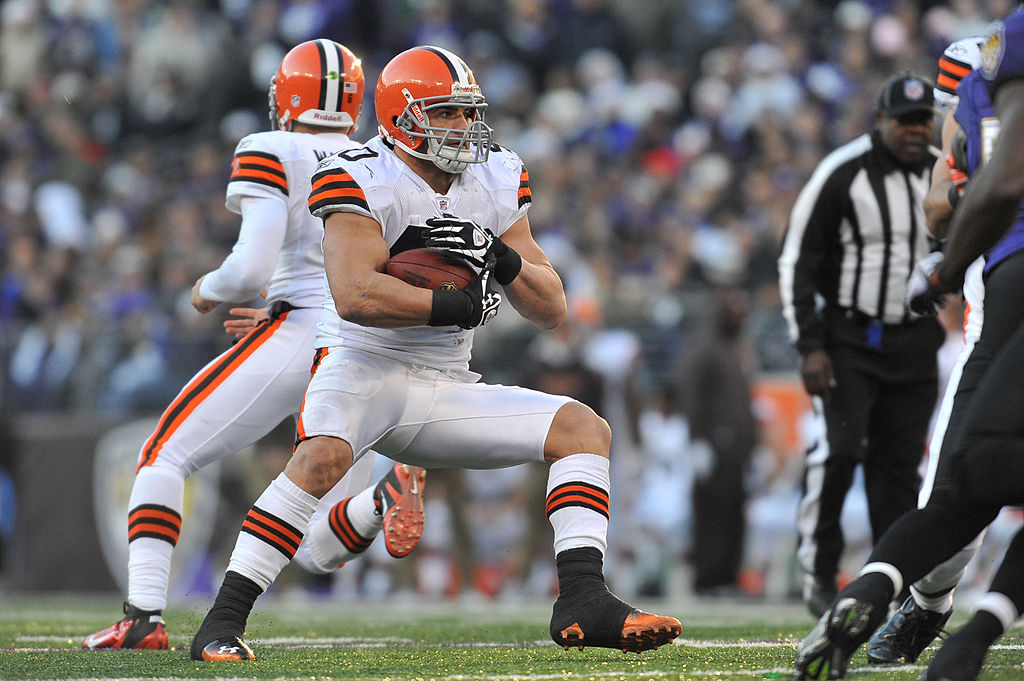 What Happened to Cleveland Browns Running Back Peyton Hillis?
In 2010, Cleveland Browns running back Peyton Hillis made an unlikely run to stardom. But what happened to him after that breakout season?
Sports can be a brutal business. Success is all that really matters; if a player's production suddenly falls off, he'll be kicked to the curb, and no one will bat an eye. For evidence of that, just look at former Cleveland Browns' running back Peyton Hillis.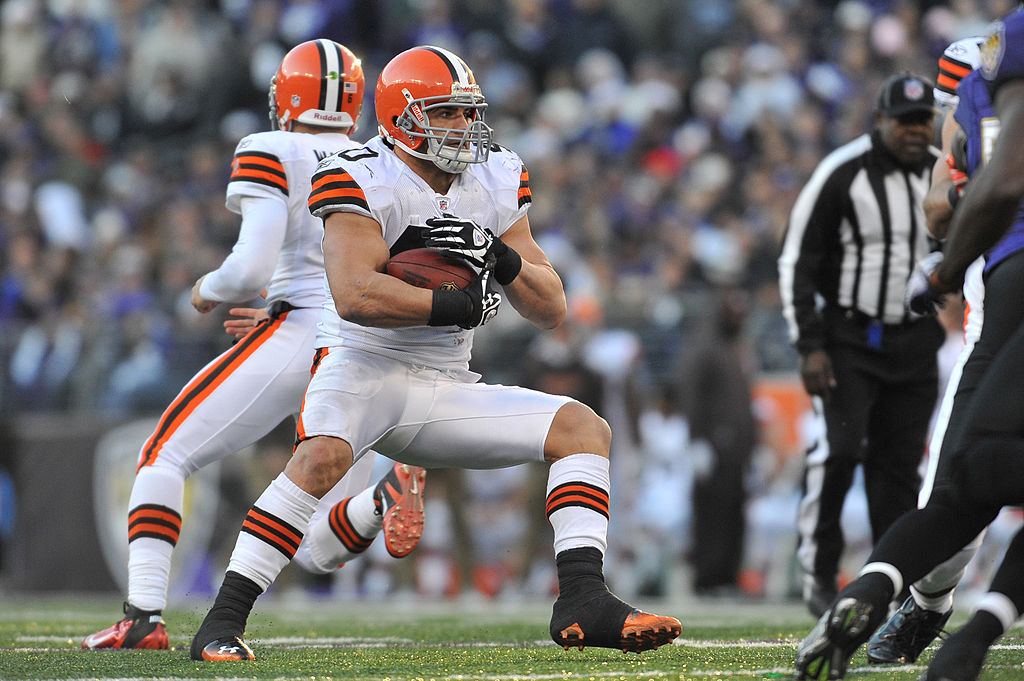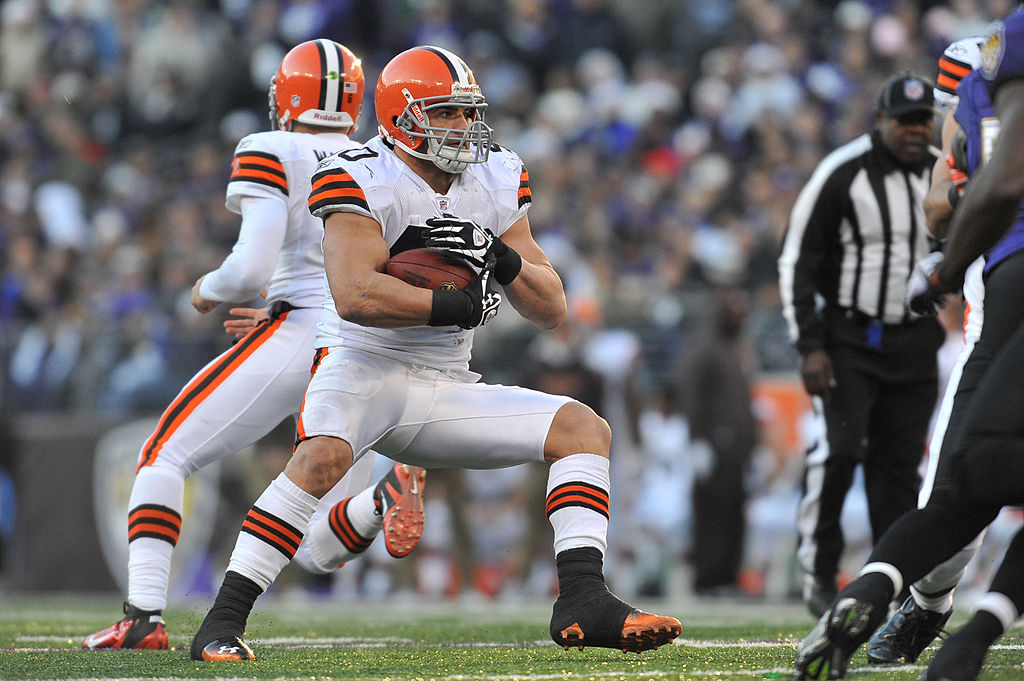 After a couple of quiet seasons in the NFL, Hillis burst onto the scene in Cleveland. He rushed his way into the news, playing his way onto the cover of Madden NFL 12, but then his star faded away. Football players don't drop off the face of the earth after they stop playing, however. So what happened to Peyton Hillis?
Peyton Hillis' road to the pros
Peyton Hillis attended the University of Arkansas, where he was primarily used as a fullback. While he spent a good deal of time blocking for Darren McFadden and Felix Jones, he was able to put up respectable numbers in his own right. During four NCAA season, Hillis posted 960 rushing yards and 12 touchdowns on 960 carries; he also caught 118 passes for an additional 1,196 yards and 11 touchdowns.
That college career was enough to earn Hillis a shot at the pros. The Denver Broncos selected him in the seventh round of the 2008 NFL draft; Hillis would begin the year as the team's starting fullback. After Ryan Torrian went down injured, he took over most of the club's carries. Despite an early end to the season with a torn hamstring, Hillis was Denver's leading rusher for the season.
Despite that strong rookie campaign, Hillis' carries plummeted once Josh McDaniels took over as head coach. After a quiet 2009, he was traded to the Cleveland Browns.
Breaking out with the Cleveland Browns
Peyton Hillis arrived in Cleveland, looking to prove his rookie performance wasn't a fluke. Once again, injuries gave him a chance to shine.
After Jerome Harrison and James Davis both went down, Hillis stepped into the starting job. His first game as the primary running back came against a tough Baltimore Ravens defense; Hillis shredded them for 180 all-purpose yards. He seemed to improve every week, breaking the 1,000-yard plateau and becoming the only player besides Marshall Faulk to post more than 130 rushing yards, three rushing touchdowns, and 60 receiving yards in a single game.
Hillis finished the season with 1,177 rushing yards and 11 touchdowns, but his year wasn't finished. During the offseason, he famously won a fan vote to earn a spot on the cover of Madden NFL 12, beating out the likes of Aaron Rodgers and Michael Vick. He was on top of the football world.
What happened to Peyton Hillis?
When the 2011 season began, Peyton Hillis couldn't build on the previous year's momentum. After failing to work out a new contract during the summer, he struggled through a campaign blighted by illness and injury. When the offseason arrived, the Browns had no interest in resigning the running back. Around that time, Hillis started struggling with depression; the game he loved simply wasn't fun anymore.
He moved on to Kansas City, where he spent an ineffective year as the number two running back behind Jamaal Charles. Hillis would start the 2013 season with the Tampa Bay Buccaneers but was cut after one game; he then signed with the New York Giants, where appeared sporadically over the next two years.
In 2015, Hillis finally hung up his helmet for good. While doctors advised him to stop playing for the sake of his long term health, the running back was also ready to move on. "And after a while, it got too hard," he explained to Bleacher Report's Brad Gagnon. "I didn't care as much anymore, I didn't care to work at it. Football brought me down. I still love the game and I still have a lot of friends in the game, but as far as NFL football goes, my heart's just not in it anymore."
Hillis settled down with his wife, Amanda, who he married in 2001 and their son, Orry. He stayed in touch with the game by volunteering to coach a local high school football team and bought a towing company. Most importantly, he's found happiness and peace.