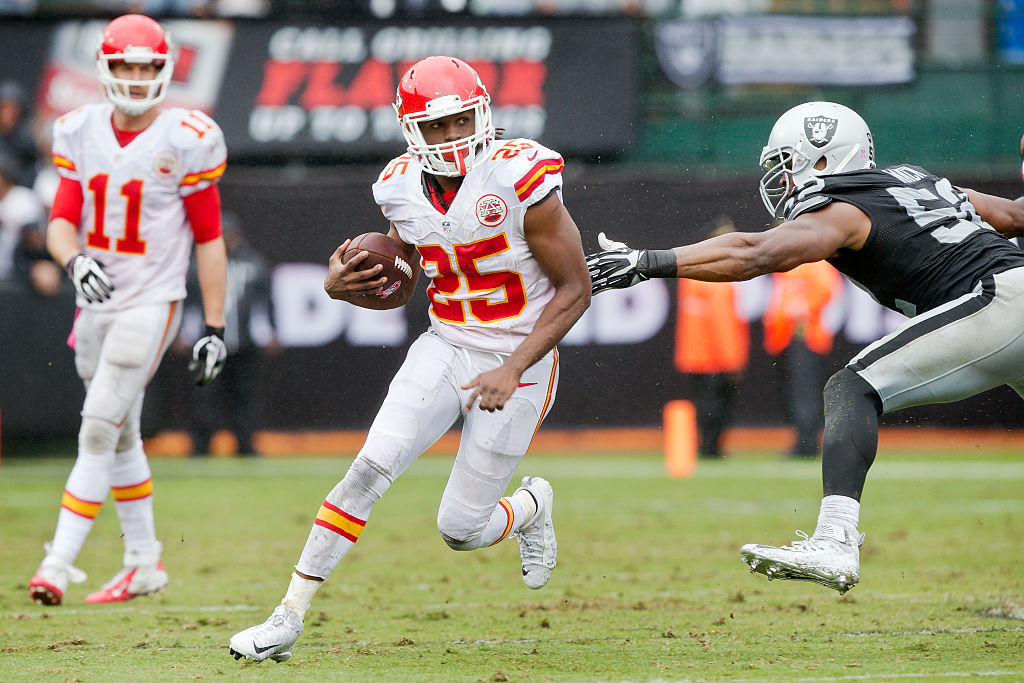 Jamaal Charles Went From Competing in the Special Olympics to Making $41 Million in the NFL
While most fans know Jamaal Charles as a Kansas City Chief, the running back competed in the Special Olympics long before becoming an NFL star.
While the Kansas City Chiefs offense might have been perpetually missing a quarterback before landing Patrick Mahomes, the franchise did have some pretty good running backs over the years. From old school guys like Joe Delaney and Christian Okoye to more recent players like Priest Holmes and Larry Johnson, there was never a shortage of talent in the backfield. Then, there was Jamaal Charles.
During his time with the Chiefs, Charles rose from a third-string running back to a franchise player. His sporting career, however, started in an unusual place: at the Special Olympics.
Jamaal Charles' college sports career
As any Kansas City Chiefs fan can tell you, Jamaal Charles had blazing speed. During his college career, that made him a star in two separate sports.
After running track and playing football in high school, Charles headed to the University of Texas as a two-sport athlete. During his freshman year, he earned All-American honors in the 60-meter indoor, the 100-meter outdoor, 200-meter outdoor and 4×100-meter relay outdoors; he also posted a personal best of 10.13 seconds in the 100-meter dash, according to MileSplit.
While Charles cut back on his track commitments after his freshman year, he continued to star on the football field. He spent three seasons on the gridiron, piling up 3,328 rushing yards and 36 touchdowns on the ground; his offense helped the Longhorns claim the 2005 BCS title.
Turning into an NFL star with the Kansas City Chiefs
After three seasons in college, Jamaal Charles entered into the 2008 NFL draft. While things didn't start out as he planned—the running back slipped into the third round and began his pro career sitting behind Larry Johnson—he would eventually develop into a star.
Charles took on a larger role in 2009 after the Chiefs cut Johnson; he seized the opportunity, piling up 1,120 rushing yards and 1,467 more in 2010. While he tore his ACL in 2011, the running back came back better than ever.
When the 2012 season rolled around, Charles came back with a vengeance. He posted 1,509 yards that year, finding the end zone five times; he followed that up with two more strong seasons before tearing his ACL again in 2015. After that injury, Charles spent another season with the Chiefs before one-off campaigns with the Denver Broncos and Jacksonville Jaguars.
By the time he called it a career, Charles spent 11 seasons in the NFL, accumulating 7,563 rushing yards and 44 touchdowns; he retired with an average of 5.4 yards per attempt, which is one of the best totals in league history. Beyond his stats, however, he served an invaluable role for Chiefs fans, helping to replace Larry Johnson and provide a bright spot during some pretty trying times.
Jamaal Charles discovered his talent at the Special Olympics
While Jamaal Charles showed plenty of skills at the University of Texas and with the Kansas City Chiefs, he got his start in a much different competition. As a boy, he took part in the Special Olympics.
As explained on the running back's official website, Charles was diagnosed with a learning disability in the third grade. While he eventually got the help he needed, it wasn't the easiest adjustment; his special education classes "excluded from field trips and other activities his peers enjoyed."
There was a silver lining, however. Charles did get to attend the Special Olympics each year; it was there that he realized he had the speed that would later make him famous.
"When I was a boy, I had trouble reading. I found out I had a learning disability. People made fun of me. They said I would never go anywhere. But I learned, I can fly," Charles said at the opening ceremony of the 2015 Special Olympics, as documented by For The Win. "When I was 10 years old, I had the chance to compete in the Special Olympics. That's right. The Special Olympics gave me my first chance to discover the talent I did not know I had."
Jamaal Charles, of course, would go on to play football and run track at the University of Texas before becoming an NFL star with the Kansas City Chiefs. According to Spotrac's financial data, he made more than $41 million during his time in the pros; if he never competed in the Special Olympics, though, it's possible that none of that would have ever happened.
Stats courtesy of Sports-Reference and Pro-Football-Reference