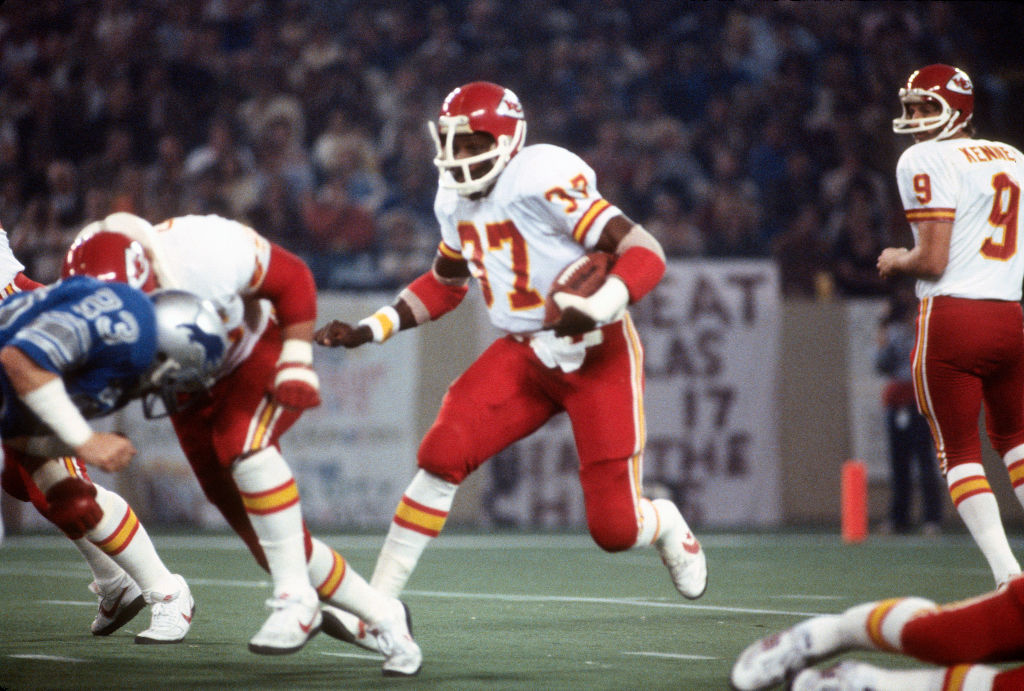 Joe Delaney Was Poised for NFL Greatness Until He Heroically Sacrificed His Own Life
Kansas City Chiefs running back Joe Delaney seemed poised for NFL greatness, but sacrificed everything to save a stranger's life.
In sports, it's easy to throw the term "hero" around. Patrick Mahomes, for example, received plenty of praise after he led the Kansas City Chiefs to their first Super Bowl title in 50 years. Similarly, Joe Namath became a football legend after guaranteeing that his New York Jets would upset the Baltimore Colts and then delivering on his promise. Joe Delaney, however, was a hero in the truer sense of the word.
During his two seasons with the Chiefs, Delaney put himself on a path to NFL greatness. Everything changed, however, when the running back made one fateful decision.
Joe Delaney's unlikely road to the NFL
During his youth, Joe Delaney was a natural athlete. While his father discouraged him from playing football, Delaney shone on both the track and the gridiron. Some major programs scouted the young receiver, but nothing materialized; eventually, he headed to Northwestern State University, hoping to make an impact.
Once on campus, the coaches decided to make a change; Delaney was moved to running back, altering the course of his career. Due to his speed, Delaney proved to be a natural in the backfield. During his sophomore year, for example, he racked up 299 rushing yards and four touchdowns in a single game. He also starred on the school's track team, showing his athleticism wasn't confined to a single sport.
By the time his college career ended, Delaney had accumulated 3,047 rushing yards and 31 touchdowns; Northwestern State retired his jersey before he even finished his final game. Despite his small stature, the running back seemed poised for big things.
Making an instant impact with the Kansas City Chiefs
Despite his impressive college stats, Joe Delaney was still a small running back coming out of a no-name athletic program. The Kansas City Chiefs, however, decided to take a chance and selected him with the 41st overall pick in the 1981 NFL draft.
Once the season began, Delaney blossomed. While he only managed to find the endzone three times as a rookie, he chewed up 1121 yards on 234 carries; he also caught 22 passes for an additional 246 yards. When the season came to a close, he took home the AFC Rookie of the Year title and headed to the Pro Bowl.
While his sophomore season wasn't quite the same—a players' strike and eye surgery limited Delaney to eight appearances—the running back seemed destined for stardom.
"I've played against the best—O.J. Simpson, Gale Sayers, Walter Payton," Houston Oilers defensive end Elvin Bethea explained," and [Delaney] ranks right up there with them. He is great with a capital G."
Joe Delaney made a heroic, and ultimate, sacrifice
That potential, however, would never be realized. The running back was known for his generosity and kindness; in 1983, he made the ultimate sacrifice for others.
While the exact details have been clouded by time, the fundamentals of the story remain unforgettable. On a hot Louisiana day, three boys went swimming in a man-made pond when they disappeared below the surface. Delaney rushed into the water to save them, ignoring the fact that he didn't know how to swim. He managed to bring one child back to shore before heading back into the water; he wouldn't return to dry land alive.
Unsurprisingly, the sports world was shaken to its core. Ronald Reagan posthumously awarded Delaney the Presidential Citizens Medal. The Chiefs would play the next season wearing a memorial patch on their jersey; their late running back has since been inducted into their team Hall of Fame, and no Kansas City player has worn 37 since his death.
It's easy to consider professional athletes heroes. Joe Delaney, however, was more than deserving of the title.